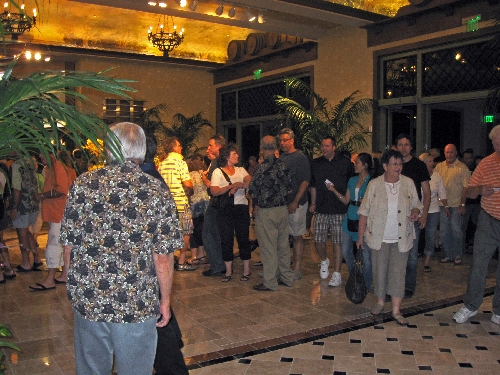 It was 30 minutes before the grand re opening of Casino MonteLago at Lake Las Vegas when hundreds of people crowded the cobblestone streets of The Village Lake Las Vegas, waiting for the doors to open.
"The doors will be opening in 29 minutes," an announcer's voice said over a loudspeaker, continuing the countdown every few minutes.
More than a year since the casino closed its doors and close to a year after Lake Las Vegas emerged from bankruptcy, Casino MonteLago held its reopening ceremony for the public at 9 p.m. May 26.
Henderson residents Sue and Don Demo had been walking around The Village since 7 p.m. waiting for the opening.
"We were sad when it closed," Sue said. "We didn't want it to close. We came here a lot because they gave the best gifts out of all the casinos."
Now that the casino is back , the Demos imagine coming back to gamble like they used to.
"I hope they keep a lot of the things the same," Sue said.
Beth Lehmen, who lives in California and has property in Lake Las Vegas' residential area, was one of many guests waiting for the doors to open.
"We are excited," Lehmen said. "We think (the casino reopening) will help property values to go back up."
Lehmen said that when the casino closed, along with the Ritz-Carlton, it left The Village pretty empty and deterred many people from visiting.
Lehmen looks forward to the future considering that the casino has reopened and already is receiving a lot of guests.
"Everything has been done high-class," Lehmen said.
The effects of the opening have carried over to The Village .
Many restaurants and businesses received considerable foot traffic just from the event and expect even more through the summer .
The 275-machine casino was taken over by Intrepid Gaming LCC.
Jon Berkley, CEO of Intrepid Gaming, said the establishment was a shell when the company decided to renovate and reopen it.
Minutes before the opening, Berkley stood on a balcony to greet the crowd.
"We are excited about reopening, and we are thrilled you're here," Berkley said. "When the bell chimes 9 p.m., the game is on."
At 9 p.m., following a fireworks show, the bell sounded, and the crowd pushed through the front doors of the casino.
Each guest was given a Club MonteLago preferred card to let the gaming begin.
The casino joined Ravella at Las Vegas, which opened Feb. 11 in the former location of the Ritz-Carlton and is operated by Dolce Hotels and Resorts.
Contact Henderson and Anthem View reporter Michael Lyle at mlyle@viewnews.com or 387-5201.