Landsman Gardens public housing complex to reopen
December 17, 2014 - 3:00 pm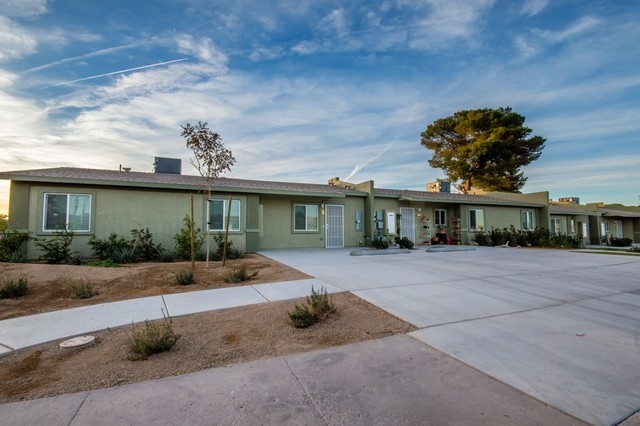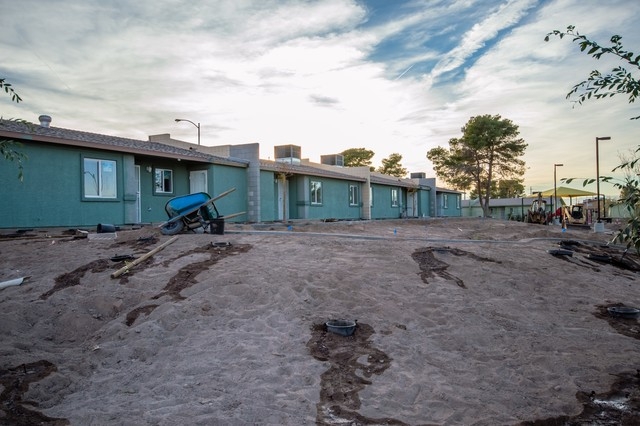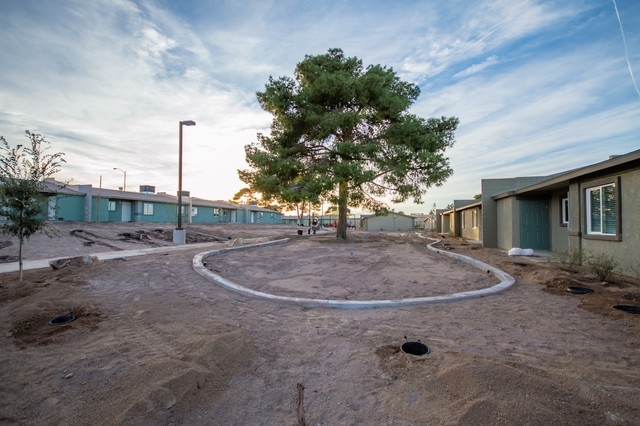 After being relocated to the Summerlin area in 2012, Cecilia Sanchez is happy to call Henderson home again.
Sanchez and her husband, Carlos Morales, were one of 100 families relocated during the renovations of the Landsman Gardens housing complex.
As management offered the families opportunities to return, Sanchez said her family did not hesitate to move back in November.
"We have family in Henderson, and the house is closer to schools and stores," Sanchez said. "The management is super great, and they welcomed us with lots of love and open arms. They're really helpful."
After undergoing a $23.5 million remodel, Landsman Gardens, 750 N. Major Ave., is set to complete construction by Jan. 21. A grand reopening ceremony is planned for 11 a.m. Jan. 8.
Built in 1971, the complex was the first family public housing offered in Clark County. It offers 100 units to residents earning less than 50 percent of the median household income, which is about $66,000 in Henderson.
"We have extraordinary families that are in need of affordable housing," said Amparo Gamazo, director of modernization and development of the Southern Nevada Regional Housing Authority.
The construction project kicked off in December 2013 after asbestos and lead-based paint were reported the previous year. Hundreds of residents were relocated to alternative properties while the housing authority made repairs, including remodeling the units, upgrading the electrical and plumbing systems and replacing heating and cooling units.
"The buildings were left standing, but all that was left were the exterior walls and some interior walls," Gamazo said. "The units have all new kitchens, bathrooms and flooring. They also meet energy requirements and are energy-efficient."
About 15 of the relocated families are set to return to the housing complex, according to Gamazo.
"Management was always sending stuff in the mail and making sure we were informed," Sanchez said. "It was a smooth transition during the moves, and we're just excited to be back."
To afford the upgrades, the housing authority received finances under the Rental Assistance Demonstration offered by the U.S. Department of Housing and Urban Development. The program allowed the housing authority to access private funds to perform structural renovations.
"There's been a lot of community support for this project," said spokeswoman Hilary Lopez. "Wells Fargo has provided welcome baskets for families. The State of Nevada Housing Division has allocated bond financing for this project. The board also approved some funds. It's an important project."
In addition to housing renovations, the complex remodeled a community recreation room and the Landsman Learning Center operated by Club Christ Ministries.
"We got a block grant through the city of Henderson to help us move back in and refurnish the area," said Evan Hartsell, executive director of the ministry. "We were with the complex for about three years before they closed it for remodeling. We plan to return sometime in December."
The learning center provides literacy, tutoring and mentoring services for children in first through 12th grade. The center moved to an apartment down the street while the complex was closed for construction.
"We're hoping to reconnect with some of the returning families and continue to invest in them," Hartsell said. "Instead of being just a center, we're more like a neighbor because we're directly in the neighborhood. It's got a homey atmosphere where children feel comfortable and the parents feel safe letting their kids come."
For more information, visit snvrha.org or clubchrist.org.
Contact Henderson View reporter Caitlyn Belcher at cbelcher@viewnews.com or 702-383-0403.