Las Vegas Assemblyman Joe Hogan dies
October 17, 2014 - 6:29 pm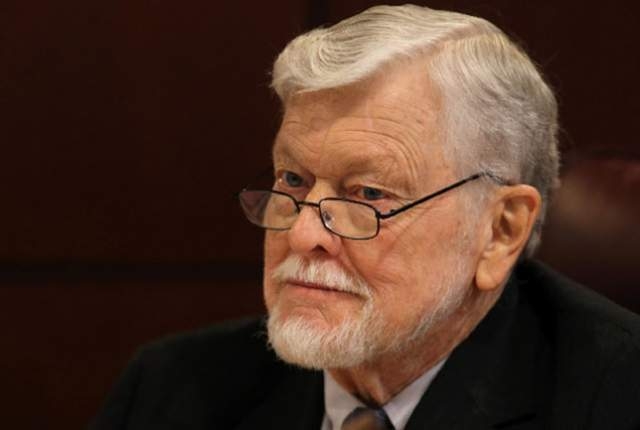 Nevada Assemblyman Joe Hogan died Friday, about seven weeks after suffering a massive stroke, his son said.
Hogan, D-Las Vegas, died in Virginia "peacefully with his family around him," said J. Michael Hogan Jr. He was 77.
"My dad was my hero, a great and wise father, smart civil rights lawyer, a quintessential happy warrior, and kindhearted public servant," Hogan added.
The family is working on arrangements and plans to have a memorial celebration in Las Vegas as well, he said.
Assembly Speaker Marilyn Kirkpatrick, D-North Las Vegas, expressed deep sadness at Hogan's passing, as did Gov. Brian Sandoval.
"Joe was a friend to all and one of the kindest and gentlest souls to ever grace the Legislative Building," Kirkpatrick said.
"We will be forever grateful for his passion and commitment to fighting for the rights of us all," Sandoval said. "Nevada is a better place because of his service."
Hogan, who began serving in the Assembly in 2004, had announced his retirement this year. He suffered a stroke in August while house hunting in the Washington, D.C., area.
Hogan recently had surgery to replace a heart valve. He also was in the early stages of Alzheimer's disease and had two minor strokes several years ago. He decided to retire after being diagnosed with Alzheimer's.
Hogan was preceded in death by his first wife and mother of his children, Ann A. Hogan. He is survived by his second wife, Sandy S. Hogan; his three children, daughter Kathleen Marie Rauh and sons Joseph Michael Hogan Jr. and David James Hogan; and five grandchildren.
Born in Fort Dodge, Iowa, on Aug. 10, 1937, Hogan graduated from the University of Notre Dame, served as an officer in the Navy and got his juris doctor degree from Georgetown University.
He worked for the Department of Defense and NASA, a job that he left in protest because the agency did not promote African-Americans according to merit in the 1970s, his son said. He also worked at the U.S. Department of Labor in the Office of Federal Contract Compliance, ensuring that federal contractors did not discriminate.
In retirement he moved to Las Vegas and was persuaded to run for the state Assembly, where he focused on minority opportunities and water conservation.
Contact Laura Myers at lmyers@reviewjournal.com or 702-387-2919. Find her on Twitter: @lmyerslvrj.