Las Vegas-based group explores Southern Nevada searching for rock art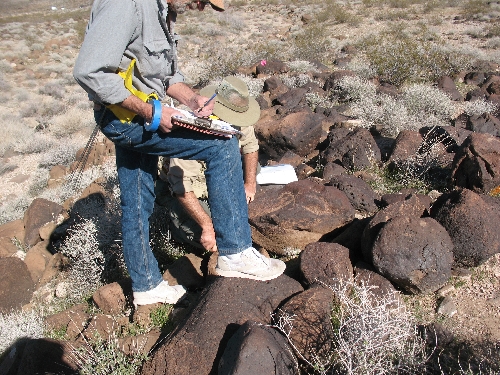 They are clues to another time, made by prehistoric people who carved a way of life in the Mojave Desert.
Rock art may not be understood, but it is part of the historic record and is being monitored diligently by the Southern Nevada Rock Art Association.
SNRAA, pronounced "sun-ray," is a group of dedicated people who have a common interest in rock art — pictographs and petroglyphs — and historical artifacts found at such sites. It was a loose-knit group that began more than 30 years ago. In 2002 it was established to provide free educational programs to the public and assist local government agencies in the study, preservation and protection of rock art in Southern Nevada.
Spring Valley resident Loretta Watson has been a member since the 1980s. What prompted her interest in the group?
"I always loved learning about ancient people, and I wanted to learn more," she said.
Another member and Spring Valley resident, Jean Mason, said that with each trip, she wonders about the people who make the rock art.
She speculates on "who drew it and what were they thinking? When you see a really spectacular one, you're just oohing and aahing," she said.
Members may volunteer to help document the ancient images, photographing and taking measurements of petroglyphs — motifs pecked into the rock, a subtractive process — and pictographs — painted designs on rock, an additive process. The group notes intaglios, made by turning or removing rocks to make a pattern.
They follow the adage "take only pictures, leave only footprints."
Many SNRAA members act as site stewards, hiking sections to ensure that there has been no vandalism. If they note something, such as graffiti or rock removal, they report it to oversight programs — the Cultural Site Stewardship Program headed by George Phillips for Clark County and the Nevada State Site Stewardship Program under the State Historic Preservation Office, led by Sali Underwood.
Speakers provide an educational aspect. March's speaker, for example, was Ken Hedges, curator emeritus for the San Diego Museum of Man. He spoke on pre historic Patayan rock art of the far Southwest, which included Hohokam-style rock art with digitated anthropomorphs — stick figures with splayed fingers and toes.
"It teaches you respect for what you see," said Linda Avance, of being a member .
Each month, SNRAA plans trips to remote sites. To ensure minimal impact on the land, the Bureau of Land Management allows a maximum of 12 people and four vehicles. One must be a SNRAA member to be allowed on the trips.
The group members try to drive as close as possible to sites, but they still need to hike and scramble over rocks. That can be a hike of a mile or two.
Watson said going to rock art sites is a good way to get exercise. In the days before computers and satellite imaging, one might get more exercise than anticipated, especially if the hike leader's memory had trekkers meandering here and there and retracing footsteps, trying to find the art.
"Now, with GPS, it makes a real difference," said Summerlin-area resident Elaine Holmes, a member since the 1980s.
There can be a sense of discovery when out at the sites.
"Sometimes it's exciting … rock art can be very dramatic," said Doug Rorer, president of SNRAA. "Occasionally you'll find a spot with a unique, complicated drawing."
He said often it's hard to know what it's depicting, leaving one to wonder.
"Sometimes, it's fairly obvious," he said. "A sheep is a sheep."
Not all the rock art is from ancient tribes. Settlers traveling west left signs of their passing. People in the 1920 s and '30 s left initials and dates for their version of rock art. Even the Native Americans created new art on top of old, faded ones.
"But when you see paint balls and spray paint, people who do that have no appreciation for history," Rorer said.
Meetings are scheduled for the fourth Monday of each month from 7 to 9 p.m. at the REI store in Boca Park, 710 S. Rampart Blvd.
The May trip is scheduled to be a habitation tour of rock shelters at Crystal Wash in Lincoln County. The June trip is scheduled to mark the summer solstice with a trip to the White River Narrows, about 120 miles north of Las Vegas.
The group's monthly meetings are open to the public and are free to attend. For more information, visit snraa.org.
Contact Summerlin and Summerlin South View reporter Jan Hogan at jhogan@viewnews.com or 387-2949.