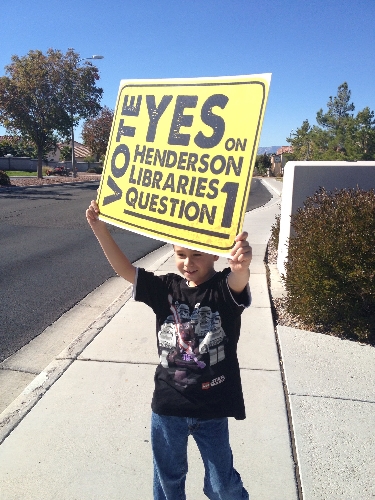 The Lydia Malcolm Library was a cornerstone to Laura Price and her family.
Her 7-year-old, Aiden, would frequent the library to read his favorite books. Price's other son, Nathan, volunteered more than 300 hours there in high school.
Price's mother knew Lydia Malcolm, the namesake for the library.
"She was her librarian," Price said. "She and her friends would go down to the library on Water Street to study after school. She remembers her being real strict."
But that is all changing with the defeat of the Henderson District Public Libraries ballot question, which would have implemented a 2-cent tax rate increase to contend with budget shortfalls. The measure was struck down Nov. 7.
As a result, the Malcolm Library, 2960 Sunridge Heights Parkway, is scheduled to close its doors Friday.
"My son will be back in town just in time to say goodbye," Price said. "It is very disappointing. Our family has been going there for so many years and now it's closing."
The Galleria Library inside the Galleria at Sunset mall, 1300 W. Sunset Road, was scheduled to close Nov. 21.
Although disappointed, Price was not surprised by the way people voted.
"I was concerned when I saw the ballot question," Price said. "I knew it would be difficult to pass because we were asking the community to dig deeper into its pockets and pay more money."
The ballot question proposed a 2-cent tax rate increase per $100 in assessed property value to counteract budget shortfalls for the library district.
Henderson Libraries, which receives 5.75 cents per $100 in assessed property value, has the lowest tax rate among libraries in Clark County. North Las Vegas receives 6.32 cents, Boulder City receives 8.55 cents and Las Vegas-Clark County receives 9.42 cents per $100 in assessed property value
The district and residents had been campaigning for the last few months for people to vote in favor of the question. They would hang posters in storefronts, stick them in yards and hand out literature whenever they could trying to get the word out.
"We have to ask ourselves, 'What will we be leaving our children?' " Price said.
Even on Election Day, people were out on the streets holding signs that said "Vote Yes on Henderson Libraries Question 1."
Although too young to vote, Aiden was out campaigning.
"He told me, 'I will not let them close my library without a fight,' " Price said.
Tom Fay, the executive director for the Henderson District Public Libraries, spoke at events warning people about foreseeable closure if the question failed.
"I wouldn't tell them how to vote," Fay said. "I would just give them the information and let them decide."
Of the 117,573 votes the question received, 64,566 people, or 54.92 percent, voted against the measure.
"I felt very sad when I found out," Aiden said. "I really liked that library."
Along with a community loss, Fay said about 15 positions are expected to be lost from the closures.
When the issue of library closures came up this year, Fay told employees that if the question didn't pass, the libraries would close in January 2013.
However, since the library staff was already dwindling, Fay said the closures could be expedited.
Fay said he plans to keep some Malcolm and Galleria staff members on at other locations until the first of the year.
All the popular collections from the Galleria and Malcolm libraries, along with some of the computers, are expected to be absorbed into the remaining four libraries.
Whatever is left over is planned to be shipped to the Malcolm Library, which will be used as a storage space for the district.
The small display dedicated for Lydia Malcolm, one of the first Henderson Libraries staff members who worked at its first library on Water Street, is expected to be moved to another location, Fay said.
Fay said there are no plans to sell the building.
"Maybe down the road, depending on the economy," Fay said. "We would try to get what we put into it back."
Fay said the district should know by March whether it will have to close the library inside the Heritage Park Senior Facility, 300 S. Racetrack Road.
The closures are the culmination of more than $2.5 million in tax revenue the library district has lost in the last few years recent years.
Henderson Libraries tried other methods to contend with budget shortfalls, including hour reductions, closing on Sundays and a 10 percent decrease in pay for employees.
The district announced in September that it would close libraries on Mondays to save an estimated $50,000 to $75,000 a year.
"You can only cut so much," Fay said. "You can't continue down that path without cutting the quality of service."
For information about Henderson Libraries, visit www.mypubliclibrary.com.
Contact Henderson/Anthem View reporter Michael Lyle at mlyle@viewnews.com or 702-387-5201.