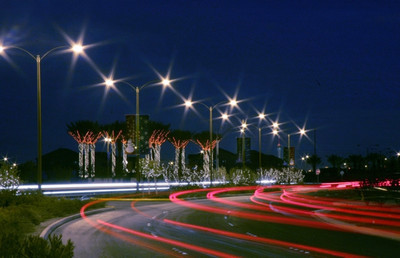 The holiday season is officially in full swing following the Thanksgiving meal. Signs of the gift-giving season have emerged — holiday music, wreaths and strings of lights, Santa appearances and special religious services.
Master-planned communities also are getting into the holiday spirit with a plethora of activities for their residents. Some actively selling communities are offering residents-only festivities, while others are planning events that are open to current residents and home shoppers.
Mark the calendar with the following holiday-theme, master-planned community activities that are planned for residents and nonresidents:
Aliante
* Winter Holiday Festival: Dec. 1. Planned from 6 to 9 p.m., this free event will offer holiday-theme activities at the Aliante Information Gallery and in the adjacent Nature Discovery Park. Horse-drawn carriage rides from the gallery will be featured, as well as large light displays. Carolers will greet visitors to a welcome tent where sweets, a chocolate fountain, hot chocolate and apple cider will be provided.
* Toy Drive: Through Dec. 21. The community's information gallery is hosting a toy drive in conjunction with the Firefighters of Southern Nevada Burn Foundation. Donors are welcome to bring new unwrapped toys to the gallery from 10 a.m. to 5 p.m. daily. The gallery and park are located at the southeast corner of Aliante Parkway and Interstate 215, the Las Vegas Beltway, off Nature Park Drive. For information, visit aliantehomes.com or call 866-787-2951.
Inspirada
Inspirada's information center at 1890 Via Firenze, located off St. Rose Parkway and Executive Airport Road in Henderson, will host a holiday event in mid-December. At press time, details for the holiday festivities were being developed. For further details, call the community's information center at 866-758-5483.
Lake Las Vegas Resort
This actively selling community in eastern Henderson kicked off its holiday season with a tree-lighting ceremony Nov. 16. In addition, it will continue last year's holiday-theme offerings at MonteLago Village:
* Gingerbread House Competition: Dec. 1-22. Chefs are submitting their sweet gingerbread creations in this competition. The gingerbread houses will be judged on overall appearance, creativity and consistency of the theme, "The Holidays Around The World," on Dec. 1. Prizes for the best gingerbread houses in each category vary, but include cash and resort-affiliated amenities. They will be displayed in the lobbies of The Ritz-Carlton, Lake Las Vegas and Loews Lake Las Vegas Resort Dec. 1-22.
* Floating Ice Rink: Through Feb. 17. An ice skating rink that floats on the 320-acre Lake Las Vegas off the shore of MonteLago Village, is open to skaters of all ages. The rink, which can accommodate up to 60 skaters at one time, is open from noon to 9 p.m. weekends and from 3 to 9 p.m. weekdays, except from Dec. 22 through Jan. 7 when the weekday and weekend hours are from noon to 9 p.m. Cost is $15 per person, and $12 for children 12 years of age and under.
* Santa is also scheduled to visit MonteLago Village on weekend afternoons from Dec. 1 to 23.
To reach Lake Las Vegas and MonteLago Village, take Lake Mead Drive east, past Boulder Highway, and follow the signs. For more information, call 564-1600 or visit LakeLasVegas.com.
Mountain's Edge
* Carols and Santa: Dec. 12. From 4:30 to 7 p.m., the community's Home Search Café will host holiday caroling and a special guest appearance by Santa. Hot chocolate and hot apple cider will be served.
The café and information center is located at the southwest corner of Buffalo Drive and Blue Diamond Road. Check out MountainsEdge.com for more details.
Providence
St. Nick is also planning to visit this northwestern valley community.
* Santa Storytime and Carols: Dec. 13. Santa will make an appearance and read classic holiday stories such as "Twas the Night Before Christmas" at the community's home-information center from 4:30 to 7 p.m. In addition, holiday carolers will provide entertainment and hot chocolate and apple cider will be offered.
The information center is located north of the North Hualapai Way and I-215. For more information, check out providencelv.com.
Summerlin
In addition to several resident-only activities planned by its community association, this master-planned community located in the western valley is offering the following events open to the public:
*Community Food Drive. The Summerlin Council has launched this annual food drive benefitting the Las Vegas Rescue Mission. Donations will be received at Summerlin's three community centers and at Le Cordon Bleu College of Culinary Arts Las Vegas, 1451 Center Crossing Road – a partner of the drive since 2004. Those who donate more than five items will receive a coupon for a complimentary dessert at Café Bleu, the institute's student-run restaurant.
* Festival of Lights: Winners announced Dec. 13. This annual holiday home and neighborhood decorating competition coordinated by The Summerlin Council will be judged by the Women's Club of Summerlin.
Winners will be announced Dec. 13 and a list of winners will be available at community centers Dec. 14.
Centers include The Trails Community Center, 1910 Spring Gate Lane; The Willows Community Center, 2775 Desert Marigold Lane; and The Gardens Community Center, 10401 Gardens Park Drive. They are open from 9 a.m. to 9 p.m. weekdays and from 8 a.m. to noon on Saturday.