Lucy Flores: Nevada's most interesting candidate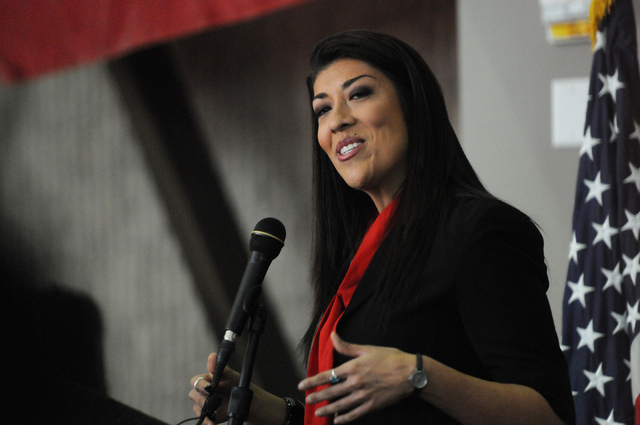 The most interesting race this election cycle in Nevada is that of lieutenant governor. And the most interesting candidate in that race is, without doubt, Lucy Flores.
First, she's hand-picked by Sen. Harry Reid, D-Nev. Second, she's the best hope Reid has of not facing Nevada's popular Hispanic Gov. Brian Sandoval in 2016.
And let's be honest, none of us would be talking about the Nevada race for lieutenant governor if it were not for that Reid-Sandoval dynamic.
On the GOP side, we'll see a good race between state Sen. Mark Hutchison and former state Sen. Sue Lowden.
Hutchison is backed by Sandoval. Lowden lost in the 2010 U.S. Senate primary against Sharron Angle, who then lost to Reid in perhaps the worst-run GOP campaign in the history of Nevada. She snatched defeat out of the jaws of victory.
If Lowden can get through the primary, previous polls have shown her adept at getting cross-over votes from Nevada Democratic women. She's one of the few GOP candidates who can do that.
Add to this the wild card of a state GOP apparatus that has gone rogue from the Republican elite and, brother, anything can happen.
But Assemblywoman Lucy Flores remains my pick for the most interesting candidate in 2014.
Since the last legislative session, Ms. Flores has tried to set the stage for her candidacy in the narrative of a disadvantaged Hispanic girl who made bad choices in life — got pregnant, joined a gang — but turned herself around to graduate college and become a lawyer.
It's a compelling narrative. But it is also a narrative that has yet to be vetted.
As I pointed out earlier when she began to form her narrative, she's jumped the shark on traditional pro-choice candidates to set up her story as one who had an abortion to improve her life. She told the media and legislative colleagues that her sisters kept their babies and she saw how difficult it was for them. So she aborted her baby and escaped those difficulties. Not what one would call a particular selfless or brave act when it is told that way.
It's one thing to say women need the ability to make the choice, and it's quite another to say abortion is a fabulous career path.
She'll need to deal with that in greater detail, I think, as the campaign progresses. My guess is that she walks back the "abortion is good" theme and cloaks herself in "women need choices" path. Then she'll just try to shut up about that topic.
The other part of her "bootstraps" narrative comes in her membership in a gang. She tells the story that she got in a gang, did things that gang members do and eventually was arrested for stealing a car. After she was caught, she turned her life around with the help of a probation officer.
That begs a lot of questions. She was caught stealing a car, she says. What else did she do as a gang member for which she was not caught? Did she hurt anyone?
She should be asked to release her juvenile records. Will she? And if she won't, why would anyone buy her version of the narrative?
In a campaign such as this, Ms. Flores is not going to be able to get away with picking what details she wants to release in her narrative.
Nevertheless, if I were the GOP, I wouldn't overlook the Flores candidacy. She's got help from a very interested Reid and that counts for a lot in Las Vegas — not in Nevada, but in Las Vegas.
I would not be surprised to see President Obama get involved in a Flores candidacy, if she deems his presence a positive.
Keep your eye on Lucy Flores. She's the most interesting candidate in Nevada.