Lyon County might ban medical marijuana dispensaries
September 14, 2013 - 3:50 pm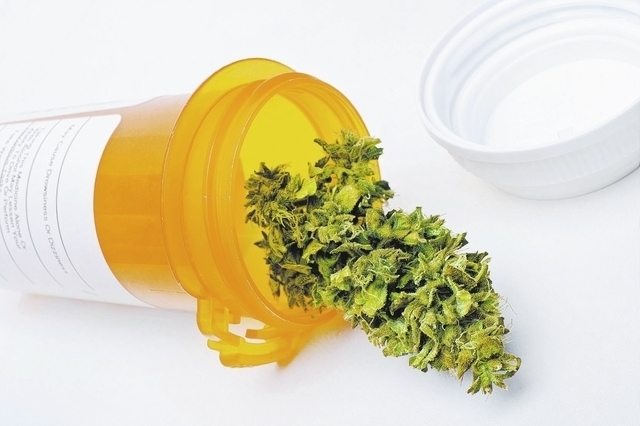 CARSON CITY — Lyon County officials have proposed a zoning ordinance to prohibit medical marijuana dispensaries in unincorporated areas, fearing the shops would attract violence and organized crime.
The ordinance, requested by Sheriff Allen Veil, was formally introduced earlier this month by Lyon County Commissioner Virgil Arellano, the Mason Valley News reported.
"This is not about medical marijuana use," Veil told the newspaper. "It's about preventing the use of the system by organized crime and related violence in Lyon County.
"If someone needs to use medical marijuana that's prescribed, we don't deal with those people unless they come out and commit a crime," he said. "If they stay home, it's not an issue for us."
Senate Bill 374, passed by the 2013 Legislature and signed by Republican Gov. Brian Sandoval, sets up a taxing, regulatory and distribution system for medical marijuana. Nevada voters approved medicinal pot in 2000, but there was no way for patients to legally obtain the drug except by growing it.
The law authorizes one pot dispensary in each of Nevada's 14 rural counties, with up to 40 allowed in Clark County, 10 in Washoe and two in Carson City.
"Where there's marijuana, organized crime has a finger in it, if it's not controlled by them," Veil said. "The potential is great for abuse and money laundering and there's absolutely no reason Lyon County should want to be a part of that."
State Sen. Tick Segerblom, D-Las Vegas, a primary sponsor of the bill, said the law allows local entities to opt out of allowing dispensaries.
"If they don't want it, we do not want to force this on them," Segerblom said Wednesday. However he scoffed at Lyon County's objection to pot shops, given its acceptance of legal brothels.
"It's a little ironic they like prostitution but they're worried about a few good buds of pot," Segerblom said.
The state Health Division is tasked with adopting regulations and implementing the law that takes effect April 1.
The law states that any marijuana establishment registration certificate issued by the health division will be "provisional" in local jurisdictions until the dispensary is in compliance will all local ordinances or rules and a local business license is obtained.
The law doesn't force local jurisdictions to accept dispensaries, and proprietors denied a license could challenge local restrictions in court.
"Our position is there is nothing in the state law that prohibits a county from using zoning laws in the full manner that zoning law allows," Lyon County District Attorney Bob Auer told the newspaper. "Our office is prepared to defend that position."