Making Strides Against Breast Cancer walk Oct. 30
October 3, 2016 - 9:20 am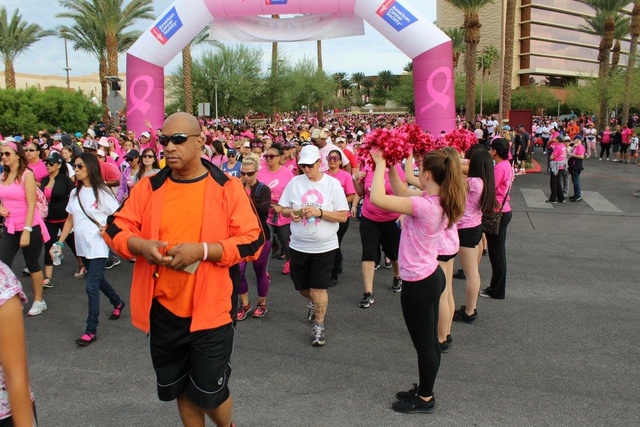 The pain and suffering that can affect breast cancer survivors and their families can feel insurmountable. But a local event helps survivors one step at a time.
The American Cancer Society's Making Strides Against Breast Cancer walk Oct. 30 at Red Rock Resort in Summerlin is expected to attract more than 24,000 people.
"Making Strides and the fundraising from the community enable us to continue programs and services for cancer patients," said Nick Bressler, community manager for Making Strides Against Breast Cancer, Great West Division, American Cancer Society. "At the event, communities embrace a bittersweet mix of purpose — celebrating survivorship and paying meaningful tributes to loved ones lost. From research to education, prevention to diagnosis, and treatment to recovery, we provide support to everyone impacted by breast cancer."
The annual event helps fund innovative breast cancer research, promotes education and risk reduction through early detection and provides free programs and services to existing and surviving breast cancer patients. The event has raised more than $750 million nationwide since its inception in 1993. In Las Vegas, Making Strides raised $750,000 last year.
"We want Making Strides to continue to be a community event where people come together to celebrate lives saved and progress made to change the future of breast cancer," Bressler said. "As long as people are diagnosed with the disease and being treated for breast cancer, the American Cancer Society will continue to dedicate resources to groundbreaking research and we will be available to cancer patients and their families."
New this year is Real Men Wear Pink, a group of men who have been affected by breast cancer and have been speaking at events about their experiences. Each year more than 2,600 men are diagnosed with breast cancer in the U.S., and more than 240,000 of their daughters, wives, mothers, sisters, and friends face the news each year as well. In Nevada, more than 2,000 women will receive a diagnosis this year, with nearly 400 dying from the disease.
"Thanks in part to the progress we're making together, breast cancer death rates are down 36 percent since 1989," Bressler said. "That equates to nearly 249,000 lives saved during that time."
The American Cancer Society helps cancer patients access treatment. Its Hotel Partners Program and 31 Hope Lodge locations in the United States and Puerto Rico provide free lodging for cancer patients and caregivers who must travel for treatment. More than 300 room nights were given to cancer patients last year in Las Vegas through that program.
"Our Reach To Recovery program matches trained volunteer breast cancer survivors to people facing or living with breast cancer," Bressler said.
Volunteers assisted more than 50 cancer patients and their family members to ask questions, talk about their fears and concerns and express their feelings.
"Because of the determination of Making Strides supporters, the American Cancer Society is there for people in every community affected by breast cancer, whether they're currently dealing with a diagnosis, may face one in the future or will avoid it altogether because of education and risk reduction," Bressler said.
Last year more than 250 women attended the Look Good Feel Better workshops that help women with cancer manage the appearance-related side effects of treatment. Trained volunteer beauty professionals teach simple tricks and techniques on skin care, makeup and nail care, and give practical tips on how to deal with hair loss, finding and caring for quality wigs and alternative head coverings. Workshop participants receive a free cosmetic kit and style tips.
"While the progress we're making is remarkable, there's still more work to do," Bressler said. "We need the people of Las Vegas to help us end the suffering that breast cancer can cause."
Anyone can begin a team by signing up at MakingStridesWalk .org/LasVegasNV. Fundraising has already begun for the Oct. 30 event. Onsite registration for this noncompetitive, inspirational event begins at 7:30 a.m. and the walk is set to start at 8:30 a.m.