Maravilla Courtyards has options
October 6, 2012 - 1:05 am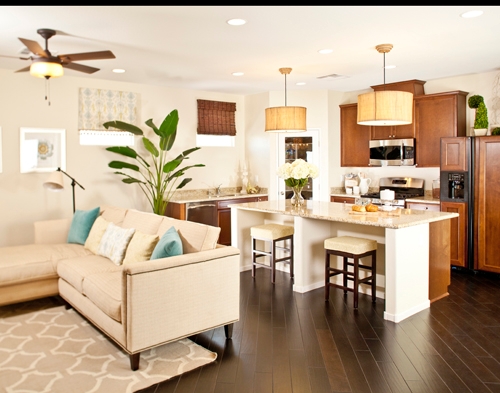 When Ryland Homes gave Roselle Canda the keys to her new Maravilla Courtyards home, the longtime Las Vegas resident began planning her move. Canda and roommate Maggie Muro are looking forward to having more space in their four-bedroom, 2,157-square-foot home.
"We needed a bigger space," Canda said. "We definitely needed a fourth bedroom, and found a home at Maravilla Courtyards with everything we wanted and a quick move-in."
Canda chose the Stefania model at Ryland's newest Mountain's Edge collection. The two-story home also includes three baths, loft, an interior courtyard and a two-car garage.
"Our last house sold quickly, so it was great that Ryland had a home we liked that was ready for us to move in," she said. "I liked the area, too. The new community water park will be close by and that will be a fun place to go with my younger brother and mom."
Maravilla Courtyards has many outdoor amenities, including the 20-acre Nathaniel Jones Park, which recently opened at Mountain's Edge. The park includes a lighted basketball court, tot lot with shade structure, children's water play area with splash pad, turf areas, walking trails and shade structures.
Maravilla Courtyards, which opened in April, offers a collection of homes with three floor plans that include options for a rooftop deck.
"Our rooftop decks, now also available in the northwest at Indigo Hills, give homeowners a perfect place to relax and enjoy the beautiful Southern Nevada weather," said sales agent Mara Glaser.
The neighborhood offers three floor plans ranging from 1,852 to 2,157 square feet with prices starting at $166,990. The plans include additional appointments like dual master suites and three-car parking.
"This is the only Ryland Homes community that qualifies for down payment assistance through the Nevada Rural Housing Authority," Glaser said.
Maravilla Courtyards homebuyers can apply for a free cash down payment grant that is equal to 4 percent of the loan amount, she added.
The Nevada Rural Housing Authority developed Home At Last in 2006 to help more Nevadans purchase their first home. It has administered more than $178 million in mortgage and down payment funds to about 1,000 Nevada families. Interested applicants can find out about qualifications for the program online at www.nv.rural.org/access or by visiting the Maravilla Courtyards sales office.
"This program can save you thousands on your new home and even be coupled with current incentives Ryland Homes is offering," Glaser said.
Maravilla Courtyards' sales office is at 10061 Aspen Marshall St. and open from 10 a.m. to 6 p.m. Saturday through Thursday and noon to 6 p.m. Fridays. To visit, take Blue Diamond Road heading west and head south on El Capitan Road. Head east on Mountain's Edge Parkway and take the first left into Maravilla Courtyards. For more information, call 702-218-4925 or visit www.rylandvegas.com.