Masto, Heck have different advantages in money race
February 2, 2016 - 8:27 pm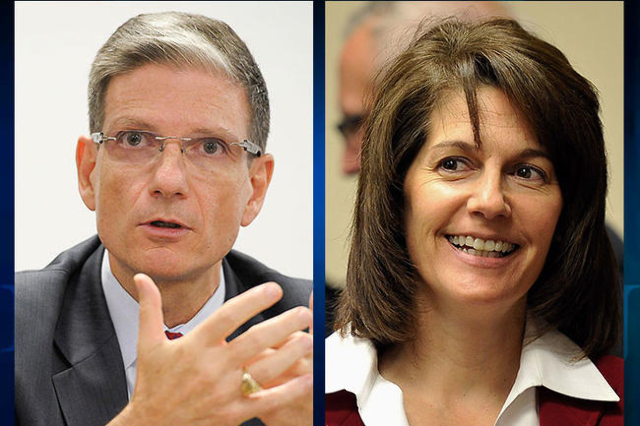 The two leading candidates in the race for the open U.S. Senate seat of Sen. Harry Reid are amassing war chests that are already in the millions of dollars.
Former Nevada Attorney General Catherine Cortez Masto, a Democrat, has $2 million cash on hand, and U.S. Rep. Joe Heck, R-Nevada, has $2.9 million cash on hand, according to figures provided by the campaigns late Tuesday.
While Heck has the clear advantage in cash on hand, Cortez Masto's campaign raised more money in the last quarter. His campaign reported receipts of $1.22 million for the last quarter, and Cortez Masto reported raising more than $1.3 million in the same period, which ended Dec. 31, according to the campaigns.
Cortez Masto, who started her run for Senate in April and has the blessing of Reid, the Senate's minority leader, reported that 93 percent of her contributors gave less than $200.
"The grassroots momentum and support for Catherine in this race shows that Nevadans recognize the clear choice in this election — that Catherine is the candidate who will solve problems in Washington, unlike Congressman Heck who has just contributed to the partisan gridlock while serving in Congress," said Scott Fairchild, Cortez Masto's campaign manager, in a statement.
Heck announced his Senate run in July.
"Despite a three-month head start and the backing of the Obama-Reid money machine, we're leading in cash on hand since Dr. Joe Heck entered the race by nearly $900,000," said Brian Baluta, spokesman for Heck's campaign. "After 30 years of Harry Reid, Nevadans are ready for real leadership in Washington, D.C."
Contact Ben Botkin at bbotkin@reviewjournal.com or 702-387-2904. Find him on Twitter: @BenBotkin1