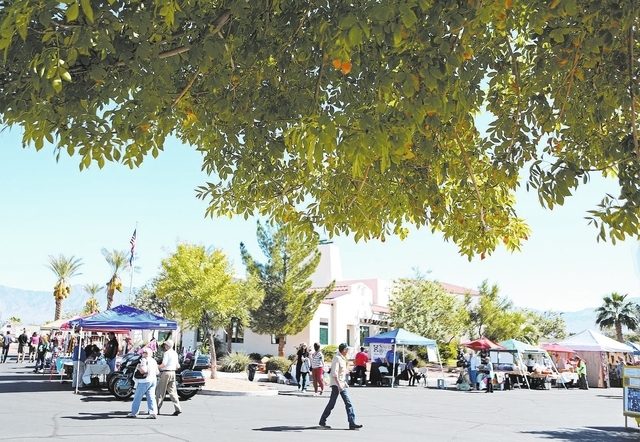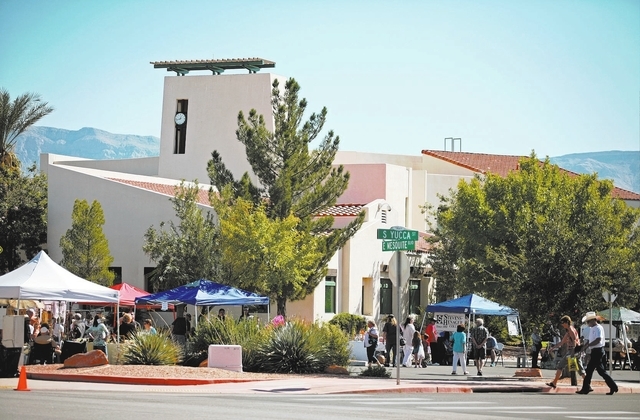 MESQUITE
Peggy Sue's Fifties Diner is packed on a Thursday afternoon. Families, retirees and those just passing through town are sitting down for a bite in the '50s-themed joint.
The adjacent Tiki Bar is bare, with the exception of two older men sipping pints of beer served by the bartender, Ryan. The customers, both Mesquite residents, can't stop talking about nearby Overton today. They mention, among other things, the Muddy River Bar and Grill and its "famous" clientele.
There's more than enough to keep people occupied right in their own town.
Outside, Mesquite's streets are lined with small businesses of every type, from Tea Euphorias and Roots Hair Salon to Guns &Guitars and Mesquite Lock Doc. Residents Mike and Jan Sullivan have owned Guns &Guitars at 1085 Pioneer Blvd. for three years.
"I didn't own a gun before I moved out here," Mike Sullivan said.
Nine years ago, the couple moved to the Nevada town to beat the cold back east — they had been living in Longmeadow, Mass. The duo chose Mesquite after a suggestion from friends in Las Vegas, a city they didn't want to move to.
The Sullivans got into firearms for recreation and protection, and it seemed as if everyone in Mesquite had one. Many of their new friends were ex-military or retired police officers, and Sullivan joked that Mesquite "is not a town you want to break into."
While enjoying their new hobby, Sullivan, a carpenter by trade, worked in the building industry. During the Great Recession, work slowed and a gun store in town was closing at the same time. He entertained the idea of buying that one, but instead the couple opened their own place.
With less than 20,000 people living in town, life in Mesquite has been interesting, Sullivan said.
Business is tough during summers when people are out of town, as many of the residents are snowbirds who come back in the fall and winter.
"There are people from every state in the union living in this town," Sullivan said.
The biggest adjustment for the couple since moving to Mesquite has been the lack of shops and services: a Wal-Mart was built in the city about five years ago. Before that, residents had to go to nearby St. George, Utah, to buy underwear, as one 85-year-old Mormon resident eloquently told Sullivan.
"I swear my wife counted the blocks that were laid every day while that Wal-Mart was being built," he remembered.
Now, Mesquite is the go-to shopping destination for residents in nearby Overton and Moapa Valley. Termed the "Gateway to the Grand Canyon," Mesquite and its surrounding area is known as Gold Butte. Geographically, Mesquite is 37 miles from St. George, 80 miles from Las Vegas, 49 miles from Lake Mead and 188 miles from the Grand Canyon.
Gold Butte refers to the expanse of more than 350,000 acres of public land that lies south of Mesquite, bordered by the Virgin River, mountains and the Colorado River. Adjacent to Gold Butte to the east is the Grand Canyon-Parashant National Monument, the western flank of Grand Canyon National Park. To the north and west of Mesquite lie unpopulated public lands that were traversed by the ancient Native Americans and settlers of the West. Mesquite also lies on the old Spanish Trail.
Distinctly southwest, many of Mesquite's businesses reflect this in their culture. There's Kokopelli Landscaping, named for a Native American fertility deity; Spirit Wind Native Art Gallery and Desert Oasis Spa and Salon. Mesquite also is home to a large Sun City development that attracts retirees.
The average age of a Mesquite tourist was 56 in 2012, according to the Las Vegas Convention and Visitors Authority. That same year 996,146 people visited the city, and 94 percent of them were repeat customers. In 2012, the city had the lowest amount of hotel rooms it's had in years: 1,745.
Sullivan said Mesquite attracts more of a mature, adult crowd in terms of tourists: "We don't get some of the characters you get in Vegas."
But it does have its fair share of characters, just not the same sort.
One woman came into his shop with her daughter and grandson last year, talking about how she shot a deer from 360 yards away. Later in the conversation when Sullivan told her he sold her type of ammo, she peered over her glasses at him and said, "I use one bullet a year."
"It's been educational," Sullivan said with a laugh.
He also is providing a service. Before opening, there was nowhere to purchase guitar strings in Mesquite. Off and on, the store hosts firearms classes and guitars, held separately. Sullivan often accepts homemade tamales as payment for guitar lessons.
Aside from the business contingent, Mesquite is famous for its four casinos and seven golf courses, including the famed Wolf Creek golf course, which made it on to a Tiger Woods video game; Eureka Casino Resort; and the Conestoga Golf Course. Recently, Eureka purchased the Mesquite Star.
"We are waiting to see what exciting plans they have," said Vicky Walter, president and CEO of the Mesquite Chamber of Commerce.
According to Walter, Mesquite residents frequent the resorts for gaming, events, restaurants and entertainment. The hotel-casinos are also the largest employers.
"Mesquite is a safe and friendly community with gaming, golfing, a growing artist community and a fascinating history. The surrounding beauty of the red mesas inspires residents and visitors," Walter said.
The city also is home to a fine arts gallery, live theatre, a museum, two movie theaters, parks, hiking and is off-road vehicle friendly.
"During the time the Virgin River overflowed a few years ago, the people of Mesquite came together to help each other," Walter said. "So many residents helped to fill sandbags for those whose homes were threatened and they didn't even know each other. This is a common occurrence."
Contact reporter Laura Carroll at lcarroll@reviewjournal.com or 702-380-4588. Follow @lscvegas on Twitter.