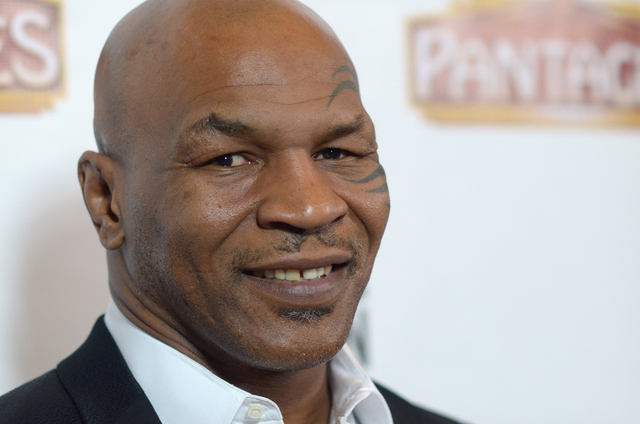 Mike Tyson takes on his demons in "Being: Mike Tyson," a six-part documentary that premiers on Sunday.
The former heavyweight boxing champion makes an emotional return to the mean streets of his youth, a crime-infested Brooklyn neighborhood known as Brownsville.
In a Q and A with the Review-Journal, he described the homecoming as being "sucker-punched."
The documentary premieres between 3:30 and 4:30 p.m. Eastern time after the NFL on Fox. It continues on Tuesdays at 10:30 p.m. on Fox Sports 1 for the next five weeks.
The interview:
Returning to his roots…
"That affected me, being back in Brownsville. I felt like I was sucker punched. Boom. The crowd was overwhelming. I'm not known for my patience. I'm just like those people. They don't deserve that (his impatience). But that's my baggage. Where ever I go, I bring my baggage. My baggage is my demon."
On his recent relapse and comment that he was "on the verge of dying because I'm a vicious alcoholic."…
"I shouldn't have said that," he said.
He's grateful for the support of those who helped him turn around his life. He's been a changed man since marrying Kiki four years ago.
"That's the person I want to be," he said.
"The relapse was about being overwhelmed with love," he said. Wife. Kids. A growing public following pulling for him. For so many years, his survival instincts were fueled by anger. Love wasn't part of that world.
Now, he said, "If someone shows me love I might drink two gallons of Hennessy (cognac) and do drugs."
On Las Vegas fight referee C.J. Ross, who stepped aside indefinitely this week after her controversial 114-114 draw in the Mayweather-Alvarez fight last Saturday at MGM Grand.
"She confronted half the issue. She should apologize. Write this down: She psychologically scarred that man. I don't think she should step aside. She should be able to referee, but she should pay a penalty." Bottom line, he said, "They need to have a government body govern boxing."
On Floyd Mayweather Jr….
"We're very different people. I don't particularly like him…we're just different people." Part of the difference, Tyson has said, is their polar-opposite lifestyles: Mayweather's appetite for extravagance vs Tyson's search for serenity.