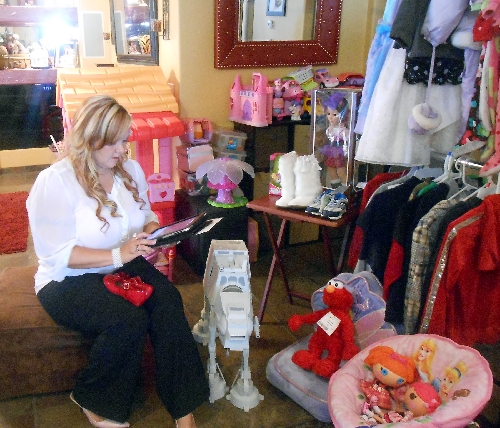 As moms, Leslie Stewart and Lisa Renteria know the needs of managing a family on a tight budget.
"With the economic downturn, people need to stretch the budget," Renteria said.
That is why Renteria and Stewart developed a consignment sale, As They Grow, to help people make money by selling used and unneeded children's items while offering community members an alternative shopping destination.
As They Grow is planning its Henderson-area debut from 10 a.m. to 8 p.m. Friday and Saturday and 10 a.m. to 3 p.m. Sunday in a building space at 9850 S. Maryland Parkway. There is a $2 cash entry, but free admission coupons are available at various local establishments.
At the As They Grow sale, people can sell items their children have outgrown from infant to 12 years old. Merchandise includes strollers, toys, clothing and just about any type of infant gear.
About four years ago, Stewart discovered consignment sales while she was searching for an idea that would allow her to start a business and be a stay-at-home mom. Unlike a garage sale, consignors don't have to do the selling in person. They decide which items to get rid of, price them through the As They Grow website, then drop them off to be sold.
Stewart and Renteria, along with a litany of consignor followers, transform piles of merchandise into an organized layout.
"It is set up similar to a department store," Renteria said.
Opposed to a garage sale, where people might get heavily discounted prices, or a resale store, where consignors get about 30 percent of what an item is worth, Stewart said consignors get 65 percent of what the item originally sold for at As They Grow. People who volunteer for two or more shifts at the sale get 70 percent.
"You're getting things either gently used or brand new," Renteria said.
Erica Shea has been consigning from the beginning. At her first event, she made about $200 and has made as much as $3,200.
"People don't realize how easy it is," Shea said.
The first As They Grow sale was in Summerlin in 2008. The next As They Grow, which is set up several times throughout the year, is scheduled for spring 2013.
"We knew we had consignors in Henderson," Stewart said.
Renteria said customers are getting the best bang for their buck.
"We've gotten great feedback," Stewart said. "We had a mom say she outfitted her three kids for the year for about $100."
Setting up the sale has been a trial-and-error experience, Renteria said.
The first few events were promoted by word of mouth.
"I heard about it at a Bible study," Shea said.
But after one mom told another, As They Grow bloomed into a phenomenon with lines stretching around the door and up to two- to three-hour wait times for people to get in.
"Opening day is equivalent to Black Friday," Stewart said.
The event gets consignors from all over the Las Vegas Valley and other states.
"People have said they planned their vacations around our event," Stewart said.
The event is managed by Renteria, Stewart and a third partner who lives in Idaho, as well as volunteers who help organize and sell merchandise. Volunteers are rewarded with an invitation to a presale Thursday night.
If there is leftover merchandise, Stewart said, it is donated to charities such as the Children's Heart Foundation and March of Dimes.
Renteria said they plan to continue to grow the event in Las Vegas and Henderson, potentially opening in other areas of town.
Because their partner is in Boise, they also plan to host a consignment event there.
For more information, visit astheygrowsale.com.
Contact Henderson/Anthem View reporter Michael Lyle at mlyle@viewnews.com or 387-5201.