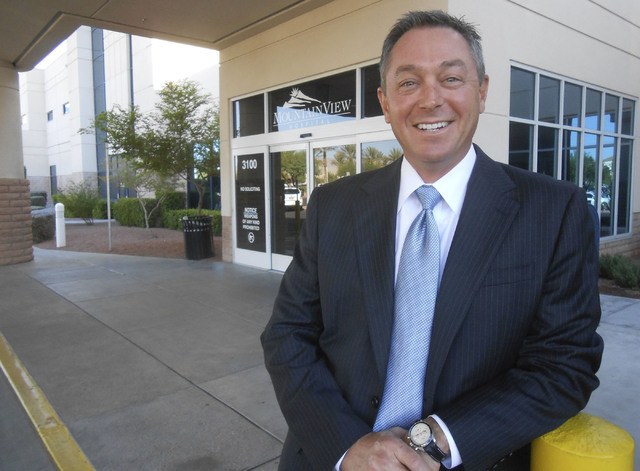 MountainView Hospital has a new chief executive officer. Chris Mowan took over Sept. 1. For the previous four years, he was the chief operating officer at Sunrise Hospital & Medical Center.
"Chris' experience at Sunrise Hospital and in the Las Vegas health care market makes him a great fit at MountainView Hospital," said Bryan R. Rogers, president of Hospital Corporation of America's Far West Division. "As he continues to work within the Sunrise Health System, his leadership and knowledge will be valuable in continuing to advance the growth of health care services to our patients."
As chief operating officer for Sunrise Hospital, Mowan oversaw the operations of areas including the Nevada Neurosciences Institute, ancillary departments and physician recruitment. He completed major hospital expansions and the renovation of the adult medical surgical and intensive care unit floors and the rehabilitation unit. Before joining Sunrise, Mowan worked at HCA's Del Sol Medical Center in El Paso, Texas, in various roles, including chief operating officer. Mowan has been with HCA for more than 18 years.
He said not much is different between his duties at Sunrise and MountainView.
"My drive is a lot shorter," he joked. "Both hospitals' primary mission is taking care of our patients and ensuring that our patients have the best care possible, but the two are a little different. Sunrise is a trauma center and enjoys a patient population that draws patients from all over, and it has the children's hospital that is very unique and special. … MountainView enjoys a population that is mostly senior-driven. (It) is focused on doing a lot of surgical volume. We've been successful with that, particularly in the senior population, so they're similar but have their own unique specialties."
Mowan received his bachelor's degree in accounting from Indiana University in Indianapolis and a master's degree in business from Southern Methodist University in Dallas. He is board certified as a fellow in the American College of Healthcare Executives.
The main challenge that hospitals face these days is keeping up with demand. More than half of the patients at MountainView are retirees, a result of the hospital being just a few miles from Sun City Summerlin, Mowan said. Surgery drives many of its cases.
"We focus on that as our primary market and offer a lot of services toward (older people)," Mowan said. "We became a NICHE (Nurses Improving Care for Healthsystem Elders) … it's really a program designed to focus on the needs of the elderly."
He credited the hospital's physician partners with driving those surgery numbers and called the hospital "fortunate" for being chosen as the chief facility. Sometimes it's also chosen for clinical trials.
Dr. Lynn Kowalski, medical director of the hospital's robotic surgery program, the Las Vegas Institute for Robotic Surgery, has an ongoing trial involving the Firefly Fluorescence Imaging software. The study examines whether fewer lymph nodes can be removed during cancer surgeries by identifying the "sentinel" lymph nodes (those most likely to be involved in the spread of the disease) and avoid long-term issues such as lymphedema of the legs.
This fall, Dr. Arnold Chung, surgeon with MountainView Hospital Cardiovascular & Thoracic Surgery Associates, completed a wedge resection and lobectomy with lymph node dissection using the hospital's da Vinci Si robotic surgical system. The system replicates the surgeon's hand movements in real time.
"The post-operative recovery period for lobectomies and wedge resections can be long and is usually painful," said Chung. "However, with the advanced technology at MountainView, we are able to treat patients using minimally invasive techniques, and with the robotic capabilities, we are able to get them on the road to recovery faster."
In the normal thoracotomy, surgeons spread the rib cage, risking bone fractures. But the da Vinci Si system needs only a small incision for a videoscope.
Clinical trails are physician-driven. Mowan said there were no stem cell trials planned at this time but that "anything is possible."
Outside the hospital, Mowan often starts his day by running. He is also a golfer.
He and his wife, Natalie, live in Summerlin and have two daughters, Chloe, 7, and Ashley, 5. Family vacations take them to the beach, or in winter, snow skiing.
Mowan said his role in the organization is to ensure the directors and managers have the tools and resources to get their jobs done.
"They're the ones who are driving the organization," Mowan said. "My job is the easy one."
He said he was not out to make his own mark on the hospital but to be a team player.
Contact Summerlin/Summerlin South View reporter Jan Hogan at jhogan@viewnews.com or 702-387-2949.