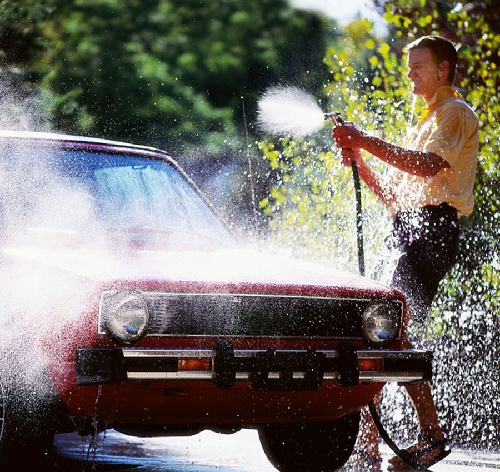 If it rained this past weekend, you can blame me — and my car — and my wash mitt.
You see, everyone has a skill, and mine appears to be the ability to make it rain every time I wash the car. It's even to the point that my neighbors will gather around the driveway on Saturday mornings to beg, plead and even threaten me to stay away from the hose.
How did I get this power, this cursed power? I don't exactly know. It's not like I was bitten by a spider and was then cursed to play the role of Peter Parker in three movies. (Sorry, Tobey.)
But, I did used to write "Wash Me" all over my parents' car when I was a mischievous youngster. Might the ability to make the skies open up, with the snap of a chamois, be payback for this treacherous behavior as a tyke?
Is it the same thing as a classroom's most rotten kid growing up to become a teacher? Maybe, but I'm betting that marking tests on a Saturday doesn't hail out the neighborhood.
The severity of the weather seems to coincide with just how far I'm willing to go on a given cleaning spree. A simple wash and dry? Showers. Add wax? Add some thunder and lightning. Use tire dressing? Wind gusts 20-30 mph. Clean under the hood, vacuum the carpet, "dress" the leather, organize the trunk, scrub the glass, pick the rocks out of the tire tread and buff the signal-light housings? Believe me, you don't want to know what happens. (Did anyone out there see "The Perfect Storm"?)
Suffice to say, it rained for a week after that one, and if you want to know what the forecast will be, just check out my roller cart of cleaning supplies.
Neighbor: "Hey, Rho, I see you ran out of car-wash soap!"
Neighbor to family: "Pack up, we're heading to the beach!"
Now, it's really difficult to put into words the tone of that kind of glee.
I fully expect that if my wash mitt would actually stay dry long enough, someone would set fire to it. Oh yes, I wash my car that often — since it rains right after. It's your basic self-fulfilling prophecy or a Catch-22 of some sort.
But I know for a fact that many of you out there also believe you have the same power, which I'm assuming is the reason that it rains on days when I am, in fact, not washing the car.
That means you are, or maybe your neighbor, or a member of your family is at it right now, whistling away in the driveway, washing up a, ahem, storm. (There's always a crazy car-washing uncle, isn't there?)
What about when it rains at night? That means someone, seven or eight time zones away, has the same power. Clearly, this is an international issue and one not to be taken lightly.
In searching the Web, however, I came up empty-keyboarded on any official groups (support or otherwise) that deal with the issue. Maybe we should start our own. Any suggestions for a domain name?
How about www.dontletitrainonmy
ridejustafterithasbeenwashed.com? Maybe something a little more to the point: www.$%#@&*.com.
Yes, the website would have an interesting frequently asked questions section:
Question: "How do I know if I have the power/curse to make it rain immediately after I wash the car?"
Answer: "If it rains immediately after you wash your car."
The best feature, of course, is that we could collaborate to wash our cars on the same day of the week, which would put an end to the neighbors' chanting and candlelight vigils in the driveway (and guarantee six good days of cruising weather). Imagine the drop in water pressure, however. Hmmm.
How about group discounts on cleaning supplies, tires and therapy? Oh, and how about an online feature on the car-wash klutz of the week, you know, the guy who kicks over the wash bucket and stirs up a typhoon?
OK, that's me, but don't tell anyone. Regardless, I'm undeterred. I will not throw in the towel — so to speak.
In fact, it has turned into a beautiful day and the lawn looks thirsty, and there are no neighbors in sight.
Now, where's my wash mitt?
Rhonda Wheeler is a journalist with Wheelbase Media, a worldwide supplier of automotive news, features and reviews. You can email her by logging on to www.wheelbasemedia.com and clicking the contact link.