Nevada open road races lure local speed junkies
February 25, 2011 - 2:04 am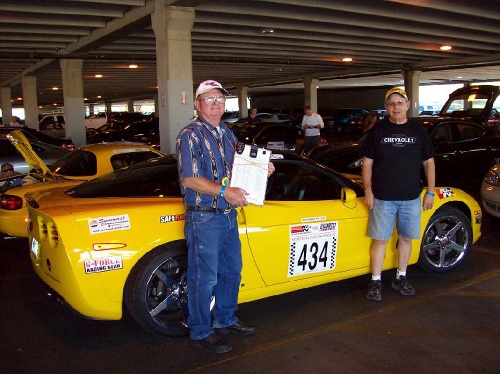 One of the two roads that journey north out of Las Vegas just doesn't end where U.S. Highway 93 cuts east from Crystal Springs. That's where Nevada Route 318 takes over, beckoning travelers through Lincoln, Nye and White Pine counties until it meets up with U.S. Route 6 and heads into Ely.
For people like Tom Hill, a 90-mile portion of Route 318 is a speed junkie's dream. And, twice a year, thanks to the state of Nevada and organizers of the Silver State Classic Challenge, the Searchlight, Nev., resident can legally drive his 2004 Chevy Corvette Z06 as fast as his predetermined class designation allows (which is pretty darn fast, by the way) in this unique open road rally event.
"This is good for my soul," said the seven-time participant, who started as a course worker and just couldn't stand being a spectator. At 65, he launched his racing career (he's now 71). "The 'Vettes always looked and sounded the best, so that's what I bought," said the retired engineer.
Last fall, the Silver State Classic Challenge ran for its 23rd year and boasted more than 140 entries. From May 12-15, the group will host its Nevada Open Road Challenge over the same Northern Nevada roads.
Over the years, celebrities like actors John Schneider, Marsha Mason, Jim Caviezel and Perry King, as well as a Russian cosmonaut have driven in these unique automotive rally events. The Silver State Classic Challenge also boasts a Guinness World Record run that was clocked by Chuck Shafer and Gary Bockman in 2000 when they averaged 207.78 mph in a highly modified Chrysler LeBaron. That much history and speed is bound to attract attention, which often includes press and media representatives from Norway, Japan, Germany and the U.S.
"In 23 years, we've registered 15,627 participants, entered 8,280 vehicles and raced 517,640 miles," said Silver State Classic Challenge Inc. chairman Steve Waldman. "With 200 workers to help us, we're always looking forward to safe events year after year," he added.
With cooperation from many state and local agencies, Nevada Route 318 is closed to public traffic from Lund to Hiko, Nev. The timed runs actually start south of Lund at mile post No. 9 and end some 90 miles to the south. The group then reconvenes in Las Vegas at Sam's Town for an awards banquet and results.
According to the group's website (www.sscc.us), the journey traverses 90 miles of two-lane highway, which was recently repaved and is in excellent condition. The course features long straights, twisty sections and dips, which, for the faster participants, may result in "an airborne experience."
Which was exactly the kind of excitement first-timers Bob Lista and Pat Russell were looking for when they signed up to run the fall race in Lista's 2006 Chevy Corvette.
"Pat and I are friends from a local Corvette club and I asked him gently and twisted his arm a little bit to do this event," said Lista, who saved for 30 years before he bought his Velocity Yellow 'Vette. "They certainly see me coming," he added.
With former Las Vegan/now St. George, Utah, resident Lista behind the wheel and Henderson's Russell as navigator, the duo chose 105 mph as their target speed group, with a top speed of 124 mph.
"I've been helping out at the races for three or four years, but we wanted to actually race," Russell said. "It's a really fun thing to do."
When Las Vegan Cathy Wilson isn't drawing maps as a cartographer for the U.S. Fish and Wildlife Service, she gets behind the wheel of her 2002 Chevy Corvette Z06 for the open road races.
"Like most people, I always wanted a Corvette and finally got one," said the admitted fast driver. "I like to get up to speed, but then you all of a sudden find yourself going too fast."
Wilson started out as a navigator, but wanted to drive.
"Driving is much more fun," Wilson said. "Navigating is work."
In their prerace package, drivers must pick the speed at which they want to drive, from 95 to 180 mph, or even unlimited speed. Those who come closest to their target average speed are declared winners. Trophies — gold, silver and bronze — are presented to the top three finishers. Participants are started one minute apart and permitted to take along one passenger, or navigator. Entry fees range from $495 for the Touring category to $780 for Unlimited.
Both the Silver State Classic and Nevada Open Road Challenges are four-day events that start on Thursdays in Las Vegas with practice and qualifying at Las Vegas Motor Speedway. Attending A high-performance driving school where rookie drivers are observed while they run practice laps on the road course is mandatory.
To enter the May race and for more information, visit Silver State Classic Challenge's website, www.sscc.com, or call 631-6166.