Nevada primary winners and losers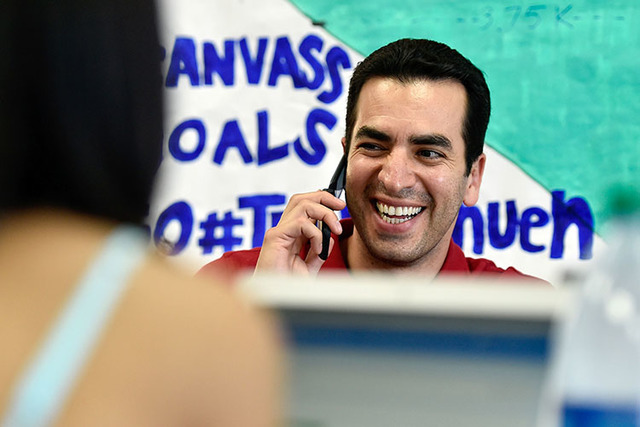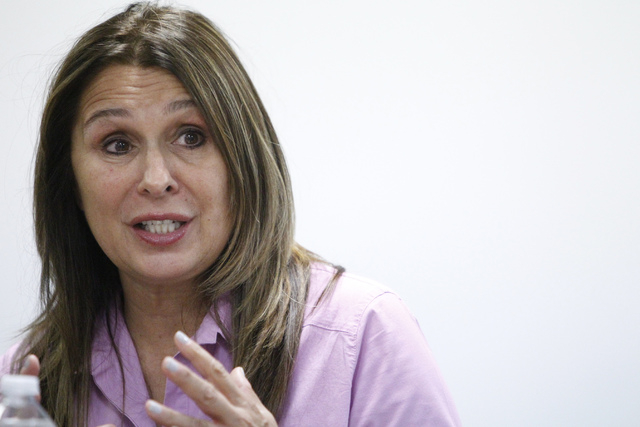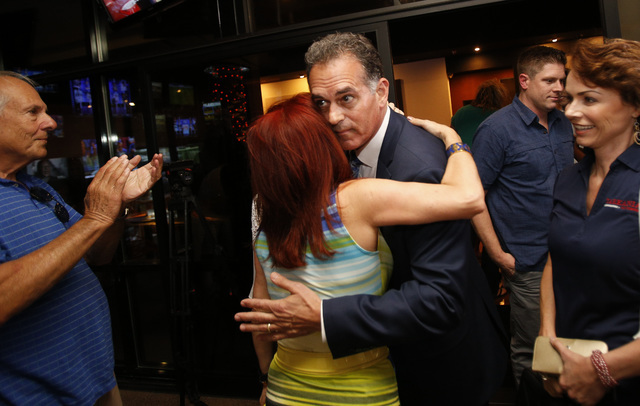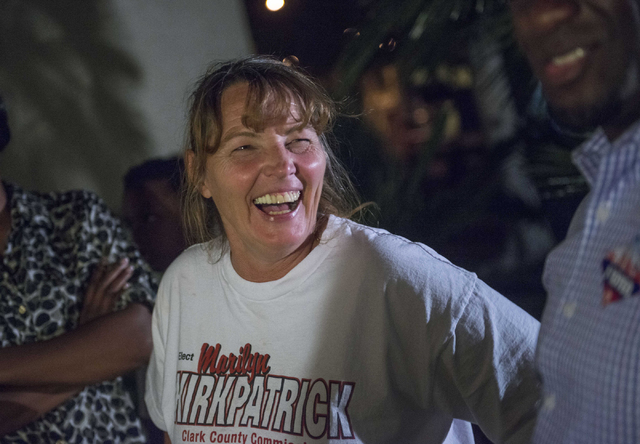 PRIMARY WINNERS
Harry Reid
U.S. Sen. Harry Reid's handpicked congressional candidates, Ruben Kihuen and Jacky Rosen, walked away with their respective Democratic nominations after surprisingly easy victories Tuesday. Kihuen's opponents, Lucy Flores and Susie Lee, proved formidable in fundraising, with both outraising the state senator in the race for the 4th Congressional District. But that money didn't translate, as Kihuen was never really challenged and won the nomination by a margin of more than 15 percentage points. Rosen got more than 62 percent of the votes in CD-3.
Marilyn Kirkpatrick, Clark County Commission
After a deluge of negative ads in the bid for the Democratic nomination for Clark County Commission District B, the election proved to be a snoozer. Appointed incumbent Marilyn Kirkpatrick took home just under 65 percent of the votes, walloping her opponent, termed-out Las Vegas City Councilman Steve Ross.
Patrick Carter, Board of Regents
Patrick Carter didn't raise or spend a dime on his campaign for District 6 of the Board of Regents. And yet he still pulled in 34 percent of the votes, tops in the primary race. His opponent, incumbent Michael Wixom, received 28.1 percent after raising $31,000 for his campaign. Carter and Wixom, the top two vote-getters, will face off in the general election in November.
Victoria Seaman, state Senate District 6
Assemblywoman Victoria Seaman's anti-tax-increase message caught on with voters, who gave her the GOP nomination in the open state Senate District 6 race.
Seaman had strongly opposed the $1.5 billion tax package that Republican Gov. Brian Sandoval got through the Nevada Legislature in 2015. Seaman got 62.8 percent in a battle with former Assemblyman Erv Nelson, who got 37.2 percent.
Danny Tarkanian, 3rd Congressional District
Danny Tarkanian was the clear winner in the GOP primary for the open 3rd Congressional District seat.
He faced a crowded seven-way race populated by other conservatives from outside the establishment. Tarkanian faced an onslaught of attack ads by an outside super PAC and rival candidate state Senate Majority Leader Michael Roberson, a well-funded establishment Republican who had the support of Republican Gov. Brian Sandoval.
The anti-Tarkanian efforts did little, if anything, to narrow the gap, and Tarkanian ended with a nearly 8-point margin over Roberson.
Ruben Kihuen, 4th Congressional District
Ruben Kihuen showed his ability to run for a higher office.
The state senator won the Democratic nomination in the 4th Congressional District after a competitive eight-way race. Kihuen had the backing of Culinary Local 226 and U.S. Sen. Harry Reid, D-Nev., and ran a scrappy primary race against a well-funded Democratic candidate, Susie Lee.
Kihuen will face U.S. Rep. Cresent Hardy, R-Nev., in the November general election.
PRIMARY LOSERS
Conrad Hafen, Las Vegas Justice of the Peace
Incumbent Judge Conrad Hafen, who had a public defender handcuffed while the attorney was defending a client last month, was obliterated by challenger Amy "JoAnne" Chelini. Hafen, who was elected in 2010, garnered just 24.9 percent of the votes, while Chelini took home 62.4 percent.
Glenn Trowbridge, Assembly District 37
Most of the Assembly Republicans who voted for Gov. Brian Sandoval's $1.5 billion tax plan during the 2015 Legislature eked through to the general election after facing stiff competition from anti-tax opponents. Incumbent Republican Assemblyman Glenn Trowbridge was one of the few exceptions. Trowbridge lost to Jim Marchant after gaining just 37.5 percent of the primary votes.
Erv Nelson, state Senate District 6
The former assemblyman lost badly to Seaman in the two-way Republican primary for the open state Senate District 6 seat. Nelson had supported Republican Gov. Brian Sandoval's $1.5 billion tax package of new and extended taxes in the 2015 session.
Nelson tried to frame his support of the tax package as a win for small businesses, but voters didn't buy the message. Nelson got 37.2 percent of the vote; Seaman got 62.8 percent.
Dan Rolle, 4th Congressional District
Dan Rolle wasn't quite ready for prime time in the Democratic primary in the 4th Congressional District race.
But he certainly tried. He called on fellow Democrat Morse Arberry Jr. to exit the race after the Review-Journal reported about Arberry's non-repayment of misused campaign funds.
His campaign contacted Democratic rival Kihuen's campaign manager, offering to collaborate against Democratic candidate Lucy Flores. Kihuen's campaign was uninterested, texting him: "This isn't House of Cards."
Rolle got 1.1 percent of the vote. Arberry got 6.2 percent.
"Full disclosure," Rolle tweeted. "I got crushed. Like a bug."
Michael Roberson, 3rd Congressional District
Michael Roberson had the markings of a shoo-in candidate in the GOP primary race in the 3rd Congressional District.
The state Senate majority leader had a good-sized campaign war chest, the endorsement of Gov. Brian Sandoval, and was the establishment Republican ready for a congressional run come November.
It was not to be. Roberson's rivals pounded him over his support of Sandoval's $1.5 billion tax package in 2015, and Republican Danny Tarkanian clinched the nomination.