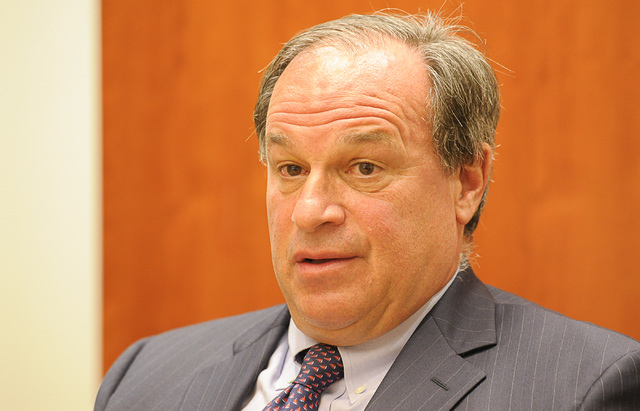 The state treasurer's office plans to expand early eligibility for Nevada's new education savings accounts to active-duty military families and for kindergartners before they attend school for the first time.
Treasurer Dan Schwartz on Tuesday announced he would offer both groups an exemption to a requirement that students attend public school for 100 consecutive days before they can enroll in an education savings account, or ESA.
The program, which faces two legal challenges in state court, offers about $5,000 in per-pupil funding for parents to use on private school tuition or homeschooling, tutoring and other education services if they pull their children out of public school.
The treasurer's office initially expected to start disbursing quarterly ESA payments to families in April but also announced, pending a legislative committee's approval on Wednesday, that payments could begin two months earlier in February.
The changes, which Schwartz plans to adopt next month, came as a welcome surprise to parents who criticized the 100-day rules as a barrier to legislative intent to expand the program to as many students as possible.
Julianna Piepkorn, a mother of five and U.S. Air Force reservist currently stationed at Nellis Air Force Base, had advocated for the exemption for active-duty military families in order to avoid placing her children in public school only to pull them out after meeting the 100-day rule.
"It was an overwhelming feeling of gratitude when we learned of (Schwartz's) support that this has become much closer to reality," Piepkorn said Tuesday.
"Military life can be difficult on kids, particularly school-age children as they are confronted over and over with being the new kid yet again or face a mid-year move," she added. "Giving us the option to avoid sending our children to multiple schools in the short time they are stationed here truly lightens the stress that comes with relocating every few years."
Schwartz noted Senate Bill 302, which Gov. Brian Sandoval signed into law in June, clearly restricts him from offering the exemption to students who now attend private school.
As for kindergartners, Grant Hewitt, chief of staff for the treasurer's office, said it's unclear whether ESA legislation allows an exemption to the 100-day rule for all students who have not yet attended a public school, including all children under age 7, or just incoming kindergartners.
He told parents to "stay tuned" for clarification at a November hearing when Schwartz will adopt final regulations before ESAs go into effect next year.
Contact Neal Morton at nmorton@reviewjournal.com or 702-383-0279. Find him on Twitter: @nealtmorton