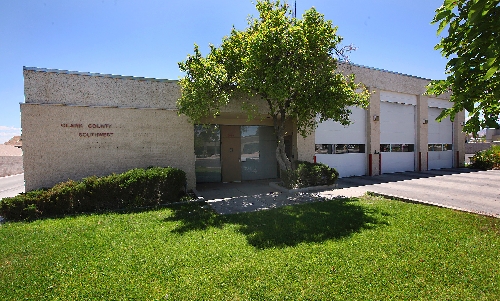 Spring Valley firefighters have a new station to call home.
Station 22, 6745 W. Flamingo Road, is scheduled to host an official grand opening June 2. Construction began on the 13,500-square-foot facility about a year ago.
The station serves the area south of Sahara Avenue, north of Hacienda Avenue, east of Decatur Boulevard and west of Buffalo Drive.
Clark County Public Information Officer Dan Kulin said construction on the $3.5 million facility was funded by the county.
"This has been in our plans for some time," he said. "I don't believe there was any federal funding allocated to this at all."
According to Station 22 Capt. Steve Holloway, the old station (which is next to the new one) is more than 30 years old and wasn't serving the needs of firefighters adequately.
"When it was built originally, I think it did the job just fine," he said. "But now, we've grown. The area has grown. We were kind of on top of one another."
According to Kulin, the old building was less than half the size of the new one.
In the past year, crews from Station 22 (which includes a rescue unit, fire truck with a ladder and an ambulance) have responded to more than 7,000 calls.
"We are one of the busiest stations in the valley," Holloway said. "We are grateful to now have the room we need to spread out and do what we need to do."
The station employ s approximately 30 people, two of whom are female firefighters.
"That was one of the issues with the other location," Holloway said. "Our commons area was very open; there were no doors or privacy. That made it uncomfortable for our female co-workers and for the men. So this helps with some gender issues."
The new facility includes a large kitchen, office space, a training center, a large bay — with an exhaust system to filter out smoke and chemicals clinging to firefighters' clothes and equipment — storage areas, a locker and laundry room and separated dorms.
"It makes the space easier to relax in when you're waiting on a call," he said. "You have a little bit of privacy, which is what was lacking before."
Holloway said the laundry room is among his favorites of the station's new amenities.
"Before we were either taking our clothes or gear home to wash," he said. "Sometimes we would just throw it away or do what we could to clean it up at the station. We are exposed to bodily fluids and carcinogens from fire that can cause health problems. It's important those things are clean."
Holloway said the new station has been running calls since mid-May.
"We are all moved in and settled," he said. "I'd say everyone here is very happy with the new place. It suits us. We can spread out to do our work. It's more of a healthy environment for us."
Contact Southwest and Spring Valley View reporter Amanda Donnelly at adonnelly@viewnews.com or 380-4535.