New path to stardom: promoting Las Vegas slot machines
September 27, 2016 - 6:23 pm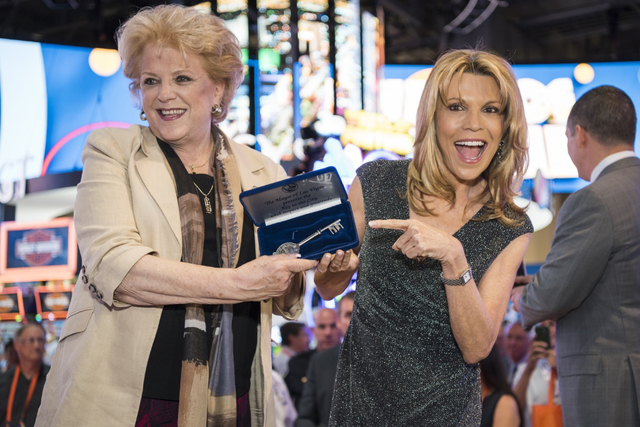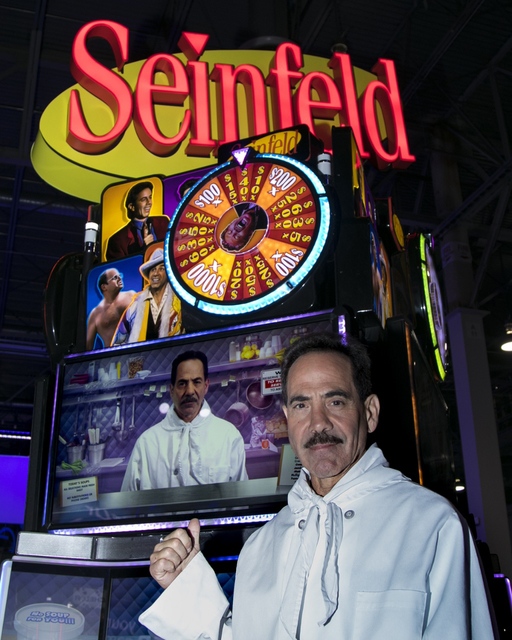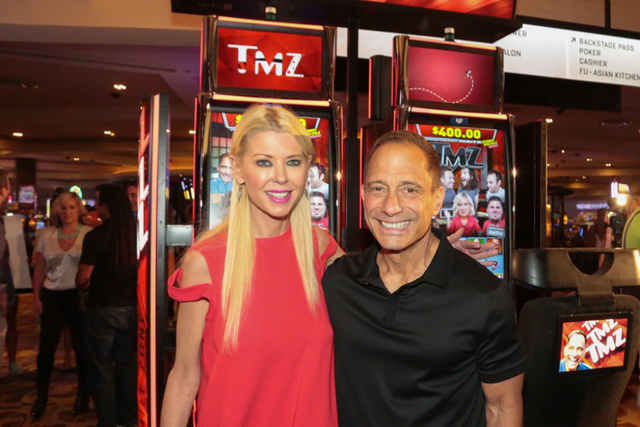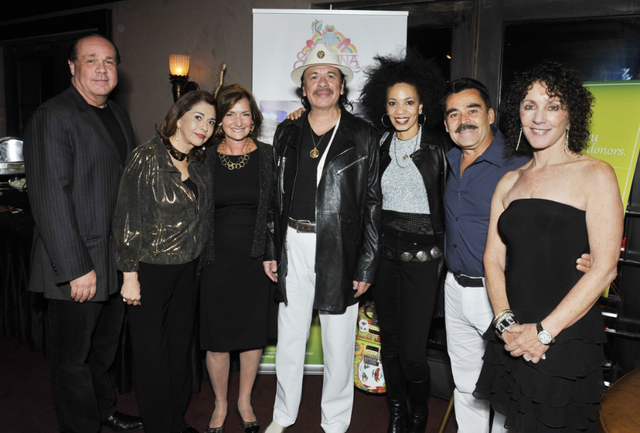 Trend alert: Both Vanna White and "Seinfeld's" "Soup Nazi" actor made celebrity appearances for Vegas slot machines on Tuesday.
At the Global Gaming Expo, Mayor Carolyn Goodman presented a key to the city to White on the 20th anniversary of the ubiquitous "Wheel of Fortune" slots, which have taken in $3 billion and paid out 1,000 millionaire jackpots, says slot maker IGT.
Meanwhile, actor Larry "Soup Nazi" Thomas did the "ta-da" reveal for new "Seinfeld" slots at the Scientific Games booth in the Global Gaming Expo.
For years, the Strip has launched slot machines with slight celebrity appearances, but this marketing plan seems to be ramping up lately.
"Party girl"/actress Tara Reid helped get press for TMZ's interactive slots at the Hard Rock Hotel on Aug. 29.
If stars do red carpets at nightclubs and restaurant events, why couldn't the next place red carpets roll out regularly be casino floor slot machines?
CAESARS STARTS DRINK COUNTER
Caesars Entertainment executives have changed the old Vegas method they used to give free drinks to many gamblers, according to VitalVegas.com.
Instead of bartenders pouring free drinks for whomever, now they keep their eyes on lights on the backs of video poker machines in bars. Gamblers have to spend a certain amount of money to get a drink.
What's next? Automated robot bartenders? I'd bet that'll happen eventually.
Caesars is playing catch-up to The Cosmopolitan hotel, which recently instituted a drink voucher system at all of its video poker bars, and the MGM Grand and The Mirage, which have been testing similar drink voucher systems.
Caesars explained late Tuesday in an email: "Caesars Entertainment has implemented the comp validation system statewide throughout our Nevada resorts. This system enables us to offer complimentary beverages to those gamers who choose max play at our video poker bar-top units." Previously, Cosmo and MGM execs said their new systems help bartenders recognize who deserves drinks and who does not.
KIM KARDASHIAN'S HALF-SISTER
PageSix.com reports Vegas clubs are bidding to host Kendall Jenner's 21st birthday on Nov. 3, with the top bid at $1 million.
Kim Kardashian's half-sister reportedly has had the most engagement of anyone on Instagram, although she's all about Snapchat really.
CLOTHES TAKER-OFFER
"Chippendales" launched newest guest dancer Nyle DiMarco (first deaf winner of "America's Next Top Model" and winner of "Dancing with the Stars").
He's added a bit where he teaches a few choice sign language words to the audience. His run goes through Oct. 16.
CARLOS SANTANA, GIVER
Las Vegan Carlos Santana performed a special House of Blues show Saturday to help raise $215,000 for his newest charity, the Santa Telehealth Project.
Telehealth is designed to get lifesaving medical professionals from a Tijuana children's hospital to families in need in rural Autlan, Mexico.
Santana is always working with charities, from Three Square food bank to his own Milagro Foundation and more.
BROKE DOWN ON THE ROAD
A couple of people who are famous-in-their-own-circles got briefly stranded entering and exiting Vegas.
"Minecraft" YouTube gamer Bajan Canadian (5.7 million followers) drove to Vegas Sunday night with his girlfriend and friends, but their car broke down at the California line. They got bailed out by law enforcement.
Pop band Lany had its tour bus break down after playing the Life is Beautiful festival. They ended up flying to their next gig in Portland, Oregon.
How very "Twilight Zone"-ish it must be to be sit stranded in the middle of the desert.
BACKSTREET BURGERS
The Backstreet Boys announced last week they'll be headlining Planet Hollywood starting March 1, then they performed at iHeartRadio Festival. So where'd they eat burgers while in town Friday? Gordon Ramsay BurGR in Planet Hollywood.
Question: Since Burger King is where you "Have It Your Way," how have BBoys never done a Burger King commercial where they sing their signature hit, "I Want It That Way?"
Oh right, they did do a Burger King ad for their Millennium Tour. Thank you, YouTube, for the funny throwback.
SIGHTINGS
English/Vegas producer/DJ Wade Martin has been shooting a music video near the Strip.
Rock band Young the Giant ate Sunday at Beauty & Essex.
HOME TWEET VEGAS
All Time Low band bassist @JackAllTimeLow: "Who's in Vegas and wants to get weird?"
Doug Elfman can be reached at delfman@reviewjournal.com. He blogs at reviewjournal.com/elfman. On Twitter: @VegasAnonymous.