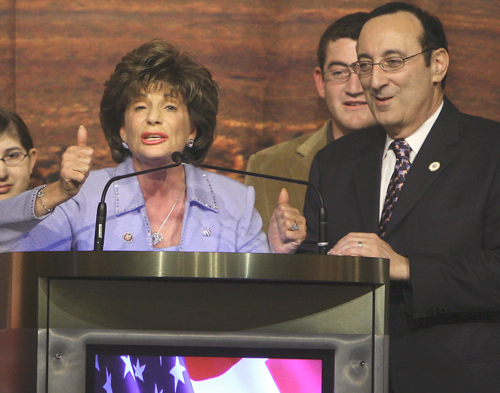 The New York Times story this week linking Rep. Shelley Berkley's health care advocacy with the financial health of her doctor husband was not the first time the couple had come under scrutiny in the national press.
The Wall Street Journal reported in May 2010 that investment accounts of 13 members of Congress showed risky investments in which they essentially were betting that the value of stocks or bonds would fall during the 2008 financial crisis.
An account held by Berkley's husband, Dr. Larry Lehrner, was one of those singled out. An analysis by the newspaper showed Lehrner made 57 trades in 2008 in exchange-traded funds designed to profit for every dollar drop in the value of a market index.
The trades made Lehrner "a modest net profit of a little over $700," the paper reported.
The practice was entirely legal and there was no evidence presented of wrongdoing. But for members of Congress who were often critical of risky Wall Street practices that led to the near-collapse of the financial system, the disclosures were potentially embarrassing.
Berkley told the Review-Journal at the time she was generally unaware of how her husband invested his money, much of which he holds in his own name.
"It is not my money to make that determination," said Berkley, who at the time was saying that Wall Street was acting "irresponsibly and recklessly." "It is Larry's money. It is not my money to control."
"What people do in their individual portfolios is their business, as long as it is not harming anybody but themselves, or doing good for themselves," Berkley said. "As long as people know the rules of the game going into it, that is a different story."