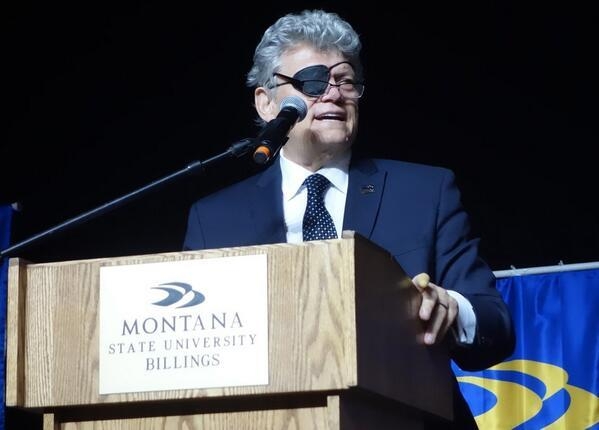 IT'S GOOD TO BE HOME.
I'M HERE ON WHAT WOULD HAVE BEEN MY MOTHER'S 92ND BIRTHDAY…THAT MAKES THIS ALL THE MORE MEANINGFUL.
CHANCELLOR GROSETH AND DR. PAGANO…AND MEMBERS OF THE PLATFORM PARTY… THE EASTERN MONTANA COLLEGE I KNEW SO MANY YEARS HAS GROWN INTO SUCH A VIBRANT AND DYNAMIC MEMBER OF THE UNVERSITY SYSTEM. MSU-B IS SO FORTUNATE TO HAVE THE VISION AND DEDICATION YOU ALL HAVE PROVIDED.
I'M SO HAPPY TO BE HERE TODAY AND I APPRECIATE THE OPPORTUNITY TO CELEBRATE WITH THE CLASS OF 2014 — AND ALL OF YOU.
AND TO MY FAMILY, AND MY LONGTIME MONTANA FRIENDS, THANKS FOR BEING HERE FOR ME — NOT JUST TODAY BUT OVER ALL THESE MANY YEARS. I LOVE YOU GUYS…
AND MOST OF ALL, I'M GRATEFUL TO ALL OF YOU FOR ALLOWING ME TO SHARE MY STORY AS YOU BEGIN YOUR NEXT CHAPTER.
I WOULDN'T TRADE ANYTHING FOR THE EXPERIENCE OF GROWING UP IN EASTERN MONTANA.
ONE OF MY EARLY-LIFE INFLUENCES WAS GETTING MY FIRST JOB: I WAS A NEWSPAPER DELIVERY BOY.
I LEARNED RESPONSIBILITY DURING THOSE LONG COLD WALKS THROUGH SNOW-COVERED, FROZEN STREETS. IF I GAVE UP, I WOULDN'T GET PAID.
I'M GLAD I DIDN'T GIVE UP BECAUSE THAT'S WHEN I FELL IN LOVE WITH WORDS AND NEWSPAPERS.
WHETHER IT WAS ONE HOUSE OR ONE BLOCK BETWEEN DELIVERIES, I READ EVERY WORD IN THE MILES CITY STAR AS I WALKED MY ROUTE.
MY MIND OFTEN WANDERED TO MY FAVORITE SUBJECT: SPORTS, ESPECIALLY THE OLYMPICS. HERE'S HOW OBSESSED I WAS WITH THE OLYMPICS:
WHILE I WAS DELIVERING PAPERS, I CARRIED A LONG STICK WITH ME AS PROTECTION FROM THE OCCASIONAL CRANKY DOG.
I FOUND MYSELF USING THAT STICK TO ETCH THE OLYMPIC RINGS IN THE SNOW. IT WAS CLEAR I FELT THE OLYMPICS WERE THE ULTIMATE DREAM.
WHAT'S YOUR DREAM?
SOMETIMES IN THE MOMENT WE DON'T REALIZE WHAT OUR DREAMS ARE. SIMPLE DOODLINGS AND DRAWING CIRCLES IN THE SNOW ARE REALLY SEEDS BEING PLANTED.
SO PAY ATTENTION TO THOSE SIGNS.
DON'T BRUSH THEM OFF AS 'OH I'M JUST DAYDREAMING.' THEY WILL LEAD YOU TO YOUR BIGGER PURPOSE.
SOMETIMES THE ROAD WILL BE BUMPY.
ONE OF THE BIGGEST REGRETS IN MY LIFE IS THAT I DIDN'T STAY IN COLLEGE. I DROPPED OUT OF WHAT WAS THEN NORTHERN MONTANA COLLEGE – NOW MSU-N.
I LOOKED FOR WHATEVER WORK I COULD FIND IN MY HOMETOWN OF 600 PEOPLE.
WHEN I WAS 20, I GOT A STEADY JOB AT A LOCAL GROCERY STORE. INSTEAD OF DELIVERING PAPERS I WAS DELIVERING BAGS OF GROCERIES.
ABOUT FIVE MONTHS INTO THAT JOB, I GOT THE BREAK OF A LIFETIME.
ONE OF MY DUTIES WAS TO DELIVER THE GROCERY STORE'S WEEKLY AD TO THE TERRY TRIBUNE.
NEAR THE END OF BASKETBALL SEASON, WHILE DELIVERING THE AD, I WAS SO EXCITED ABOUT MY HOMETOWN TEAM'S CHANCES I ASKED THE EDITOR IF HE PLANNED TO GO TO THE TOURNAMENT IN BAKER.
HE SAID HE WASN'T MUCH OF A SPORTS FAN AND SUGGESTED I COVER IT. I REMEMBER THINKING:
"IS THIS REALLY HAPPENING?" I DIDN'T HESITATE FOR A SECOND. I SAID, "DAMN RIGHT!" AND MY TERRY TERRIERS WON THE TOURNAMENT ON A MIRACLE HALFCOURT SHOT.
A COUPLE DAYS LATER, I DELIVERED THE ARTICLE TO THE EDITOR. HE GAVE IT QUICK READ AND REACHED FOR HIS CHECKBOOK.
AS SOON AS I GOT OUTSIDE, I PULLED OUT THE CHECK. I COULDN'T WAIT TO SEE HOW MUCH I GOT PAID FOR MY FIRST PROFESSIONAL ASSIGNMENT AS A SPORTSWRITER.
IT WAS FOR THE PRINCELY SUM OF $5.00. IT WAS THE BEST PAYDAY OF MY LIFE BECAUSE IN THAT MOMENT, I REALIZED I COULD DO WHAT I LOVED – AND GET PAID FOR IT.
FOUR YEARS LATER, RIGHT HERE IN BILLINGS, I HAD BECOME ONE OF THE GAZETTE'S YOUNGEST SPORTS EDITORS AT THE AGE OF 25.
AFTER FIVE YEARS IN THAT DREAM JOB, FOR SOME REASON I WAS QUESTIONING MYSELF. I WONDERED IF I WOULD LOOK BACK IN 10 OR 20 YEARS AND REGRET THAT I PLAYED IT SAFE. IT WAS A BIG DECISION.
ONE NIGHT I ASKED GOD FOR GUIDANCE. I PRAYED FOR A SIGN. I HOPED I WOULD WAKE UP TO A REVELATION. BUT THERE WAS NO REVELATION.
GOD PROBABLY HAD BIGGER ISSUES ON HIS PLATE. SO I SAT DOWN TO READ THE GAZETTE, HOPING THAT I MIGHT FIND THE SIGN IN THAT DAY'S PAPER.
I READ EVERY STORY, EVERY HEADLINE, EVERY CLASSIFIED AD, SEARCHING FOR THE SIGN. I WAS DEJECTED.
I TURNED BACK TO THE FRONT PAGE. AND THEN IT HAPPENED. I LOOKED AT THE DATE. IT WAS MARCH 4TH, BUT I READ "MARCH F-O-R-T-H!!! I KNEW WHAT I HAD TO DO. I WAS GOING TO MARCH FORTH FEARLESSLY.
I REALIZED THAT DREAM JOBS AREN'T NECESSARILY FOREVER. IF WE MARCH FORTH FEARLESSLY, WE CAN HAVE A SERIES OF DREAM JOBS.
SO I LEFT THE GAZETTE AND I TRAVELED THROUGH EUROPE FOR NEARLY THREE MONTHS. I SLEPT ON A BED OF LEAVES ON THE BANKS OF THE RHONE RIVER IN FRANCE.
I SAW THE POPE IN ROME. I MARVELED AT THE INCREDIBLE CATHEDRALS FROM BARCELONA TO VIENNA. I LIVED ON CHEESE AND WINE. I SPENT MY LIFE SAVINGS, BUT IT WAS WORTH EVERY PENNY.
ON MY WAY BACK TO MONTANA I STOPPED TO SEE A FRIEND WHO WORKED FOR THE ASSOCIATED PRESS IN CINCINNATI. MY TIMING WAS PERFECT.
HE WAS LOOKING FOR A REPORTER WITH A SPORTS BACKGROUND…HE HAD ME AT HELLO!
WHAT AN INCREDIBLE OPPORTUNITY, RIGHT?
THERE I WAS, COVERING THE CINCINNATI REDS WITH PETE ROSE, JOHNNY BENCH AND JOE MORGAN LESS THAN A YEAR AFTER GETTING THE SIGN.
BUT WITHIN MONTHS I WAS WAVERING. I WAS HOMESICK FOR MONTANA AND TO BE HONEST, I WAS FEELING IN OVER MY HEAD WHEN IT CAME TO CERTAIN STORIES I HAD TO COVER LIKE THE U.S. SIXTH CIRCUIT COURT OF APPEALS.
OR WHEN I HAD TO WRITE ABOUT HOG BELLIES AND TOBACCO CROPS WHEN I CAME FROM WHEAT AND CATTLE COUNTRY.
ONE DAY I RECEIVED A SMALL BOX FROM MONTANA. INSIDE WAS AN OLD-FASHIONED SCROLL, YOU KNOW LIKE THEY USED DURING BIBLICAL TIMES.
I HELD IT UP AND IT JUST KEPT ROLLING DOWN. THERE WERE HUNDREDS OF NAMES OF FRIENDS AND STRANGERS ON A SIX-FOOT-LONG SHEET OF PAPER.
IT SEEMED LIKE EVERYONE IN MY HOME COUNTY AND NEIGHBORING TOWNS HAD WRITTEN ENCOURAGING NOTES LIKE "MAKE US PROUD" AND "WE'RE SO HAPPY FOR YOU" AND "GO FOR IT!"
AT THAT MOMENT, THE SELF-CONFIDENCE AND RESOLVE I HAD LOST WAS RESTORED. I'VE NEVER FORGOTTEN HOW MUCH THAT MEANT TO ME…HOW MUCH IT CHANGED MY LIFE.
AT SOME TIME IN YOUR LIFE, YOU WILL GO THROUGH CHALLENGING TIMES. IT'S IMPORTANT TO REMEMBER THOSE WHO STOOD BY YOU.
TAKE A MINUTE AND THINK OF WHAT NAMES WOULD BE ON YOUR SCROLL…FAMILY, FRIENDS, TEACHERS, COUNSELORS AND COACHES.
WOULD YOUR NAME BE ON SOMEONE'S SCROLL?
REMEMBER ME SAYING LIFE CAN BE A SERIES OF DREAM JOBS?….WELL, AFTER SIX YEARS IN CINCINNATI, OUT OF THE BLUE, THE SPORTS EDITOR OF AP CALLED AND OFFERED ME THE POSITION AS THEIR COORDINATOR OF THE 1984 LOS ANGELES SUMMER OLYMPICS.
REMEMBER THOSE OLYMPIC RINGS? MY MIND IMMEDIATELY FLASHED BACK TO THAT COLD NIGHT IN TERRY WHEN I WAS DRAWING THE OLYMPIC CIRCLES IN THE SNOW.
I DREAMT IT, I VISUALIZED IT AND IT HAPPENED. MY DREAM CAME TRUE. WHY CAN'T YOURS? IT CAN, IF YOU MARCH FORTH FEARLESSLY.
AFTER THE L.A. GAMES, WHAT COULD I POSSIBLY DO ONCE THAT I HAD REALIZED MY CHILDHOOD DREAM OF BEING PART OF THE OLYMPICS?
WELL, I MOVED TO DENVER TO JOIN ONE OF THE LAST GREAT NEWSPAPER WARS.
THE ROCKY MOUNTAIN NEWS HIRED ME TO BEAT THE RIVAL PAPER WITH THE NEWS THAT DENVER WAS GETTING A MAJOR LEAGUE BASEBALL TEAM.
AND I DID! TO THIS DAY, THAT REMAINS THE BIGGEST STORY OF MY CAREER AND PROUDEST MOMENT.
AND GUESS WHAT HAPPENED NEXT?
I COULDN'T HELP MYSELF WHEN THE BRIGHT LIGHTS OF LAS VEGAS CALLED.
PEOPLE ASK HOW I WENT FROM COVERING SPORTS IN DENVER TO COVERING CELEBRITIES IN LAS VEGAS?
WELL, THAT SEED WAS PLANTED RIGHT HERE IN MONTANA.
I WAS 10 YEARS OLD WHEN MY PARENTS SAID WE WERE GOING TO THE EASTERN MONTANA FAIR IN MILES CITY TO SEE THE SINGING COWBOY…GENE AUTRY.
THINK OF TIM MCGRAW SINGING ON HIS HORSE AND MAKING HIT WESTERN MOVIES AND YOU'VE GOT GENE AUTRY.
I COULDN'T WAIT TO SEE MY FIRST CELEBRITY AND I WANTED TO BE AS CLOSE AS POSSIBLE.
THERE I WAS, RINGSIDE, WHEN THE ANNOUNCER SAID "LADIES AND GENTLEMAN, LET'S GIVE A BIG EASTERN MONTANA WELCOME TO GENE AUTRY."
THE CROWD GOES CRAZY AND SURE ENOUGH HERE COMES AUTRY'S FAMOUS HORSE CHAMPION BOLTING INTO THE ARENA WITH A RIDER LEANING WAYYY BACK, AND I MEAN WAYYYY BACK.
AND I'M THINKING, WOW, THIS IS SO COOL, IT MUST BE A TRICK RIDE.
WELL, CHAMPION RACED TO THE FRONT OF THE ARENA AND COMES TO A SPECTACULAR STOP. HOOVES DIGGING IN, DIRT FLYING…
SUDDENLY I REALIZED MY HERO, GENE AUTRY, IS STILL LEANING WAY BACK, AND THE REASON HE WAS LEANING WAY BACK WAS BECAUSE HE WAS TIED DOWN AND THE REASON HE WAS TIED DOWN WAS BECAUSE HE WAS DRRRUNK!
LITTLE DID I KNOW THAT WOULD BE MY INTRODUCTION TO THE EXCITING AND UNPREDICTABLE WORLD OF CELEBRITY.
BUT I'VE LEARNED AFTER 15 YEARS IN VEGAS, GENE AUTRY WAS A SAINT COMPARED TO SOME CELEBRITIES—LIKE GEORGE CLOONEY—WHO COME TO LAS VEGAS AND HAVE SIXTEEN SHOTS OF TEQUILA AND THINK THEY'RE INVISIBLE.
BUT THEY AREN'T. THEY SOON FIND OUT THAT WHAT HAPPENS IN VEGAS, DOESN'T ALWAYS STAY IN VEGAS.
WHY VEGAS AFTER YEARS AS A SPORTSWRITER?
BECAUSE I DEEPLY MISSED THE EXCITEMENT OF CHASING INTERNATIONAL STORIES.
THERE ARE FEW CITIES IN THE WORLD THAT GENERATE AS MUCH ENTERTAINMENT NEWS AS LAS VEGAS.
NEWS LIKE PRINCE HARRY'S VISIT THAT TURNED INTO A ROYAL SCANDAL. PHOTOS OF HARRY PLAYING BUCK-NAKED BILLIARDS WENT VIRAL.
BEFORE THAT, A HOT TIP LED TO AN EXCLUSIVE STORY THAT BRITNEY SPEARS GOT MARRIED FOR ALL OF 55 HOURS.
ANOTHER SOURCE HELPED ME BREAK THE STORY THAT MICHAEL JACKSON WAS MOVING TO LAS VEGAS TO START A COMEBACK BID.
THIS JOB ALLOWS ME TO HAVE FUN BUT NOT AT THE EXPENSE OF OTHERS.
I LEARNED A LOT FROM THAT GENE AUTRY EXPERIENCE.
THERE'S NOTHING WRONG WITH HAVING FUN, WHETHER YOU'RE AT A RODEO IN MONTANA, A NIGHTCLUB IN VEGAS OR A GRADUATION IN BILLINGS.
YOUR CAREER SHOULD BE FUN. THAT DOESN'T MEAN YOU WON'T DO SERIOUS WORK. BUT YOU NEED TO FIND THE JOY IN WHATEVER YOU DO.
I'M PROUD TO SAY I'M NEARLY 72 YEARS OLD AND STILL DOING WHAT I LOVE EVERY DAY.
I'M INCREDIBLY THANKFUL FOR THAT ANSWERED PRAYER AND THIS EXCITING LIFE…EVEN THOSE TIMES WHEN IT GOT A LITTLE TOO EXCITING.
I'VE SURVIVED NOT ONLY RUNNING WITH THE BULLS IN PAMPLONA, BUT THE DEADLY RIOT THAT ACCOMPANIED IT.
THEN THERE WAS A MONSTER HURRICANE IN HAWAII, EARTHQUAKES IN SAN FRANCISCO AND SOUTHERN CALIFORNIA.
I FLEW WITH THE PRESIDENT OF THE UNITED STATES, COVERED NUMEROUS OLYMPICS AND WORLD SERIES AND MET MORE CELEBRITIES THAN I COULD HAVE IMAGINED.
I'VE WORKED NOT ONE DREAM JOB, BUT TOO MANY TO COUNT.
THAT MONTANA BOY WHO FLUNKED OUT OF COLLEGE AND WHOSE CAREER POSSIBILITIES SEEMED LIMITED AT TIMES BECAUSE HE HAD ONLY ONE EYE IS INCREDIBLY GRATEFUL.
I'VE LEARNED MANY LESSONS ALONG THIS JOURNEY…SOME OF THEM I'D LIKE TO FORGET…
AND SOME OF THEM I'D LIKE TO SHARE.
#1: PAY ATTENTION TO YOUR DAYDREAMS.
#2: YOU CAN DO WHAT YOU LOVE—AND GET PAID FOR IT.
#3: REMEMBER THOSE WHO STOOD BY YOU.
#4: DREAM IT, VISUALIZE IT AND MAKE IT HAPPEN.
AND MOST IMPORTANTLY, AS YOU LEAVE TODAY, I HOPE YOU WILL MARCH FORTH FEARLESSLY.