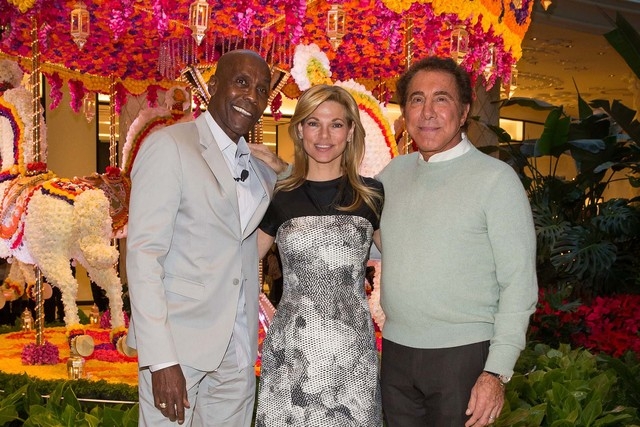 It was only a matter of time before hotel developer Steve Wynn and superstar event designer Preston Bailey teamed up on an epic project.
Last week's unveiling of two floral art sculptures – an animated carousel and a hot air balloon – in the atriums at Wynn Las Vegas was a symbolic beginning.
The bigger news: Wynn has hired Bailey to help create concepts for the floral-themed Wynn Palace, the hotel mogul's third property in Macau's Cotai Strip.
They've been working nine months on the new $4 billion property.
It appears Bailey came away from his latest Las Vegas visit with a notebook brimming with new inspiration.
During his stay, he attended "Le Reve: The Dream" on consecutive nights and was seen getting a backstage tour.
I asked Bailey if he's considered expanding his operations to Las Vegas, one of the busiest cities in the world for high-end weddings.
"I would love nothing more than setting up an office in Vegas," he said in an email. "I am in awe of the new artistry and technology that is happening in this town."
Q: Where does your story begin?
A: "I grew up in Panama. My mother sent me here when I was 19, because I was getting in a lot of trouble. She said, 'Go to America or you're going to be dead.' She sent me to New York and my sister was there.
"I started doing some modeling when I was broke. That's when I met Vincente Wolf (the famed interior designer). He suggested I get involved with flowers. I stated doing flowers. I got my start as a florist.
Once I started doing it, I realized it really changed my life. I found something that I loved.
"The great thing about it, no two events, no two settings, are the same. Seeing these (floral art) sculptures come to life was a learning experience. Everything was so exciting, making it up as we went along."
Q: And things took off when?
"The first big event was the wedding of Joan Rivers' daughter, Melissa, in 1998. I created this 'Doctor Zhivago' winter wonderland. Right after that, I started working with Oprah and Mr. Trump's wedding and his daughter's wedding."
Q: And how much has your business grown?
A: "I feel like I have covered the world in flowers. I now have a staff of 40. But it nearly failed because I wanted to make every event perfect. I didn't know the business side."
Q: How did your relationship with Steve Wynn begin?
A: "I always wanted to work with Mr. Wynn. We had our first meeting here nine months ago after Roger Thomas called," said Bailey, referring to Wynn's longtime executive vice president of design.
"We met in New York a couple times. It was a matter of seeing concepts, developing and talking. We talked about doing something here and in Cotai. We wanted to come up with something playful and relatable. We have at least 24 different concepts we are playing with."
Earlier this year, Wynn announced he was building a third property on Macau's Cotai Strip. Named Wynn Palace, the $4 billion resort will be flower themed. That's where Bailey enters the picture.
Q: What kind of budget are you working with?
A: "One of the great things about Mr. Wynn is once he sees something that he really likes, that he's excited about, he's willing to invest in it, to bring it to life."
Q: I'm aware of your role in the the Ackerman wedding.
Is this your first hotel project in Las Vegas?
A: "I have done other floral exhibits. I've done it in Covent Garden in London, the south of France, one in New York, one in Taiwan. First of all, I've never done anything like this in Vegas and never in a hotel. I'm very excited about it. I've learned a great deal working with Mr. Wynn. There's no question in my mind that this man is a genius. I'm not saying this because he hired me (laugh). I'm so impressed by how he works. He's not afraid to experiment, and he gives me so much leeway to push the envelope to make it happen."
Q: How much of your business is overseas?
A: "I would say at least 50 percent. The Middle East, China, the south of France, Taiwan, South America, Colombia."
Q: I'm sure there have been disasters. Weather? Rain?
A: "My next book could be 'Preston Bailey Disasters.' Yes, weather is big. Fifteen years ago, I learned not to trust the weather.
"Weather is one of the biggest (challenges). We all want to be optimistic in thinking that it's going to be a beautiful day. I remember doing a wedding 15 years ago. That was my real last disaster weather story. We had the cocktail party around the pool area. We had covered the pool, and it rained so strongly that the pool filled and the entire event got flooded. So you learn.
"Ironically enough, the guests and my clients were having such a great time they took their shoes off and jumped in the water. But as a designer, I've learned you have to create many scenarios. You always have to, even if you are in the desert, especially the way the weather is nowadays. You have to have a very solid rain plan and make sure you implement it 24 hours before. If there's a possibility it's going to rain 30 percent, implement the rain plan."
Q: Susan Ackerman provided us with some of the details of the wedding of her son, Sasha, and his wife, Kimberly. You mentioned it was your first Las Vegas wedding. What were your first impressions of The Smith Center for the Performing Arts?
A: "I have worked in many countries around the world," he said. The Smith Center, rich in art deco, was "a fantasy setting," he said.
"It's not often I get the opportunity of setting up a ballroom on an actual stage. It felt as if I was creating a stage for a grand opera."
After the ceremony was held in the lobby, the guests walked in to the 2,000-seat Reynolds Hall concert venue, "to be 'actors' of the event, on the stage.
"As a designer, I could not ask for more. I very much look forward to creating my next fantasy wedding in Las Vegas."
The floral phase of the $1 million-plus wedding reportedly cost $300,000 and required a work force of 90 people.
Q: Asking you to pick out a favorite wedding is probably like asking someone to pick their favorite child. But what are some others that stand out?
"Recently we did what I thought was an amazing event in Big Sur (California) for Sean Parker, one of the original Facebook owners. I thought that was quite extraordinary, spectacular. First of all, the event was done out in the woods. It was a very interesting event. Recently, we also did LeBron James' wedding in San Diego."
Vanity Fair, in its September issue, featured what it said might have been the wedding of the year when Parker, 33, and singer-songwriter Alexandra Lenas traded vows amid towering redwoods.
Vanity Fair wrote: "Dedicated to their love of old-growth forests, the celebration – which included Tolkien-ized costumes for all 364 guests by 'Lord of the Rings' costume designer Ngila Dickson – cost Parker $4.5 million for the wooded site alone."
Q: Would you share some details of your own wedding?
A: "We held it at midnight, Feb. 14, this year, on the 21st floor of the Empire State Building. Joan Rivers married us. We asked our guests bring their wedding photos, and we displayed them in a photo tunnel. We celebrated Valentine's Day with 200 of our friends."
Bailey, who designed the King Kong-themed setting, married his seven-year partner Theo Bleckmann, a Grammy Award-nominated German-born musician.
According to published reports, the over-the-top setting featured a giant floral King Kong, 10,000 white flowers, most of them orchids; a white orchid cake by Sylvia Weinstock (known as "the Leonardo DaVinci of Cake"); a gold tree bearing gourmet chocolate and a bright pink dance floor.
The big moment: a 15-foot-high floral sculpture of a bridal gown glided down the aisle like a float in a Macy's Thanksgiving Day parade. When it arrived at the altar, a small door opened and Bailey emerged from a modern-day Trojan horse.
Norm Clarke's column appears Sunday, Monday, Wednesday and Friday. Reach him at 702-383-0244 or norm@reviewjournal.com. Find more at www.normclarke.com. Follow @Norm_Clarke on Twitter. "Norm Clarke's Vegas" airs Thursdays on the "Morning Blend" on KTNV-TV, Channel 13.