North Las Vegas airfield gathering place for remote-controlled plane enthusiasts
February 5, 2016 - 4:15 pm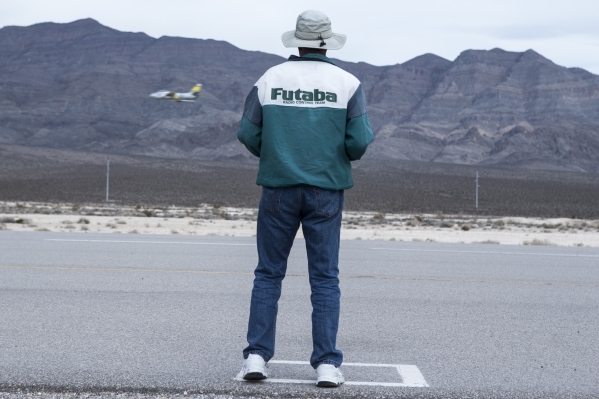 Since time immemorial, humans have gazed up at the sky in wonder and awe. While some have touched the cool breath of the wind inside airplanes, others have learned to get their fill another way.
The men who gather at the airfield at Willie McCool Regional Park, 4400 Horse Drive in North Las Vegas, have learned to become the pilot of their dreams through remote-controlled airplanes.
"I feel like I'm living vicariously through my airplane," said Frank Kelley, 76, president of PropNuts, a group for remote-controlled modelers. "I used to fly full-scale airplanes before I retired; this allows me to get (almost) the same feeling of flight."
The former Air Force pilot flew B-52 bombers and C-141 Starlifter cargo planes during the Vietnam War era. He said he was first introduced to control-line model airplanes when he was 12 years old.
During his time in the Air Force, Kelley began flying remote-controlled airplanes while he was working as a navigator, during which time he had to pull a lot of alerts — "in other words, just sitting and watching," he said.
"I took up RC flying during that period because it gave us something to do, and it was allowed," he said. "I've been flying ever since."
He retired from the military after 21 years and switched to flying commercial Boeing 737 airplanes for 23 years.
While he misses being a pilot on an actual plane, he said his hobby helps fill the void with almost as much excitement.
"Flying a radio-controlled aircraft allows me to do what I could not do as a pilot," he said. "While I did fly aerobatics as an instructor pilot, I was limited and task-driven."
In his spare time, Kelley practices to participate in radio-controlled aircraft competitions. He focuses on aerobatics, such as loops and rolls.
On a recent January morning, six modelers from all around the Las Vegas Valley gathered at the airfield to fuel their flying passion. Airplanes were seen flying up to 400 feet.
Before entering the airfield, newcomers are asked to read and follow the rules posted on the gate.
People stand inside white marked boxes and communicate with other pilots before taking off. Most pilots will fly for five to 10 minutes at a time, though some, like Kelley, can fly as long as 20 minutes.
"I fly strictly for the fun and pleasure of it," he said. "I think the best part about this is that if you crash, no one gets hurt. Well, except maybe your wallet."
He's not exaggerating. The hobby can cost a beginner approximately $500 and includes a trainer airplane, radio receiver, transmitter, batteries, fuel and membership.
The more expensive and up-to-date aircraft cost thousands of dollars.
Liability insurance is a requirement before flying at any local fields. The annual fee for membership to the Academy of Model Aeronautics, which covers people for whatever they fly and wherever they fly, is $75.
In addition, each flier must purchase a $20 membership card from the North Las Vegas Parks and Recreations Department and renew it annually. The card is valid from Jan. 1 through Dec. 31 of the year it is purchased. Pilots must maintain possession of the card while flying at the airfield or display the card on the frequency board at the airfield while flying.
The fly field comprises a small area of the 160-acre park that in 2004 was dedicated to space shuttle Columbia Pilot Willie McCool.
Most first-time fliers are understandably scared of crashing.
Shawn Collins, 46, who works for the city's parks and recreation department, has been flying since 1979.
"This is the closest I've ever been to flying," Collins said. "It's just a wonderful feeling. It makes me happy."
Collins builds his own model airplanes, a rarity in this hobby. His skills allow him to save model airplanes that have crashed and been reduced to small pieces.
The former Air Force maintenance worker said he enjoys seeing his work decorate the blue sky above the Tule Springs Fossil Beds National Monument.
He said it takes him between one to seven months to build a model airplane. He has crashed them approximately 50 times.
"It's a learning process," Collins added.
Those who are simply curious about flying are encouraged to stop by and talk to the field's pilots. There are jets, ARFs (almost-ready-to-fly aircrafts) gas model airplanes and the ever-popular electric airplanes. Most hobbyists enjoy talking about their aircrafts, and some even have trainer airplanes designed for learning.
Trainers are conservative in their design, with the wing on top of the fuselage for maximum stability in the air. It includes a buddy box system for beginner and instructor to each hold a separate transmitter. With the flick of a switch, the instructor can hand over or completely take away control of the craft, without having to take the transmitter from someone's hands.
"It's a great hobby to pick up because you are required to spend time outdoors," Collins said. "Most of us here are more than willing to help newcomers."
Perhaps the biggest challenge for a beginner is the landing; after all, what goes up must come down.
"You don't have the view from the cockpit, so you can become easily disoriented," said Peter Lafferty, 73. "Once you get the hang of it, you can fly gracefully and smoothly. It's a beautiful feeling."
Electric engines are allowed to fly in the airfield from 8 a.m. to 8 p.m. Monday through Sunday, and fuel-powered engines are allowed to fly in the airfield from 8 a.m. to 1 p.m. Monday through Thursday and from 8 a.m. to 8 p.m. Friday and Saturday.
For more information on PropNuts, visit propnuts.org/club-infoor or call Kelley at 702-278-8059.
— To reach North View reporter Sandy Lopez, email slopez@viewnews.com or call 702-383-4686. Find her on Twitter: @JournalismSandy.
Willie McCool Regional Park airfield
4400 Horse Drive
Electric engines are allowed to fly in the airfield 8 a.m. to 8 p.m. daily
Fuel-powered engines are allowed to fly in the airfield 8 a.m. to 1 p.m. Monday-Thursday; 8 a.m. to 8 p.m. Friday-Saturday.