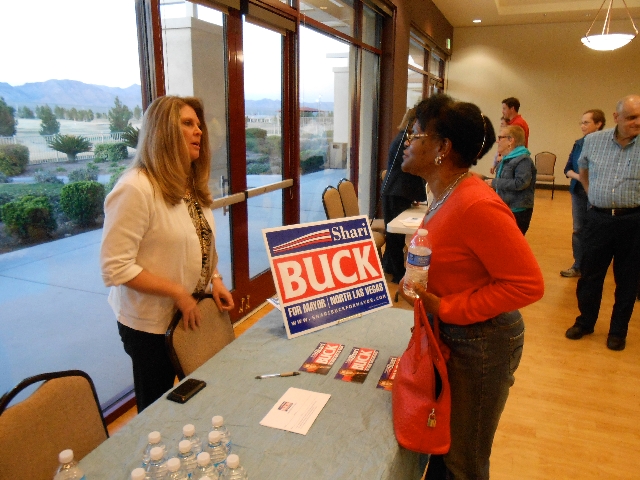 WOMEN'S BUSINESS GROUP
MEETING SET FOR wednesday
The American Business Women's Association is planning its Monthly Business Networking Luncheon, set for 11:30 a.m. to 1 p.m. Wednesday at Texas Station, 2101 Texas Star Lane. The speaker is to be Toni Terrell, editor in chief of The Answer Newspaper. Tickets are $25 for members and $30 for nonmembers.
For more information, call 702-483-0183.
MOUNTAINVIEW JOINS THREE OTHER SITES FOR FIREFLY CLINICAL TRIAL
MountainView Hospital, 3100 N. Tenaya Way, is one of four sites in the country to take part in a Firefly clinical trial that looks at the use of directed imaging during minimally invasive hysterectomies for cervical and uterine cancer.
These procedures use the da Vinci Surgical System to perform complicated gynecologic cancer procedures through several tiny incisions. The clinical trial gets its name from the Firefly Fluorescence Imaging software and dye that causes sentinel lymph nodes to glow a fluorescent green.
The study examines whether fewer lymph nodes can be removed during cancer surgeries by identifying the "sentinel" lymph nodes (those most likely to involved in the spread of the disease). Current practice requires removing all the lymph nodes near the cancer, which can result in long-term health side effects, such as lymphedema of the legs.
The other study sites include hospitals and academic medical centers in Indiana, North Carolina and Michigan.
Dr. Lynn Kowalski, medical director of the hospital's robotics program, heads the study at MountainView.
For more information, visit mountainview-hospital.com.
NEUROPSYCHOLOGY PROGRAM LOOKING FOR RESEARCH PARTICIPANTS
The University of Nevada, Las Vegas Neuropsychology Research Program is looking for participants for an ongoing study on bipolar disorder and schizophrenia. The research team at UNLV hopes to gain an understanding into cognitive and behavioral processes associated with daily function in order to learn about the neural mechanisms associated with severe mental illness and improve treatment interventions. Participants will be asked to do a variety of tests that will take approximately five hours and will be compensated $10 per hour.
Anyone who has been diagnosed with either of these conditions or who wants more more information can call 702-895-3314 or email unlvsocialresearch@
gmail.com.
This study has been approved by the UNLV Institutional Review Board.
SUNRISE HEALTH SYSTEM INSTALLING
SELF-CHECK-IN KIOSKS IN ER
The Sunrise Health System is installing self-check-in kiosks in the emergency department lobbies at Sunrise Hospital, Sunrise Children's Hospital, MountainView Hospital and Southern Hills Hospital.
The kiosks are similar to those in an airport. A patient selects his preferred language, either English or Spanish, and swipes a driver's license or credit card. A credit card swipe at the kiosk is not used for billing purposes or charged in any way.
Patients may also enter their name manually. They will then be asked to enter their reason for visiting the emergency department from a drop-down list of options, or they can enter their reason manually.
Walk-in patients experiencing chest pain should bypass the kiosks to see the triage nurse immediately. Should a chest-pain patient begin to register, the kiosk will flash a message in red informing the patient to stop and see the nurse immediately. Additionally, patients 4 or younger or 65 or older will be flagged for attention with the triage nurse.
Staff members are available in the emergency department lobby to assist all patients 24 hours a day, seven days a week. Additional benefits of the kiosk include improved patient satisfaction by eliminating the paper check-in process, two language options, and accurate and automated capture of patient arrival time.
For more information, visit sunrisehealthinfo.com.
SHRINERS golf tournament
PLANNED FOR OCTOBER AT TPC summerlin
The 2013 Shriners Hospitals for Children Open golf tournament is planned for Oct. 14-20 at Tournament Players Club (TPC) Summerlin, 1700 Village Center Circle. The Shriners Hospitals for Children Open is an official PGA Tour event. The 2013 tournament is set to feature more than 130 PGA Tour professionals competing for a $6 million purse, with a winner's share of $1,080,000. All proceeds will benefit Shriners Hospitals for Children.
The events fourth annual Women's Day luncheon, Kick Off Your Heels, is planned for Oct. 15. It will be catered and feature a guest speaker. Tickets are $125 per guest. The luncheon sold out in 2012, so early purchases are encouraged.
Daily and weekly tickets and ticket packages for the 2013 tournament can be purchased online at shrinershospitalsopen.com or by calling 702-873-1010.
E BUNNY COLLECTING EASTER BASKETS
FOR VALLEY CHILDREN
On March 29, E Bunny plans to "take it to the streets" with its annual Easter basket giveaway in some of the poorest neighborhoods in the Las Vegas Valley.
To help the effort, plan to purchase an Easter basket by Thursday and deliver it to an E Bunny drop-off site.
For more information, email ebunnylv@gmail or call 702-498-9808
WALGREENS COLLECTING FOR AFAN
Aid for AIDS of Nevada encourages Walgreens customers to shop for a cause and make a donation during checkout through March 30. All donations made during this period will help raise money for AFAN's largest annual fundraising event, the 23rd annual AIDS Walk Las Vegas, scheduled for April 14.
People of all ages are encouraged to participate in the walk. Registration is free, but a minimum donation of $50 per person is encouraged and includes an official AIDS Walk T-shirt.
For more information or to register for a team, visit afanlv.donordrive.com.
CAMP SOLARI TO OFFER
FREE BEREAVEMENT CAMP
Camp Solari, a weekend-long bereavement camp sponsored by the Solari Hospice Foundation, 5550 S. Jones Blvd., plans to offer children ages 6 to 17 and their surviving caregivers a free opportunity to learn healthy coping strategies and honor the memories of their loved ones. The next camp is scheduled for May 3-5 at Mt. Charleston Lodge at the end of state Route 157. Applications for Camp Solari must be completed by March 11 to be considered for the spring camp. Planned activities include art, music, talk therapy, drumming, dancing and nature walks.
Camp Solari attendees are chosen based on need. To request an application, call 702-870-0000 or visit solarihospicefoundation.org.
CITY INVITES SENIOR STUDENTS TO APPLY FOR SCHOLARSHIP
The city of North Las Vegas invites high school seniors who live in North Las Vegas to apply for the Nevada League of Cities and Municipalities Youth Award Scholarship. This $1,000 scholarship recognizes students who have performed public or community services and have encouraged others to become involved in their communities.
To qualify, students who apply must be a full-time senior in high school and live in North Las Vegas. A panel of three North Las Vegas administrators and a City Council member will review the applications and forward three finalists to the Nevada League of Cities and Municipalities for review. The league is set to notify the winners this spring.
Applications can be obtained online at cityofnorthlasvegas.com, from counselors at high schools in North Las Vegas or at City Hall, 2250 Las Vegas Blvd. North. The application deadline is 5 p.m. April 3.
For more information, contact Nancy Chavez or Donna Gamble at 702-633-1007.
SEARCH is ON FOR NEVADA'S
top SENIOR VOLUNTEERS
Home Instead Senior Care is searching for Nevada's outstanding senior volunteers. The Salute to Senior Service program recognizes senior volunteers for the many contributions they make in the community. Nominations are scheduled to be accepted through March 31, and the winner in each state will receive $500, while the national will receive $5,000 to donate to the winners' charities of choice. Online voting takes place from April 15 to April 30, and a panel of senior care experts is to pick the national honoree.
To complete and submit a nomination form online for a senior 65 or older who volunteers at least 15 hours a month, and to view the contest's official rules, visit salutetoseniorservice.com. Completed nomination forms also can be mailed to Salute to Senior Service, P.O. Box 285, Bellevue, NE 68005.
For more information about Salute to Senior Service or the Home Instead Senior Care network's services, call 702-796-6393.
AARP TAX PREPARATION TO BE AVAILABLE
AARP plans to prepare tax returns for free by appointment from 10 a.m. to 3 p.m. Mondays through April 8 and from 10 a.m. to 3 p.m. Thursdays Feb. 7 through April 11.
To make an appointment, call 702-229-1702.
DEPARTMENT OF FAMILY SERVICES SEEKS FOSTER HOMES
The Clark County Department of Family Services is seeking members of the public willing to become foster parents. The program involves individuals and families providing safe, stable and loving environments for children in need of temporary out-of-home care.
Information packets are available and include an overview of the program and the latest session schedule. For more information or to request a packet, call 702-455-0181.
REBUILDING TOGETHER ACCEPTING HOMEOWNER APPLICATIONS
Rebuilding Together Southern Nevada is accepting applications from North Las Vegas homeowners for National Rebuilding Day on April 27. The organization plans to repair and renovate 25 to 30 homes with the help of 1,500 volunteers in one day. To be eligible for home repairs, the applicant must own and live in his house; be low-income in accordance with the Department of Housing and Urban Development guidelines; be at least 60 years old, a person living with disabilities, a veteran of family of an active-duty military service member of a multigenerational family; and be current with mortgage and real estate taxes. For more information or to apply, call Therese Elliot at 702-259-4900 or visit rtsnv.org.
MASTER GARDENERS PLAN TOURS
OF DEMONSTRATION GARDENS
The Master Gardeners of Southern Nevada plans monthly tours of the Demonstration Gardens at the University of Nevada Cooperative Extension Lifelong Learning Center, 8050 Paradise Road. Tours are free and open to the public. Groups of five or more are requested to call program coordinator Ann Edmunds at 702-257-5587 at least two weeks in advance.
DONATIONS ACCEPTED TO AID NONPROFIT
Help homeless, pregnant and parenting teens by donating time, money or new or gently used items to assist clients of Southern Nevada Children First, 720 W. Cheyenne Ave., Suite 30.
Volunteers and donations are always needed to support the nonprofit.
For more information, visit childrenfirst-nv.org or call 702-487-5665.
MISS NEVADA PAGEANT COMING
TO TEXAS STATION IN june
The Miss Nevada Organization announced that it plans to host the 2013 Miss Nevada and Miss Nevada's Outstanding Teen competitions at Texas Station, 2101 Texas Star Lane, June 14 and 15. Winners will represent Nevada at the Miss America and Miss America's Outstanding Teen competitions. Tickets for the pageant will go on sale in the spring.
For more information, visit missnevada.org.
KIWANIS CLUB WELCOMES NEW MEMBERS
The Kiwanis Club of North Las Vegas, a chapter of the international service organization, is scheduled to meet at
6:15 p.m. each Tuesday at T.G.I. Friday's in the Aliante Hotel + Casino, 7300 Aliante Parkway.
Club community projects have included canned food drives, car shows, kites in the park events and charity fundraisers.
The fourth meeting of the month is limited to members only.
For more information, visit nlvkiwanis.com or call 702-399-0332.
NORTH LAS VEGAS ROTARY CLUB TO MEET
The North Las Vegas Rotary Club of Las Vegas meets at 7:15 a.m. Fridays at the Painted Desert Golf Club, 5555 Painted Mirage Road.
The weekly breakfast meetings include guest speakers, networking, education workshops and service projects.
For more information, visit nlvrc.org/newsite or call Bob Lillis at 702-340-9735.
SHRINERS HOSPITALS FOR CHILDREN OPEN SEEKS TOURNAMENT VOLUNTEERS
Registration is now open to volunteer for the 2013 Shriners Hospitals for Children Open golf tournament, scheduled for Oct. 14-20 at Tournament Players Club (TPC) Summerlin, 1700 Village Circle Drive.
Offering a chance for golf fans to go inside the ropes, volunteer opportunities include admissions, standard bearers, caddie services, walking scorers and more.
Interested participants can take advantage of a $55 registration fee until May 1, when fees will increase by $5. With the registration fee, volunteers also receive an invitation to the Volunteer Appreciation Party, a weeklong tournament access badge, a commemorative gift and a uniform, including a tournament golf shirt, a jacket and a hat.
Volunteers can register online or contact Donna Millwood at dmillwood@shrinershospitalsopen.com, or visit shrinershospitalsopen.com.
WALK WITH ME FUNDRAISER TO COMING SATURDAY TO W. WAYNE BUNKER PARK
Walk With Me, a fundraiser for Nevadans living with disabilities, is scheduled for 9 a.m. Saturday at W. Wayne Bunker Family Park, 7301 W. Alexander Road. This is Nevada's fifth annual event and entails a two-mile walk, live music and family Easter activities.
Flamingo headliner George Wallace is on tap as this year's host, and members of dance crew Jabbawockeez will serve as the grand marshals. The proceeds will help serve more than 8,000 Nevadans living with disabilities.
The walk portion is set to begin at
9:30 a.m. The Easter carnival is slated for 10:15 a.m. and is planned to feature an Easter egg hunt, photos with the Easter Bunny, games and activities, food, music and more. For a donation of $5, participants will receive entry into the Easter egg hunt. There will also be a special performance by School of Rock, the local chapter of the music school.
To register, visit walkwithme.org/lasvegas.
ALBERTSONS SCAVENGER HUNT
TO PROMOTE HEALTHY EATING
Albertsons is set to host the Free Kid's Health Hike Scavenger Hunt from 11 a.m. to 2 p.m. Saturday at all of its Las Vegas Valley stores.
While parents or guardians shop, children can indulge in a fun, self-guided activity that promotes healthy eating habits and culminates with a free goodie bag, including a snack.
For more details, contact an Albertsons store director. For locations, visit albertsons.com.