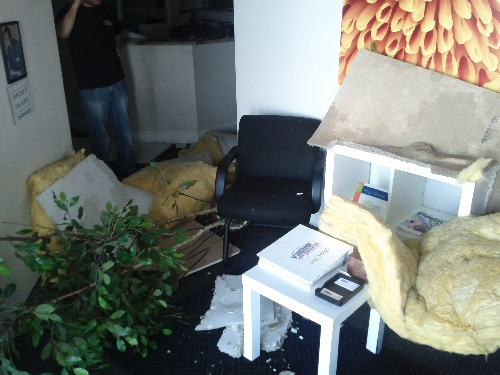 Deer Springs Park to receive cleanup
Roughly six businesses and neighborhood groups are partnering with the city of North Las Vegas to clean up Deer Springs Park in Aliante as part of the c ity's new adopt-a-park pilot program. The cleanup is expected to draw 30 to 50 volunteers from 8 a.m. to noon Saturday at 10-acre Deer Springs Park, 6550 Aviary Way.
Volunteers include representatives from Excellence Community Management, LLC, the Aliante Master Association, Gothic Grounds Management, Wells Fargo and Sherwin Williams.
Volunteers will focus on removing trash and debris from the site as well as painting over graffiti. They also will plant new landscaping.
Individuals interested in volunteering can email kguerra@excellence mgmt.com no later than Wednesday. A complimentary barbecue lunch will be provided for all volunteers.
For information about the c ity's Community Outreach Services, contact Kathi Thomas-Gibson at 633-5632.
Listen to local bands and support a cure for Huntington's
Local bands are set to play during a fundraiser from 8 p.m. to 2 a.m. Friday at the Cheyenne Saloon, 3103 N. Rancho Drive, for the Huntington's Disease Society of America. The national nonprofit organization provides support and guidance to those affected by Huntington's Disease and focuses on finding a cure for the disease.
Funds raised will go to raise awareness for Huntington's Disease in the Las Vegas community. Admission is $5. There will be an extra charge for raffle tickets.
Local bands scheduled to perform include Rooftop Ridicule, The Darkest Dream, Black Beans and Hippie Liver and Dreamwire. Raffle items include a foursome of golf at Red Rock Country Club, guitars signed by Kerry King and Jakee Lee, a Coffee Bean & Tea Leaf gift basket and a $100 gift card to Guitar Center.
For more information, call 661-313-3034 or visit hdsa.org or the local chapter Facebook page at facebook.com/hdsalasvegas.
North Las Vegas fire captain receives safety office award
North Las Vegas Fire Capt. Mike Bako received the 10th annual Safety Officer Award Sept. 12 for more than 25 years of outstanding service to the community and exceptional work with youth groups.
The award was presented by the Las Vegas Valley Rotary Clubs at a recognition ceremony. Bako was selected for his leadership in coordinating, supervising and volunteering his time to educate and improve the lives of youths.
For more information, call North Las Vegas Fire Department Deputy Chief Kevin Brame at 416-3235.
North Las Vegas chamber scheduled to host community event
A "Networking on the Greens" event is scheduled from 2 to 4 p.m. Friday at the Aliante Golf Club, 3100 Elkhorn Road. Registration and warm-up is scheduled for 1:30 p.m. with a 2 p.m. tee time, which includes greens fees, cart use and a drink ticket.
RSVP by Wednesday online at northlasvegaschamberofcommerce.com or by calling 642-9595.
City reaches tentative agreement with police officers union
North Las Vegas and its police officers union have reached a tentative concessions agreement that could save two city-run recreation centers slated for closure in October, according to the Las Vegas Review-Journal.
The agreement, which includes suspending a January cost-of-living raise for the 360-member Police Officers Association, will save the city about $2 million through June.
City officials have said they need $1.5 million to keep the centers open.
The council in August approved the layoffs of 21 employees and the October closure of Silver Mesa Recreation Center, 4025 Allen Lane, and the Neighborhood Recreation Center, 1638 N. Bruce St., to help plug a $4.4 million budget gap in the city's fiscal 2012 budget.
North Las Vegas City Council scheduled to meet Wednesday
The North Las Vegas City Council is scheduled to meet at 6 p.m. Wednesday at City Hall, 2200 Civic Center Drive.
For more information or to obtain a copy of the agenda, visit online at cityofnorthlasvegas.com and click on "Meetings & Agendas" on the left-hand side.
Magic show to aid Saint Bernard rescue
Two Magic Comedy Shows are scheduled at 3 and 7 p.m. Oct. 8 at the Nicolas Horn Theatre at the College of Southern Nevada Cheyenne Campus, 3200 E. Cheyenne Ave. The shows will benefit Sin City Saint Rescue, a local chapter of The St. Bernard Rescue Foundation, Inc., a nonprofit dedicated to helping homeless St. Bernards in Southern Nevada. Tickets are $10. For more information, call 896-1049 or visit sincitysaintrescue.org.Tickets may be purchased the day of the Show at the Nicolas Horn Theatre Box Office for $15.
Vendors needed at church's community yard sale
Vendors are needed for a community-wide craft and yard sale planned from 8 a.m. to 2 p.m. Oct. 8 at Westminster Presbyterian Church, 4601 W. Lake Mead Blvd.
Vendors need not be affiliated with the church and may sell any legal product except food.
To reserve a sale space or ask questions, call 648-8437 between 9:30 a.m. and 12:30 p.m. Monday through Friday.
A donation of $5 will be requested if the vendor provides his own table and $10 if the church provides it.
City manager replacement selected
Timothy Hacker, a former Mesquite city manager, will replace Acting North Las Vegas City Manager Maryann Ustick, who has accepted a job as city manager in Destin, Fla., pending negotiation of a contract. The North Las Vegas City Council is expected to take action on Hacker's appointment Wednesday , pending final contract negotiations.
Attorney set to host Housing Seminar for Active-Duty Military Homeowners
Robert A. Massi, attorney and national and local television legal analyst, is set to host a real estate seminar at 6 p.m. Thursday at Aliante Station, 7300 Aliante Parkway.
This real estate educational seminar for military homeowners will address the present real estate crisis and the current Housing Assistance Program (HAP). It is free for active-duty members.
It will focus on education about foreclosures, short sales and loan modifications and will include a discussion about the current status of HAP, a Department of Defense program.
RSVPs are required, and the seminar is offered on a first-come, first-served basis. Active-duty military can register in advance by emailing massi@preferredpublic relations.com or by calling 221-0323.
Results available from North Las Vegas police department traffic safety event
On Aug. 30, traffic officers from the North Las Vegas Police Department conducted a "Pedestrians Matter" safety event targeting drivers who failed to yield to pedestrians in a crosswalk and pedestrians who failed to utilize marked crosswalks.
Officers issued 126 citations for failure to yield to pedestrian/driver violations, six seat belt/child restraint violations, three speeding violations, 14 driver's license violations, seven registration violations, two equipment violations, 12 insurance violations, one red light violation, five miscellaneous violations and 16 verbal warnings.
The event was designed in conjunction with the nationwide "Pedestrians Matter' campaign, made possible by a traffic safety grant from the Nevada Office of Traffic Safety.
North Las Vegas participates in emergency preparedness month
The Federal Emergency Management Agency has declared September as Emergency Preparedness Month. The group launched "READY," a national public service advertising campaign designed to educate and empower Americans to prepare for and respond to emergencies, including natural disasters and terrorist attacks.
The goal of the campaign is to get the public involved and ultimately to increase the level of basic preparedness across the nation. For more information about North Las Vegas resources, visit cityofnorthlasvegas.com. For more information about the national campaign, visit ready.gov.
North Las Vegas unveils new electronic billing system for utilities
The city of North Las Vegas' utilities department is offering a free online service for electronic billing. Sign up for the new E-Bill at tinyurl.com/NLVebill. Once you have subscribed to the online service, an email notification will be sent that contains a link to the secured website to sign in, review and pay your utility bill.
Once you sign up and return an email confirmation, all utility bills will be electronically generated every month, and paper bills will no longer be mailed. For more information about the electronic billing process, call 633-1484.
NV Energy accepting solar rebate applications through Sept. 28
NV Energy is accepting applications through Sept. 28 for its solar rebate program. Customers who submit their application within that two-week time period will be part of the application process Sept. 30 for the available rebates.
More rebates will be available in the first half of 2012; customers also can take advantage of other rebate programs, including solar hot water heating and wind and hydro rebates.
Interested parties must first visit the website, as there are steps that need to be taken before applying. Visit nvenergy.com and click on "save energy" then "solar, wind and hydro rebates."
Kidnapped for a Cause event to support SNCF
Starting at 1 p.m. Oct. 7, Southern Nevada Children First (SNCF) will be organizing its first Kidnapped for a Cause event in which local business and community leaders will volunteer to be "kidnapped for a cause" and taken to an undisclosed location — at the Queen Victoria Pub inside the Riviera, 2901 Las Vegas Blvd. South. These participants will have to call family, friends and coworkers to raise their "ransom money," which is set at $1,500 per participant. This amount sponsors a young mother who is ready to move into her own apartment with her baby after successfully graduating from SNCF's Life skills and Transitional Housing program.
SNCF is nonprofit organization at 720 W. Cheyenne Ave., Suite 30, that provides long-term transitional living and life skills training to homeless pregnant and parenting teens and young adults, ages 16 to 22.
Individual donations in cash, check or credit card payments will be accepted at the Queen Victoria Pub the day of the event. For more information, go to childrenfirst-nv.org.