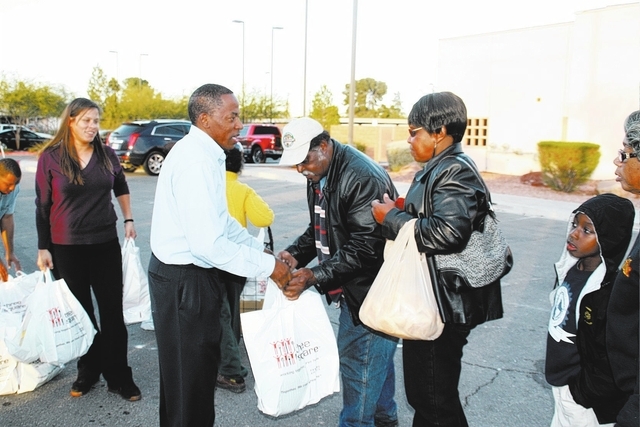 CHRISTMAS TREE CUTTING NOT ALLOWED ON MOUNT CHARLESTON
The U.S. Forest Service reminds the public that Christmas tree cutting is not allowed in the Spring Mountains National Recreation Area, including Mount Charleston.
Law enforcement actively patrols Mount Charleston to prevent illegal tree cutting. Violators can face misdemeanor charges up to $250 and receive a $500 fine per tree.
The closest locations that Las Vegas residents may purchase permits and cut Christmas trees are in Caliente and St. George and Pine Valley, Utah.
For more information, visit www.nv.blm.gov.
NORTH LAS VEGAS SCHOOL TO RECEIVE PETA AWARD
Animal rights activists with the People for the Ethical Treatment of Animals plan to reward a handful of North Las Vegas elementary schoolers for a recent letter writing campaign aimed at returning one of Sea World's orca whales to the wild.
PETA's Compassionate Action Award applauds Williams Elementary School students' efforts to free Morgan, a female orca, from "virtual slavery," according to a release issued by the Washington, D.C.-based organization on Nov. 27.
PETA spokeswoman Allison Lakomski said the award, one of five handed out by the organization this year, was mailed to students.
For more information, visit peta.org.
WIRTZ BEVERAGE TO HOST TOY DRIVE
Wirtz Beverage Nevada is set to partner with area nonprofit workers at the CASA Foundation for an all-day children's toy drive scheduled for Dec. 14 at Wirtz's headquarters, 1849 W. Cheyenne Ave.
Organizers hope to collect toys for 3,000 children this year and will accept individual donations alongside toys collected through office donation boxes.
For more information, visit casafoundationlv.org.
CITY SEEKS NORTH VALLEY HEALTH CARE PROVIDERS
The city of North Las Vegas is accepting applications for a new health care training facility planned in the north part of the valley.
Applicants must have earned 501(c)(3) tax-exempt status and be able to provide both primary health care services and on-site health provider training.
The city plans to provide land but no financial backing for the project. Applicants must be able to demonstrate their ability to provide development and long-term funding clinic and training facilities' operation.
Applications will be accepted through 5 p.m. Dec. 19. For more information, visit cityofnorthlasvegas.com.
NEW ALLSTATE LOCATION ARRIVES IN NLV
Allstate Insurance Company opened a new North Las Vegas office at 1527 W. Craig Road last month.
The office, independently owned and operated by Angela Terteryan, will offer bilingual auto, property and life insurance services, and comes as part of a company push to open 20 new agencies across the state by the end of the year.
For more information, contact Terteryan at 702-800-8333.
LIBRARY DISTRICT PLANS ANNUAL SHOES FOR CHILDREN DRIVE
The Las Vegas-Clark County Library District plans to host its 19th annual Shoes for Children Drive and Benefit Performances at 7 p.m. Dec. 13 and 2 p.m. Dec. 14 at the West Las Vegas Library, 951 W. Lake Mead Blvd.
Admission is one new pair of children's athletic shoes sized to fit preschoolers to high school youths. Donations also will be accepted at all library branches through Dec. 23.
For more information, call 702-507-3989.
CITY LEADERS NAME TWO NEW DEPARTMENT HEADS
North Las Vegas City Council members unanimously OK'd the appointment of a new library director and interim fire chief last month, stamping interim City Manager Jeff Buchanan's picks for each of the spots filled at a Nov. 6 City Council meeting.
Acting Library District Director Forrest Lewis is set for a promotion to permanent district head, pending final district board member approval next month. Lewis stands to earn an annual salary of $104,631.
City leaders also signed off on retired Henderson deputy fire chief Jeff Lytle's move into Buchanan's former spot. Lytle will make an annual salary of $125,000.
NEW BOARD SET TO GUIDE CSN CHEYENNE
North Las Vegas and the College of Southern Nevada announced the formation of a city-proposed advisory board at the school's Cheyenne Avenue campus last month, a move officials hope will foster better communication between the two entities.
The Nov. 18 agreement signed by Mayor John Lee and CSN president Dr. Michael Richards lays the groundwork for a jointly appointed panel of community members and business leaders set to advise school officials on "trends and local needs," according to a release issued Nov. 14.
Lee said the board aims to put a little more community into its only college.
For more information on the panel, contact CSN communications director K.C. Brekken at 702-651-7535 or kc.brekken@csn.edu. Contact city spokeswoman Juliet Casey at 702-633-2613 or caseyj@cityofnorthlasvegas.com.
APPLICATION INTAKE PEOPLE NEEDED FOR HELP HOLIDAY PROGRAMS
Volunteers are needed between 8 a.m. and 2 p.m. through Dec. 16 to assist clients with their applications for holiday programs at HELP of Southern Nevada's main campus, 1640 E. Flamingo Road.
Those interested in volunteering or in need of more information should contact Joan Lima at jlima@helpsonv.org.
AFTER-SCHOOL ALL-STARS KICKS OFF GIVING TUESDAY CAMPAIGN
After-School All-Stars Las Vegas announces the kickoff of a holiday campaign called Giving Tuesday. Thanks to two anonymous donors, those who participate in the campaign will see their dollars matched by each of the anonymous donors, tripling the original donation amount.
Donations may be made at asaslv.org or by calling 702-770-7601. Once the donation is made, it will be matched by each of the anonymous Giving Tuesday donors.
NATHAN ADELSON HOSPICE HOSTING DOG BED AND BLANKET DRIVE
The Pet Therapy Program at Nathan Adelson Hospice is holding its third annual Dog Bed & Blanket Drive to help keep shelter animals warm this season.
Through Jan. 31, the hospice is collecting new or gently used dog beds, blankets and towels, as well as unopened dog food, to deliver to local animal shelters. In the valley, donations can be dropped off at 4141 Swenson St., 3150 N. Tenaya Way, Suite 350, next to MountainView Hospital, or 1201 Nevada State Drive in Henderson.
More than 3,500 items were donated to local shelters over the last two winter seasons through the drive. For more information, visit nah.org.
AUDUBON SOCIETY HOSTS BIRD COUNTS
NSCB SEEKS HELP TO NAB UNLICENSED CONTRACTORS
The Nevada State Contractors Board is looking for homeowners to help get rid of unlicensed contractors by allowing undercover NSCB investigators to use their homes for daylong undercover sting operations.
For more information, contact NSCB Criminal Investigations supervisor Kenny Peppley at 702-486-1144.
WOMEN VETS SOUGHT FOR PTSD STUDY
Researchers at UNLV are looking for women to participate in a research study on post-traumatic stress disorder. The aim of the study is to examine the role of stress hormones in combat-related PTSD in women.
Women between the ages of 18 and 35 who have served on active military duty within the past five years may be eligible to participate. Participants will fill out questionnaires, complete a brief interview and provide saliva samples for measurement of stress-related hormones.
Study completion requires two one-hour visits to the UNLV main campus. All participants are eligible to receive free counseling. All personal information will be kept confidential, and participants can choose to discontinue the study at any time.
For more information about this study or research about veterans with PTSD, contact Meghan Pierce, M.S., at 702-595-9025 or piercem3@unlv.nevada.edu.
BANK OF AMERICA ACCEPTING HOLIDAY TOY DONATIONS
Bank of America plans to host a toy drive to benefit the Make-A-Wish Foundation through Dec. 13. The public is invited to drop off new, unwrapped toys at any of 51 Bank of America banking centers in Southern Nevada. The toys will be presented to Make-A-Wish kids and their families at the organization's annual holiday party.
Hope Christian Health Center is set to open a new health care clinic near the intersection of North Pecos Road and East Craig Road by February, officials with the North Las Vegas-based nonprofit group announced last month.
The clinic, 4385 N. Pecos Road, Suite 155, will serve patients regardless of insurance status or ability to pay, according to a release issued Nov. 4.
Nonprofit officials said the clinic was strategically sited in a part of town designated by the U.S. Department of Health and Human Services as a "medically underserved" area in need of health care professionals.
They expect the clinic to create several new jobs in the area.
Work on the clinic, which has been in the planning stages for more than a year, is scheduled to begin this month.
For more information on Hope Christian Health Center, visit www.hopehealthvegas.org or call 702-763-2242.
ASTRONOMICAL SOCIETY HOLDS OUTREACH EVENTS
The Las Vegas Astronomical Society holds events every month for those interested in learning about astronomy. The society meets at 7:30 p.m. the first Thursday of each month at the College of Southern Nevada Planetarium, 3200 E. Cheyenne Ave., usually with a speaker or program on an astronomical topic.
For more information on the group, visit lvastronomy.com.
SENIOR SOFTBALL ASSOCIATION GAMES PLANNED
The North Las Vegas-based Las Vegas Senior Softball Association plans to play games Tuesdays and Thursdays morning in Lorenzi Park, 3333 W. Washington Ave. League teams open to men 50 to 64, 65 or older and women 50 or older.
For more information, visit lvssa.com.
MODEL AIRPLANE CLUB TO HOST HOLIDAY TOY DRIVE
The Prop Nuts Radio Controlled Airplane Club plans to host its third annual Toys For Tots holiday fundraiser from 9 a.m. to 1 p.m. Dec. 14 at Willie McCool Regional Airfield, 4400 Horse Drive. Club spokesman Robert Connell said some of the nation's top radio-controlled helicopter pilots are set to be on hand for the toy donation event.
For more information, contact Connell at 702-636-6620.
The North Las Vegas Neighborhood Recreation Center plans to host Seniorcize for adults 55 or older from 9:30 to 10:30 a.m. Mondays, Thursdays and Fridays at 1638 N. Bruce St. For more information on the free sessions, call 702-633-1600.
SAFEKEY REGISTRATION STILL OPEN
NORTH LAS VEGAS COAST GUARD GROUP TO MEET
The North Las Vegas Coast Guard Auxiliary Flotilla is set to meet at 7 p.m. on the third Monday of the month at the North Las Vegas Airport, 2730 Airport Drive.
For more information on the group, call flotilla commander Barry Keller at 702-219-2236 or visit goaux.us.
MASTER GARDENERS OFFER WEEKLY TOURS
Master Gardeners offer weekly garden tours from 10 a.m. to noon Fridays at the University of Nevada Cooperative Extension's Demonstration Gardens, 8050 Paradise Road.
Master Gardeners plan to offer free weekly walking tours aimed at teaching visitors about many of the more than 500 plants that grow in harsh southwestern desert landscapes around Las Vegas.
In addition to scheduled tours, the grounds are open for self-guided tours from 8 a.m. to 5 p.m. weekdays.
For more information, call the Master Gardener Help Desk at 702-257-5555 or visit the Facebook page at facebook.com/mastergardenersofsouthernnevada.
CIVIL AIR PATROL TO MEET
The Nellis Senior Squadron of the Nevada Wing Civil Air Patrol meets from 7 to 8 p.m. the second and fourth Monday of each month in the Grand Canyon Room at the North Las Vegas Air Terminal, 2730 Airport Drive. The Civil Air Patrol is a nonprofit organization with 56,000 members nationwide. It performs 90 percent of continental U.S. inland search and rescue missions. Attendees must be 18 or older. For more information, contact Maj. Mark Goodman at 702-326-7363 or mgoodman56@me.com.
ALIANTE LIBRARY WRITERS CLUB TO MEET MONTHLY
The Aliante Library Writers Club is set to meet monthly from 5:30 to 7:30 p.m. on select Tuesdays and Wednesdays at the Aliante Library, 2400 Deer Springs Road. The group gathers for networking, readings and learning about writing. For more information, call 702-839-2980, visit nlvld.org or email Glory Wade at glorywadewriter@gmail.com.
LEGO CLUB TO MEET MONTHLY
The North Las Vegas Library plans to meet monthly from 5:30 to 7 p.m. at the North Las Vegas Library, 2300 Civic Center Drive. All ages welcome. Jigsaw puzzles are provided. For more information, contact the library at 702-633-1070 or visit www.nlvld.org.
NORTH VALLEY LEADERSHIP TEAM TO MEET
The North Valley Leadership Team meets at 10 a.m. the second Saturday of each month at the Pearson Community Center, 1625 W. Carey Ave. For more information on the group and its efforts, contact president Lydia Garrett at 702-413-3034.
PEARSON CENTER HOSTS WALKING CLUB
The Pearson Community Center plans its Positive Movement walking club at 6 p.m. every Monday and Wednesday at 1625 W. Carey Ave.
Participants aim to encourage each other physically, emotionally and spiritually by walking on the track.
For more information, call the center at 702-455-1220.
DONATIONS ACCEPTED TO AID NONPROFIT
Help homeless, pregnant and parenting teens by donating time, money or new or gently used items to assist clients of Southern Nevada Children First, 720 W. Cheyenne Ave., Suite 30.
Volunteers and donations are always needed to support the nonprofit.
For more information, visit childrenfirst-nv.org or call 702-487-5665.
KIWANIS CLUB WELCOMES NEW MEMBERS
The Kiwanis Club of North Las Vegas, a chapter of the international service organization, is scheduled to meet at 6:15 p.m. each Tuesday at T.G.I. Friday's at the Aliante, 7300 Aliante Parkway.
Club community projects have included canned food drives, car shows, kites in the park events and charity fundraisers.
The fourth meeting of the month is limited to members only.
For more information, visit nlvkiwanis.com or call 702-399-0332.
NORTH LAS VEGAS ROTARY CLUB TO MEET
The North Las Vegas Rotary Club of Las Vegas meets at 7:15 a.m. Fridays at the Painted Desert Golf Club, 5555 Painted Mirage Road.
The weekly breakfast meetings include guest speakers, networking, education workshops and service projects.
For more information, visit nlvrc.org/newsite or call Bob Lillis at 702-340-9735.
FREE TRAPPERS SET TO MEET IN SPRING MOUNTAINS
Spring Mountain Free Trappers meet for a black powder shoot the first weekend of each month at CC Spring and Lovell Canyon roads in the Spring Mountains southwest of Las Vegas. Locations vary depending on weather, so call Daniel Trousdale at 702-645-2658 before attending. For more information, visit smft.org.
VIRTUAL HIGH SCHOOL SEEKS COMPUTER DONATIONS
Clark County School District's Virtual High School and Academy for Individualized Study, 3050 E. Flamingo Road, will accept in computers in good working condition through Dec. 31. The Laptops for Learning Holiday Drive is designed to give economically challenged future virtual high school students a chance to take online classes, school district officials said in a release issued Nov. 5.
Donations will be refurbished and wiped clean by data professionals at U.S. Micro Corp. Donations can be dropped off at the Virtual High School campus.
For more information, contact the school at 702-855-8435 or visit www.ccsdde.net.
MOJAVE MAX EMERGENCE CONTEST KICKS OFF
The annual Mojave Max Emergence Contest has kicked off, offering participants the chance to guess when Mojave Max, a live tortoise who lives at Red Rock Canyon National Conservation Area, will leave his burrow in the spring. Participants are encouraged to try to guess as closely as possible the correct day, hour and minute when Max will emerge.
Anyone can enter the contest, but only one kindergarten- through 12th-grade student enrolled in a Clark County public, private or registered home school is eligible to win prizes. The grand prize winner's class will receive T-shirts, a pizza party and a field trip to Red Rock Canyon National Conservation Area. The winner also receives a laptop computer, a digital camera and a yearlong pass to federally managed fee areas. The winner's teacher will receive a laptop computer.
To enter, visit mojavemax.com and click on "Contest." Since the contest launched in 2000, the earliest Max has emerged was 11:55 a.m. Feb. 14, 2005. The latest was 12:41 p.m. April 17, 2012.
SHAKESPEARE INSTITUTE TO OFFER ACTOR CLASSES
The nonprofit Shakespeare Institute of Nevada recently launched a series of acting workshops for Southern Nevada residents focusing on teaching students to try new material and prepare audition pieces while receiving feedback from professional actors and directors. The workshops are suitable for all ages and all acting levels and are planned from 6:30 to 9:30 p.m. Wednesday and Thursday at the Hollywood Bound Acting Academy, 7220 S. Cimarron Road.
The fee is $80 for 10 classes. The first class is free to audit.
For more information or to register, email shakesinstnv@gmail.com or call 702-896-9517.
RESCUE GROUP TO OFFER GIFT WRAPPING
Golden Retriever Rescue Southern Nevada plans its holiday gift-wrapping fundraiser through December.
Shop at participating stores and meet some Golden Retrievers. The gift-wrapping effort is free, but donations will be accepted. Donations help fund the rescue group's various programs and covers costs such as veterinary care.
Volunteers are needed to fill various shifts at the following three locations on in the Summerlin area: Barnes & Noble, 8915 W. Charleston Blvd.; GAP, Rampart Commons Shopping Mall, 1055 S. Rampart Blvd.; and Pottery Barn, Rampart Commons Shopping Mall, 1085 S. Rampart Blvd.
To volunteer or to get more details, contact grrsnvolunteers@aol.com or call 702-598-4653.
MANDATORY WINTER WATERING SCHEDULE IN EFFECT
The Southern Nevada Water Authority reminds residents and businesses that the community's winter watering schedule runs through Feb. 28. The seasonal schedule limits both turf and drip irrigation to one day per week according to each customer's assigned watering group, as listed below. Watering is prohibited on Sundays.
Watering days are: Group A — Monday; Group B — Tuesday; Group C — Wednesday; Group D — Thursday; Group E — Friday; and Group F — Saturday.
Hand watering is permitted to revive dry spots.
Customers can visit snwa.com to find their assigned watering days, get information on seasonal watering restrictions and learn recommended run times for irrigation systems.
HARDEST HIT FUND PROVIDES MORTGAGE HELP
With one of the highest foreclosure rates in the nation, Nevada was selected to be a beneficiary of the U.S. Treasury's Hardest Hit Fund program, which provides assistance to help prevent avoidable foreclosures and keep Nevada homeowners in their homes.
The Nevada Hardest Hit Fund will assist eligible applicants by paying up to a maximum of $1,000 monthly toward their impounded first mortgage payment, including principal, interest, property tax and insurance for up to nine months. The applicant's contribution will be a minimum of $75 or any amount that exceeds the $1,000 maximum assistance per month.
Applicants must be unemployed and actively looking for work or be able to validate at least a 35 percent reduction in income/wages since 2008 and must be facing imminent default.
To apply, homeowners can call 855-428-4357 or visit nevadahardesthitfund.nv.gov.
BLOOD COURIERS NEEDED
The American Red Cross is seeking volunteer couriers to deliver blood in Las Vegas. Couriers are needed from 7 to 11 a.m. or 1 to 5 p.m. Mondays through Fridays.
The Red Cross distribution center, 4025 Dean Martin Drive, supplies blood to five hospitals: Summerlin Hospital Medical Center, Valley Hospital Medical Center, Desert Springs Hospital Medical Center, Spring Valley Hospital Medical Center and Centennial Hills Hospital Medical Center.
For more information or to volunteer, call 800-434-3251.
GREEN CHIPS LAUNCHES WEBSITE TO INCREASE SUSTAINABILITY AWARENESS
Green Chips, a nonprofit designed to advance Nevada's sustainability identity, recently launched a community website at greenchips.org.
The site is intended to provide individuals, groups, businesses and municipalities with a venue to share green events, activities, incentive programs and more. To submit information for the site, email info@greenchips.org.
The second phase of the site, expected in March, is slated to include health, transportation and educational resources, including an interactive section for students with science projects, lesson plans and outdoor activity ideas.
AARP TAX SERVICE SEEKS VOLUNTEERS
AARP Tax Aide, the nation's largest free, volunteer-run tax assistance and preparation service, is looking for volunteers. Training is scheduled for the first week of January. To register, visit aarp.org/taxvolunteer or contact district coordinator Jerry Allen at 702-233-1918.