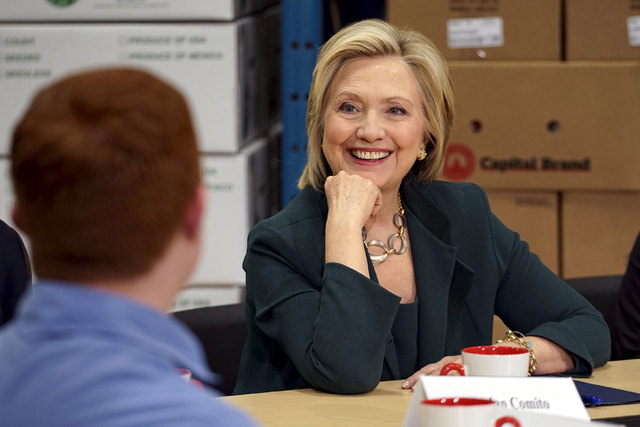 Amy Ponce of North Las Vegas got a Mother's Day surprise on Sunday — not breakfast in bed or a new pair of slippers — but a call from Democratic presidential candidate Hillary Clinton who wished her "a happy day."
"At first I thought it was a joke," said Ponce, 37, whose 18-year-old son, Austin, won a campaign contest for his mother. Five winners received calls, including in Nevada, Iowa, Colorado, Washington state and Minnesota, the campaign said.
It was a special year for Clinton, too, her first as a grandmother.
"I've been a mother for more than 35 years now, and I'm still not sure how my mother did it," Clinton said in a statement. "She didn't always have an easy life, but she managed to remain strong and kind and always remember everyone who helped her."
Amy Ponce, who is married, also has a 12-year-old daughter. She said that until Clinton emerged on the political scene she hadn't been politically active.
In fact, she voted for the first time in 2008 — but for Clinton's Democratic rival, Barack Obama, who won millions of new voters. Perhaps it wasn't Clinton's time, but now Ponce said the former first lady and secretary of state appears to be a strong contender.
"I think we're leaning that way," to vote for Clinton, she said. "That would be real neat" to have the first female president. "We definitely would be voting Democratic."
Asked about her previous voter apathy, Ponce said, "For me, it was probably a lack of time. And probably a lack of being educated enough on making the right decision."
Ponce said the call with Clinton was short and sweet, at about 1:30 p.m. "It was something you don't get a chance to do everyday," she said.
Ponce has been paying close attention to some hot- button campaign issues, however. She's a Patient Services Representative in a pediatrician's office, giving her insight into how Obama's Affordable Health Care Act is playing out.
"Definitely a good law, but a few flaws," Ponce said. "I've heard from a lot of people personally that it still is not quite as affordable as they had anticipated."
Austin Ponce appears to be the politician in the family. He said he's looking forward to voting for the fist time in a presidential election in 2016 and he's hoping to volunteer for the Clinton campaign as well.
He thanked his teacher Ms. Karlye Mull for encouraging him and said he's taking advanced placement government classes with her this year.
"It really helps when you have a teacher who's passionate about the subject," Ponce said, adding he'll keep his family involved, too.
Contact Laura Myers at lmyers@reviewjournal.com or 702-387-2919. Find her on Twitter: @lmyerslvrj.