Northern Las Vegas Valley sites offer diversion from typical Sin City experience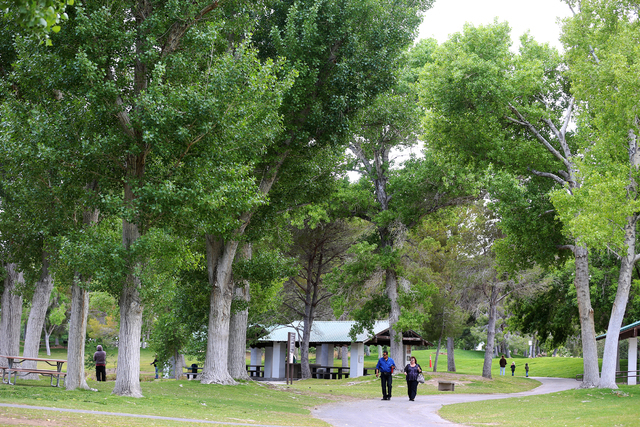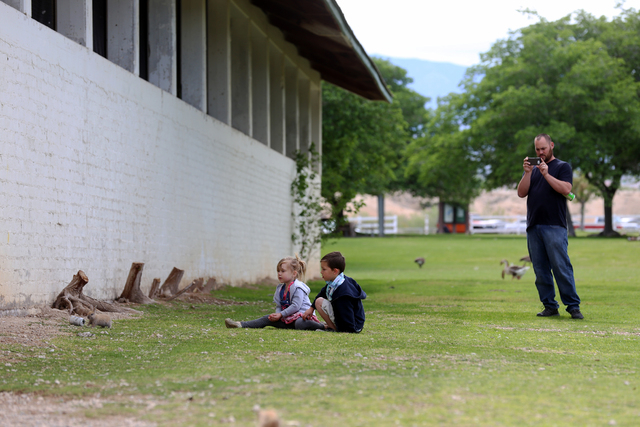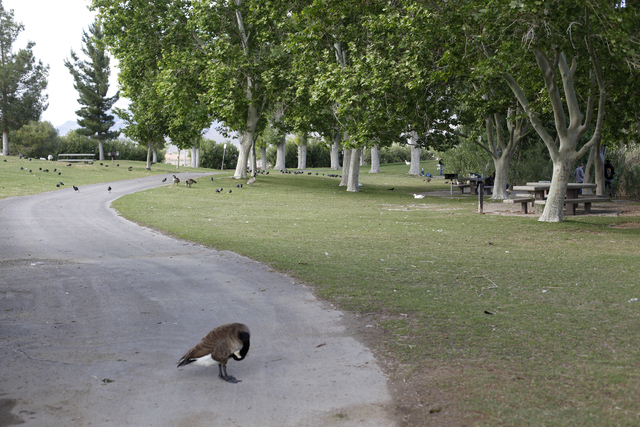 Bright lights, slot machines and high-end pool clubs mark the Strip, while vast desert seems to fill the rest of Las Vegas — or does it?
There are various places in the valley that make people wonder if they are still in the international resort destination famed for its 24/7 energy. The northwest area in particular offers a chance to go apple picking at an orchard, buy local honey from a farm, visit a bird sanctuary and fish at a nearby lake.
"There are a ton of places here that make people feel like they're not in the city or even in a desert," said Steve Ross, Las Vegas mayor pro tem and Ward 6 city councilman. "Sure, we have our amenities here like medical centers and hospitals, but we also have places like Floyd Lamb Park at Tule Springs, where families can just enjoy nature."
Floyd Lamb, 9200 Tule Springs Road, is a local oasis in the middle of the Mojave Desert. The park includes four ponds available for fishing; the Tule Springs Wash; and historical treasures, such as the Tule Springs Ranch and the Tule Springs Archaeological Site.
Its long history links it with a livestock ranch, a farm, a stage line stop, a railroad watering stop and a divorce resort.
The park is unique to the traditional Las Vegas experience. Not only can visitors have lunch at its many picnic tables, but they can also hang out with peacocks, geese and other critters that call the 2,040-acre park home.
The park is open daily, though its hours are seasonal. From September through April, it is open from 9 a.m. to 5 p.m.; and May through August, 8 a.m. to 8 p.m. Check the city's parks website to reserve a picnic site on busy upcoming holidays. Fees for the day-use area are $6 per car or $1 for those entering on foot, bicycles or horseback.
Visit lasvegasnevada.gov.
Near the park is Nevada's newest attraction, the Tule Springs Fossil Beds National Monument. The monument was created in 2014 to protect the remains of Ice Age animals. For years, scientists at the site have been collecting the fossils of Columbian mammoths, camels and American lions, among other long-extinct creatures.
The 22,630-acre monument begins in the northwest valley just above Corn Creek and runs along the base of the Sheep Mountains to east of the Aliante master-planned community.
It is located in the Upper Las Vegas Wash and provides thousands of years' worth of uninterrupted geologic history to be studied and documented by scientists.
While the monument remains undeveloped, hikers and horseback riders may access the area from Las Vegas and North Las Vegas streets around the park and east of it.
Although the national monument is in its infancy, a visitor's center detailing history and fossil displays, along with hiking trails and interpretive walks, are planned in the future, according to the park's superintendent, Jon Burpee.
The Protectors of Tule Springs also plan to schedule more hiking tours throughout the year. Information will be posted at tulespringslv.com.
Visit nps.gov/tusk/index.htm.
The northwest is also home to John Mull's Meats & Road Kill Grill, 3730 Thom Blvd., where scores of fresh meats are butchered. The business is run by fourth-generation family owner Chuck Frommer, who bought the business from his uncle in 1981.
Celebrity chef and television personality Guy Fieri featured John Mull's Meats on his Food Network show "Diners, Drive-Ins and Dives," and after that newfound popularity, Frommer decided to open the Road Kill Grill in May 2012. The menu includes ribs, brisket, chicken, pulled pork and hot links.
Hours are from 11 a.m. to 8 p.m. Monday to Saturday. Visit johnmullsmeats.com or call 702-645-1200.
Looking to hang out with animals instead? Gilcrease Nature Sanctuary, 8103 Racel St., provides a safe haven for exotic birds, including several species of parrots.
Inside its doors are a variety of wildlife.
"We get so many people that come here who lived in Las Vegas their whole life and never knew we existed," said Sandra Salinas, a board member of the sanctuary. "I don't think Mr. Gilcrease realized the impact he had on creating an oasis for rescued animals out in the desert. This is a nice place where families can interact with animals at the petting zoo and just walk around the peaceful environment."
Inside, visitors will also find Bambi, a rescued mule deer, and turtles, giant tortoises, rabbits, llamas, goats, donkeys, miniature horses and pigs.
The sanctuary traces its roots to 1920, when the Gilcrease family of four moved from Reno to the valley.
Leonard and Elda Gilcrease used an inheritance to buy a 1,500-acre parcel upon which they hoped to build a home and a new way of life. Along with their two sons, Bill and Ted, the family settled into traditional ranching life, according to the sanctuary's website.
In 1970, William Gilcrease founded the Gilcrease Nature Sanctuary.
The nonprofit is open to the public from 9 a.m. to 4 p.m. Thursday through Monday and by appointment Tuesday and Wednesday. It is closed on Thanksgiving, Christmas and New Year's Day. General admission is $4 for adults and $2 for children ages 2 to 12. Children younger than 2 and active military personnel with an ID are admitted free.
Visit gnslasvegas.org or call 702-645-4224.
What about gardening in the desert? It's possible, and so is picking fresh produce at the family-owned Gilcrease Orchard, 7800 N Tenaya Way.
It may seem odd for an orchard to be thriving in the extreme Las Vegas weather, but Mark Ruben, the orchard's director, said that almost anything can be grown in the desert, with the exception of citrus.
"May is when everything starts," Ruben said. "We'll have our first crop of apricots and peaches, and then in the summer there will be tomatoes, zucchinis and other vegetables."
The orchard offers 60 acres of agricultural land with seasonal produce picking. Currently, it has green onions, garlic, kale and asparagus available for purchase, as well as peanut and almond butters.
Hours are from 7 a.m. to noon Saturday. It plans to open on other days once fruit becomes available.
Visit thegilcreaseorchard.org or call 702-702-409-0655.
Another agricultural landmark that transports people to a small town feel is the Las Vegas Farm, 7222 W. Grand Teton Drive.
For roughly 50 years, Sharon Linsenbardt has been caring for abused and neglected animals at The Farm, which is home to more than 400, including a two-legged dog, pigs, cows, white peacocks and most recently, six of the Sagebrush Ranch horses, which were impounded by Clark County Animal Control out of concern for their health and welfare.
The nonprofit Barn Buddies Rescue, funded by The Farm, focuses on the rescue of mistreated and abandoned farm animals. As its parent organization, The Farm donates $5,000 a month toward food and bedding for the animals, Linsenbardt said. Many roam freely for the public to interact with, while others wait inside their shelters for food.
Visit thelasvegasfarm.com or call 702-982-8000.
Head back to the 1950s with a modern-day flick at the West Wind Drive-In, 4150 W. Carey Ave. Family Fun Night is Tuesday, when admission is $5 per person.
A snack bar is available with hot dogs, cheeseburgers, popcorn, nachos, candy, cotton candy and beverages.
Regular-day admission is $7.95 per person, $1 for children ages 5 to 11 and free for those younger than 5.
Visit westwinddi.com or call 702-646-3565.
"We are very fortunate to live in the Vegas Valley, as we have the opportunity to experience a plethora of outdoor parks and scenic sites," said Larry Schultz, a member of the Las Vegas Ward 6 Parks and Recreation Advisory Commission. "We have so many natural gems to choose from in the northwest valley. These are all welcome and easy escapes into nature where we can quickly decompress from the challenges of daily urban life and allow our minds and bodies to fully relax within the cradle of Mother Nature. Living in the Vegas Valley provides us with a diverse range of low-cost recreational opportunities. All we need to do is get out and take advantage of them."
To reach North View reporter Sandy Lopez, email slopez@viewnews.com or call 702-383-4686. Find her on Twitter: @JournalismSandy.