Northwest resident Randy Bridges uses AnnRd.com, expo as ways to drive local business
February 5, 2016 - 3:15 pm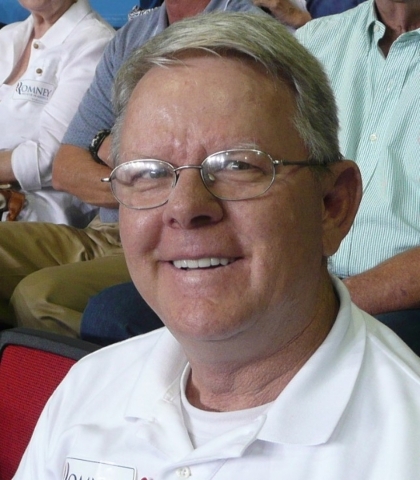 Once upon a time, Centennial Hills was a vast land that offered countless opportunities. There were hardly any roads and barely any streetlights or traffic. The 215 Beltway wasn't even born. At least, that's how longtime Las Vegas resident Randy Bridges remembers it.
Then it started booming with businesses, and Bridges noticed there was a need to consolidate all of Centennial Hills' business information into one location.
As a result, he started AnnRd.com in 2006 as a free business listing site for northwest residents. The site has since added listings in Summerlin, Henderson and North Las Vegas.
Two years later, in 2008, he founded the Centennial Hills Expo to bring businesses together and give them an opportunity to mingle with the community at large. The annual family-friendly event, which happened on Jan. 30, drew attendees from the local Centennial Hills community and across the surrounding Las Vegas Valley areas, including Summerlin, Aliante and North Las Vegas.
Bridges has been an entrepreneur for most of his adult life. He started selling soap in high school and kick-started his real estate career in the '70s while he was serving in the Navy. He started purchasing land, discounted real estate notes and rental homes. His wife eventually persuaded him to pursue real estate, and he received his real estate license in 1998.
What brought you to Las Vegas, and how have you seen the city, specifically Centennial Hills, change since you first arrived here?
My father was a traveling musician until I was 6 years old, and my mother had had enough. She said we weren't going anywhere else, so we stayed here in Las Vegas. The year was 1960. I made Centennial Hills my home in 1991. This area has gone through so many changes; it's incredible. The population just exploded. Back then, people used to talk about how Henderson was becoming the fastest-growing population, but now it's clear that it's the northwest. We took a dive between 2008-2009, but now that it's 2016, it's just growing again like crazy.
What first attracted you to this area?
Back then, in 1991, there were no streets, no infrastructure, no curbs, no gutters, no street lamps. The 215 hadn't come through yet, and it was just so quiet. A car would pass by maybe every 10 minutes. I loved it.
How did your realty career start?
Back in 1998, my wife and I were talking. She said, 'Since you like buying mortgages, why not go into real estate?' That was on a Thursday. The next Friday morning, I enrolled in real estate school, and the rest, as they say, was history.
Tell me about AnnRd.com. What is it, and where did the idea come from?
AnnRd.com used to be my real estate website, but I made it into a business directory in November of 2006. I spent a whole month going to every business that was open and put together the directory. Eventually, I decided to open it up to the public as a classified section for Centennial Hills.
I estimate that now I have about a couple hundred businesses on there and average about 30 to 40 people per day. It's a free public service that I provide. Anyone can put in their company's ad to be automatically featured on the front page of the directory.
I used to have it exclusively for Centennial Hills, but I don't exclude anyone.
Since starting AnnRd.com, what type of business have you seen flourish in the northwest?
I know (Raising Cane's) is doing quite well, and people are going crazy for Goodwill. I think the problem is that businesses are always popping up, and most consumers don't know how to find them. That's how the expo came into being. It is a way to get the community and businesses together in one place.
For people who don't know about the Centennial Hills Expo, can you explain what it is and when it got started?
It's a community festival with live entertainment, local vendors, activities and keynote speakers.
This year, we (had) featured keynote speakers for the State of Centennial Hills address, which gives residents in the community an insight of things to come in the coming year.
Again, I do this all as a public service. I have a small fee for tables, but all of the proceeds go toward advertising and marketing to get the word out. My goal is to make the expo the largest must-go-to event for Centennial Hills. It's an event where people can not only meet local businesses but also find out what the future holds for us and how things are going for this part of the valley.
It first started in 2008, and we had it again in 2009, but we went on hiatus until last year.
How has the expo changed since you started it?
We used to host it in a hotel environment, but it was a bit hectic to get through it. This year, we (had) it at the Northwest Career and Technical Academy. It's more accessible, and there's plenty of parking.
Last year, I also targeted the 45-and-up crowd, and this year, I'm targeting the 25-and-up crowd. I think it's gained a lot more interest.
The Centennial Hills Expo just passed last week, but for vendors who are interested in participating next year, when and how can they register?
We'll probably start taking reservations in April. We only allow two companies per industry, and current vendors get first priority. If people want to find out more information or want to register for next year, they can visit our website at centennialhillsexpo.com.
With all of your knowledge of northwestern businesses, what type of businesses would you say the northwest is lacking?
We could use more gas stations and post offices up here. But, let me think. We could use a lot more diversity as far as businesses go in the area. There are only a couple of Hispanic businesses that I know of, and this year I really tried to get the Hispanic community involved. I think this area is still mostly white.
In your opinion, what does the future of Centennial Hills look like?
This area will most certainly continue to grow. We have so much to look forward to. There is Skye Canyon master-planned community just north of Providence that's being developed. That will lead to more businesses because people have to shop, eat and get transportation. There's also the Centennial Bowl that will make commuting easier. I really think the worst is past us now.
— To reach North View reporter Sandy Lopez, email slopez@viewnews.com or call 702-383-4686. Find her on Twitter: @JournalismSandy
Randy Bridges
Age: 62
Occupation: Las Vegas real estate and founder of AnnRd.com and Centennial Hills Expo
Past Job: Clark County entrepreneur
Education: Graduated from the Community College of Southern Nevada, where he received three associate degrees in marketing, management and general studies
Hometown: Salt Lake City
In Las Vegas since: 1960
To reach Randy Bridges, call 702-530-3411 or email randy@randybridges.com
North View reporter Sandy Lopez plans to chat with Lydia Garrett, president of the North Valley Leadership Team, for a March 3 Getting to Know Your Community Leaders question-and-answer profile.