Organization provides religious connection, escape for Las Vegans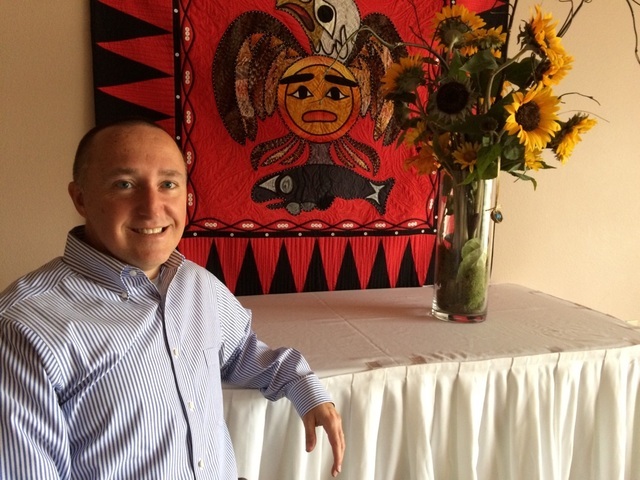 Just stepping into Stillpoint is intended to be an instant vacation from the hustle and bustle of living in a dynamic city.
Zen music plays. Water tumbles down steps of a fountain. Along with the serenity, there's an intangible sense of peace in the air.
And that's what Stillpoint, 8072 W. Sahara Ave., Suite D, is all about, leaving behind the hectic day-to-day life and reconnecting with one's spot of inner quiet, said executive director Brian Neely, who has been with the nonprofit organization the past two years.
Stillpoint has been a quiet feature of Las Vegas since its inception in 2004. It was the brainchild of Roisin O'Loughlin, now retired, who still sits on the board.
"The founder's original visions was … She really felt that in the midst of the craziness and the urban life and entertainments industry here, people need a place to be still, to stop and breathe and recalibrate; to ask, 'What is it I'm really trying to do with my life?' That's why people stop in," Neely said.
Stillpoint sees two kinds of people — those who are well-grounded in their religion and seeking something more to complement it, and those who are not affiliated with religion but who take a spiritual approach to life.
To help them, the organization offers 10 to 12 programs a month as well as workshops and special speakers. Some programs are prayer groups; some are drum circles. The Lectio Divina group takes a look at sacred text, whether Jewish or Christian, and every individual reflects on, journals on and has the opportunity to speak on what it means to them.
"I always say if somebody comes here and if they're Catholic, Protestant and they're Jewish or Buddhist, I want them to leave being a better Catholic, a better Buddhist," Neely said. "We want to strengthen where they are on their journey. At the same time, there are those who consider themselves to be very spiritual but not religiously connected. We're a resource center for them.
"There's no membership dues here, no, 'You have to believe "this" here'; no doctrine set for people. But you get all these people, some can be very staunch Catholics, and some never want to enter a church again in their life, but they're here on the same page because they want to get to the next step on their spiritual journey."
Deacon Bonnie Polley is the chaplain at the Clark County Detention Center and is on staff at Christ Church Episcopal, 2000 S. Maryland Parkway. She's gone to Stillpoint since it opened.
"It's a holy place," she said. "There's so much serenity there, and the presence of god is just overwhelming."
At first, she went "all the time. I got spiritual direction (there)." But as her work demands ramped up, these days, she goes a handful of times a year. "But I try to take advantage of all the various programs that (are offered)," Polley added.
The facility began with one suite in the office complex and has expanded over the years to three times its original size. It now covers about 3,500 square feet. Included are two prayers rooms (called Inner Rooms), two conference rooms and one-on-one meeting rooms for spiritual direction.
Stillpoint has seven spiritual directors who undergo two to three years of training. They're licensed and, just like a doctor, sworn to uphold confidentiality. Each is paired with clients for conversations with those who desire to actively pursue a spiritual journey.
The latter intention "comes from the Celts, a soul connection. It's another set of eyes on your life, your spiritual journey," Neely explained. "It's not counseling. It's getting into the spiritual depths of what's going on."
Conference rooms are utilized by the eight prayer groups that meet there. In the back, overlooking the courtyard, is a community room complete with lending library. Titles include: "Take This Bread," "The Way of the Spiritual Direction" and "Heaven and Back." There are also texts on Eastern, Jewish and Muslim religions.
"Probably the name most associated with us is Richard Rohr," Neely said. "He's been on "Oprah," so he has an international (following) and is coming again in September."
Once or twice a year, Stillpoint offers a weekend retreat, Enneagram. It's from the Sufi branch of Islam and was picked up by Jesuits in South America and is "an intense look at personality types but done from the angle of our spiritual journey, who you are and what you're seeking and what's getting in your way," Neely said. "So, it gives you a deeper self-understanding."
The Enneagram is led by O'Loughlin, who holds a doctorate in that area. It's offered for beginners and another for advanced with each retreat limited to 30 spots and is always a sellout.
Some programs are offered on a free will donation basis. The Enneagram retreat is about $90.
Stillpoint is open from 9 a.m. to 5 p.m. weekdays and offers some night and weekend programs. Visit stillpointcsd.org.
To reach Summerlin Area View reporter Jan Hogan, email jhogan@viewnews.com or call 702-387-2949.