Pardee delivers 'awesome experience'
February 22, 2014 - 5:00 am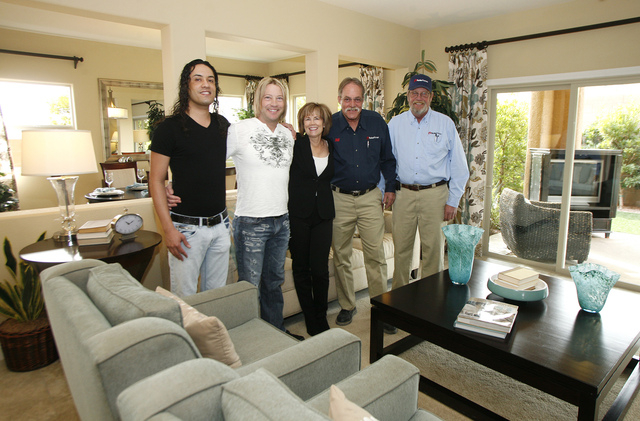 What could have been a very stressful experience, turned out to be a wonderful experience, according to Ronald Watkins and Eliseo Reyes, who just moved into their new Pardee home at LivingSmart Homes Providence, a master-planned community in the northwest Las Vegas Valley.
"From our first day in the sales office when we met Mimi Wilson it was an awesome experience from then on," said Watkins, a director of operations in the restaurant industry who oversees 600 employees in two states.
"This was the first time I've seen a home built from scratch, and Pardee's process was immaculate," said Reyes, who works in the resort industry in Las Vegas. "Construction superintendent John Randall is a great communicator and he is meticulous about construction standards," Watkins said.
"Customer service representative Bill Bruce has given me the confidence that customer service doesn't end with the close of escrow. Even after we got our keys, he keeps checking to make sure everything is all right," he said.
Their home, a Plan Four that measures 3,001 has an "awesome" game room where Eliseo likes to watch sports and Ronald likes to look at the nearby mountains and just relax.
LivingSmart Homes Providence is a collection of one- and two-story floor plans with such features as great rooms, game rooms, as many as seven bedrooms and an outdoor room option.
Prices at LivingSmart Homes Providence start from $255,490 and homes range from 1,849 to 3,001 square feet.
Floor plans include the single-story Plan One, which measures 1,849 square feet with three bedrooms, two baths, den, great room and two-car garage.
Plan Two measures 2,183 square feet with four bedrooms, three baths, great room, spacious kitchen, and two-car garage with optional third bay or workshop in a two-story design.
The two-story Plan Three measures 2,523 square feet with four bedrooms, three baths, great room, dining room, loft and three-car garage. The Plan Four measures 3,001 square feet with five bedrooms, three baths, living room, game room and three-car garage.
LivingSmart Homes Providence is off of the 215 Las Vegas Beltway at Ann Road. Exit the Beltway at Ann Road and travel west. Turn right onto Shaumber Road and follow to Centennial Parkway and turn left. The entrance is on the right.
Pardee's LivingSmart brand is a program with standard and optional measures that boost energy efficiency, save water, improve indoor air quality and encourage material conservation and the use of recycled or sustainable resources in new homes, company officials said.
Offered exclusively for Pardee homebuyers in this market, Smart Move Advantage, an independent company, will rent a qualified buyer's existing home for as long as to three years.
Follow the builder on Facebook at www.fb.com/PardeeHomesLasVegas.
Sales office hours are 10 a.m. to 5 p.m. Tuesday through Sunday and 11 a.m. to 5 p.m. on Monday, until Daylight Saving Time March 9 when it is open until 6 p.m. For more information, visit www.pardeehomes.com or call 702-604-3332.