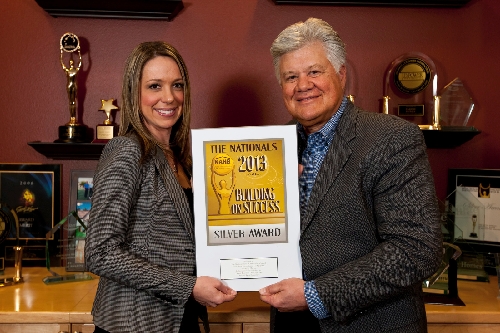 Pardee Homes online sales counselor Shannon Marler has brought home a coveted national trophy from the 2013 National Sales and Marketing Awards held this year in Las Vegas during the International Builders Show.
She was one of only three Silver Award winners in the online sales category of the competition informally known as "The Nationals," sponsored by the National Association of Home Builders' National Sales and Marketing Council.
"Shannon helped 62 families find their dream home last year alone, and her customer service scores are nearly 95 percent," said Pardee regional sales director Rob Tuvell.
Instituted in 2008, Pardee's two online sales counselors now account for nearly 30 percent of all Pardee sales in Southern Nevada.
"Our online sales counselors definitely helped Pardee turn the tide during a very difficult economy," Tuvell said.
"I love what I do," said Marler, who has worked with Pardee for seven years. "I was born and raised in a Pardee home in Spring Valley and my father is in his third Pardee home, so I have strong memories of what it is like to grow up in a Pardee neighborhood.
"People I talk with are at a starting point and are not sure how to pursue their dream of a new home. Some are military families who are relocating from other parts of the country and it's very rewarding to help enhance their experience and follow through the process with them," Marler said.
A software architect for a major health care insurance company, Atul Apte and his wife, Arati, wanted "an easy commute and (some place) not too cold."
"The Internet told us where to move and connecting with Shannon made it easy to manage the buying process from long distance. That made a big difference for us," he said.
"Because of his travels, he was only available by email," said Marler, who stayed in communication with Atul Apte through the purchase and all the way through closing of their new home in the Pardee Solstice neighborhood in Aliante.
"Those who turn to her encounter a human being, not a script," Tuvell said. "They feel, and rightly so, that she cares about what will help them and save time, travel and stress in their new-home search."
In addition to her newest award, Shannon has also earned Pardee's President's Award honoring outstanding service to the company; the Las Vegas Division Ambassador Award for representing Pardee Homes with world-class professionalism; and Pardee Home Loans Commitment to Excellence Award.
The Nationals is the nation's largest competition for new-home sales and marketing professionals and communities, typically drawing more than 800 entries and more than 500 attendees.
Pardee has built homes for more than 40,000 families in Southern Nevada since 1952, and has developed several master-planned communities.
Pardee sales offices and model homes are open from 10 a.m. to 5 p.m. Tuesday through Sunday and from 11 a.m. to 5 p.m. on Monday.
For more information, call an online sales counselor at 702-604-3332 or visit www.pardeehomes.com. You can also follow Pardee on Facebook at www.fb.com/PardeeHomesLasVegas.