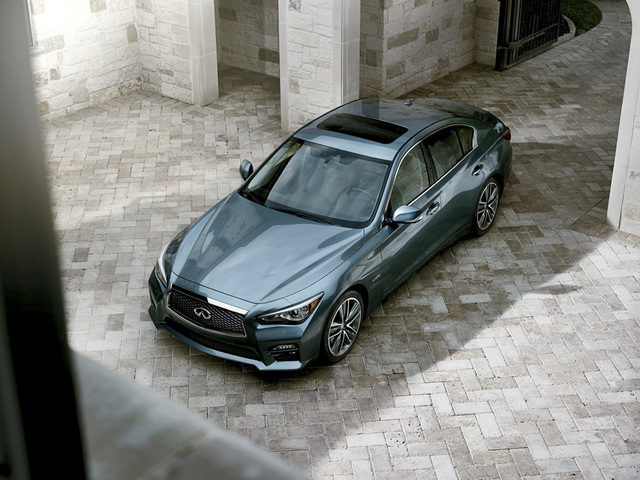 Edmunds.com has announced its 2014 awards, which included recognition for three popular Infiniti models — the 2014 Infiniti Q50 S, the Infiniti QX60 and the Infiniti QX80.
Edmunds.com is a premier car shopping website, and its accolades for Infiniti car models didn't surprise to local Park Place Infiniti General Manager Joe Tortomasi.
"As an Infiniti car dealer, I am proud of these awards. Infiniti cars come with a quarter-century heritage of award-winning performance," Tortomasi said. "Infiniti cars are known for their world-class luxury, outstanding style and quality. At Park Place Infiniti, we take great pride in adding additional value and providing superior service to our customers by being experts in excellence."
Edmunds.com evaluates about 200 new vehicles each year. Each vehicle is driven on a road-test loop. The vehicles undergo instrumented testing in controlled conditions. The Edmunds Evaluating Team uses these tests to develop ratings that grade how a car stacks up against its direct rivals in its size and price class. The Edmunds.com Top Rated Awards are given to the vehicles that received an A rating.
The 2014 Q50 S earned an A and has been named among Edmunds.com Top Rated sedans. According to Edmunds.com, the new 2014 Infiniti Q50 S offers high-tech electronic and safety features along with a detailed interior. The car's excellent fuel economy and available hybrid model — with a muscular V6 engine and roomy trunk — set the Q50 S apart from the competition.
"People who aren't familiar with Infiniti are quickly won over by the Q50," Tortomasi said, noting that 33 percent of Park Place Infiniti survey respondents who bought a Q50 from Oct. 1 to April 29 said they had never owned an Infiniti.
For the Most Popular Car Awards, Edmunds.com selected the top three models in each vehicle segment that attracted "the most car-shopper consideration in the 2013 calendar year," the website said.
The Infiniti QX60 won the Most Popular Midrange Luxury SUV of 2014, and the Infiniti QX80 won the Most Popular Premium Luxury SUV of 2014.
"Both the Infiniti QX60 and Infiniti QX80 have been popular among our clients here in Las Vegas," Tortomasi said. "They are beautiful vehicles with extraordinary interior comfort and luxury, yet they are roomy and practical for accommodating multiple passengers."
Edmunds.com lauded the Infiniti QX60 for its roomy seating and high fuel economy ratings.
"The 2014 Infiniti QX60 is a solid choice for a family-oriented, seven-passenger luxury crossover SUV," Edmunds.com said.
The Infiniti QX60 offers ample passenger room in all three rows and provides a smooth and quite ride, classy interior design, good fuel economy from hybrid model and user-friendly electronics interface, according to the Edmunds.com review.
Meanwhile, the Infiniti QX80 won praise for its powerful V8 engine and high towing capacity and its easy-to-use electronics interface. Tortomasi said clients who purchase the QX80 often are impressed with its easy handling, interior luxury and comfort.
Founded in 1987 by Ken Schnitzer, Park Place Dealerships represents luxury brands. In June 2012, Park Place purchased the Infiniti dealership in Las Vegas. For more information, visit, www.parkplaceinfiniti.com.