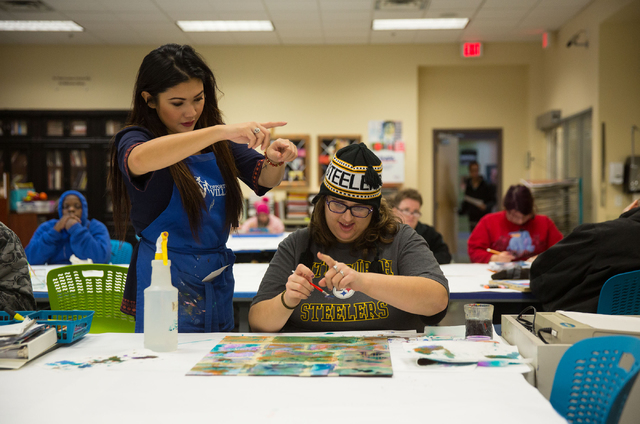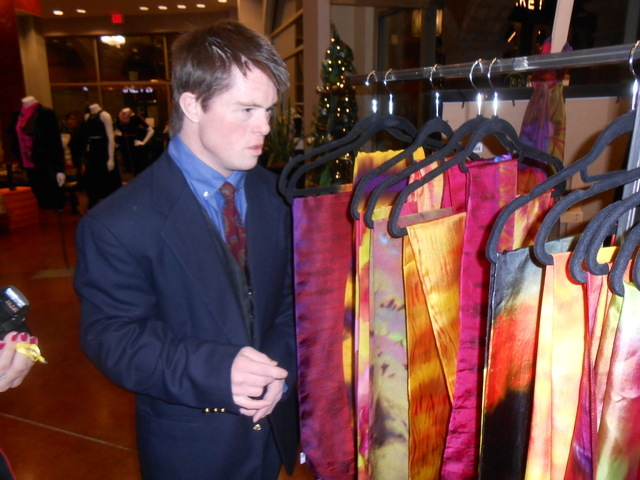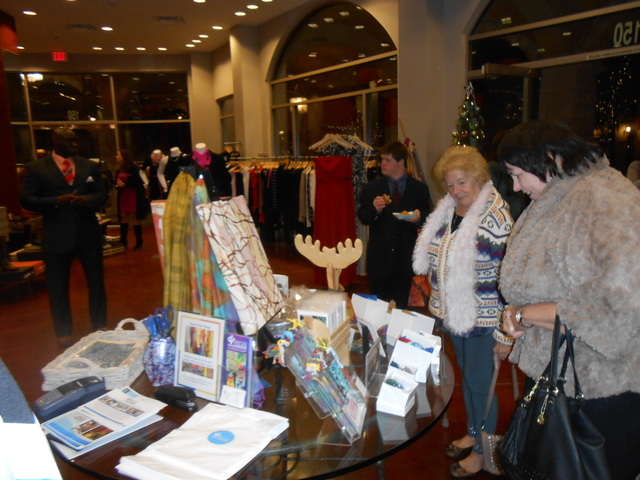 More than jewelry and fashions shined Nov. 20 at Tivoli Village boutique Vasari, as the store hosted a reception for artists from Opportunity Village.
Vasari, 410 S. Rampart Blvd., displayed paintings, gift cards, tree ornaments, bookmarks and wearable art in the form of silk scarves, all created by clients of Opportunity Village, 6300 W. Oakey Blvd. and 6050 S. Buffalo Drive. Opportunity Village provides programming and job skills for people with intellectual disabilities.
The Opportunity Village items at Vasari, priced starting at $10, will be for sale through the holidays. On opening night, the proceeds from sales of Debbie's Brittle, which the store carries for $18 per bag, went to support the nonprofit.
Brittni Truitt is a self-taught artist from Opportunity Village who began developing her skills in sixth grade. She said emotions are the basis for her art.
"I express myself freely and … put my feelings into my paintings," she said, "feelings like happiness and excitement, and I can be free, like, no rules, without anybody judging my paintings."
Truitt was born three months premature, weighing 2 pounds and 14 ounces.
"I was in the (neonatal intensive care unit) until my first birthday," she said. "So, I have learning disabilities but not as severe."
One of her paintings at Vasari was available for $230. Half of that goes directly to the artist, while the other half goes into the Opportunity Village program to purchase supplies.
Another artist, Nikki Lee, has been honing her art skills in the program since 2010. She was so excited to see her work featured, she giggled as she went from one display to another. What was her goal?
"I wanted to progress more with my art, and I learned a lot from my mentors," Lee said. " … I'm proud of everything."
Ardi Najmabadi, the owner of Vasari, carried the Opportunity Village scarves for three days during last year's Christmas season. He said he wanted to host the artists' work again, this time including more items.
"My customers loved them," he said of the scarves. "People have to realize that small businesses are the ones that make the community, not online."
Linda Smith, associate executive director of Opportunity Village, said it's important to get the artwork out into the community.
"It's an amazing program, and our folks are very, very talented," she said. "They don't have the wherewithal to go out and exhibit their art like other artists do. They can't jump in a car and go set it all up. So, we're providing opportunities for them to expose their art to the public. So, places like Vasari provide this; it expands our reach. More people become aware of our program."
While Opportunity Village has offered art as an activity since it was founded in 1954, the fine arts program was established about eight years ago. It began with a handful of clients but now has 80 and includes music, dance and acting components. Lee, for example, is "quite the ballerina," according to Smith. Donald H. (last name withheld), another Opportunity Village client with artwork selling at Vasari, shines at drumming.
Opportunity Village has a number of events, such as wine tastings, HalloVeen, Magical Forest and the Great Santa Run, which keep it at the forefront of the community.
"We're trying everything constantly," Smith said. "We're fortunate that we have great board members. Like (the art show), a board member knew (Vasari's owners) and reached out to them. That's part of the expectation of our board members, to introduce us to people who can create these kinds of events."
For more information about Opportunity Village, call 702-259-3741 or visit opportunityvillage.org.
Contact Summerlin Area View reporter Jan Hogan at jhogan@viewnews.com or 702-387-2949.