Planet Hyundai Centennial starts on strong note, ready to tackle challenges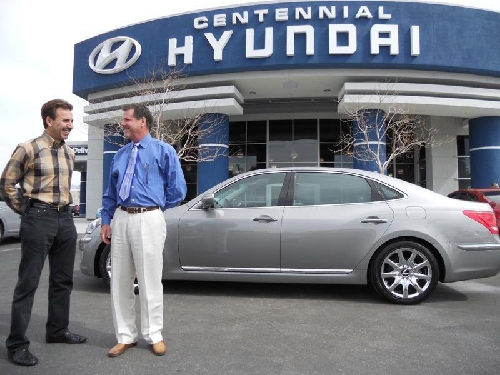 Planet Hyundai Centennial co-owner and company spokesman Ron Coury and General Manager Skip Shakely, both former Marines, are happy with the first month's results after opening the dealership at 6200 Centennial Center Blvd. in the northwest valley.
Shakely moved some 1,500 miles from Round Rock, Texas, to assume his new position with the dealership when Planet Hyundai, which is located at 7150 W. Sahara Ave., decided to expand its presence in the valley.
Shakely, a 38-year veteran of the car business in Texas and Ohio, is enthusiastic about the dealership and the Southern Nevada automotive market, especially considering the recent success of the Hyundai brand .
"I'm very excited about working for a locally owned and operated dealership," Shakely said. "In my experience, it makes a big difference in the quality and attitude of a dealership when you have owners actively involved in the day-to-day operations."
Equally as important is the fact that Shakely is confident about the local marketplace.
"I'm very positive about the economy and the car business here," said Shakely, who spent 12 years in Texas. "When I got into the car business in Ohio in 1973, the first thing we had was the first gas crisis and then they closed all the steel mills. When I was selling cars there, we had 33 percent unemployment — double what we have here. In a very short period of time, this store has exceeded our expectations. In both sales and service, we're ahead and that will get even better as the word gets out to the community that we are here for them. We have a great product when it comes to gas mileage, warranty, lower initial costs and higher resale value. I think Hyundai has come out very strong and the vehicles continue to shoot up in popularity. It has helped that the 2011 Hyundai Sonata recently earned a spot as a top safety pick by the Insurance Institute for Highway Safety. Offering the best warranty in the business hasn't hurt either."
Shakely loves Las Vegas. "I like the variety of things to do here. You have excellent restaurants. You simply cannot get bored in Las Vegas that's for sure," he said.
"Every day presents a new set of challenges and rewards," he said. "The guys who stay in this business make good money. Where else can you work where your customers literally come to you. Unless this is your last car, we have the opportunity to be connected all the time. As kids grow up and need a car, they're also going to buy a vehicle."
Shakely said his three years in the U.S. Marine Corps from 1968-'70 taught him discipline, dedication and direction.
"It was tough in the Corps from day one," he said. "You cannot give up in the Marines and you can't give up in the car business either. You must have the discipline to keep on going. We learn loyalty in the Marines, as evidenced by the Corps' motto, Semper Fidelis, which means 'Always Faithful.' Many of the cars we have sold have been to active and former military personnel."
Shakely said the most popular Hyundai has been the Elantra, a four-cylinder vehicle that has a long list of standard amenities along with an affordable price.
Dealership co-owner Ron Coury agrees that customers in the car business like working with former military members.
All current or former military personnel enjoy a level of comfort when dealing with others who have served their country," Coury said.
Coury also is happy to have an automobile executive like Shakely leading the dealership.
"We are delighted to have Skip join us," Coury said. "The professionalism and experience Skip brings to us, combined with the many attractive features of the Hyundai brand, enables us to provide the utmost in both sales and service to our customers in the entire valley, particularly those living in the northwest.
"Car buyers today know there are five major factors anyone purchasing a new car should consider. They are pricing, warranty, fuel efficiency, resale value and safety. In fact, you can match any model we offer with their counterpart from any other manufacturer and the Hyundai will prevail in all or nearly all of those five determining factors. Thanks to the Internet, customers are better informed today than ever before. We don't have to go on and on about our product. The facts are out there and speak for themselves. Hyundai is by far and unquestionably the wiser choice and the leader in automobiles today."
Planet Hyundai Centennial is located at 6200 Centennial Center Blvd. Further information can be found by calling 483-2200 or by visiting www.planetlv.com.