Planet Hyundai sales manager dedicated to Hope on Wheels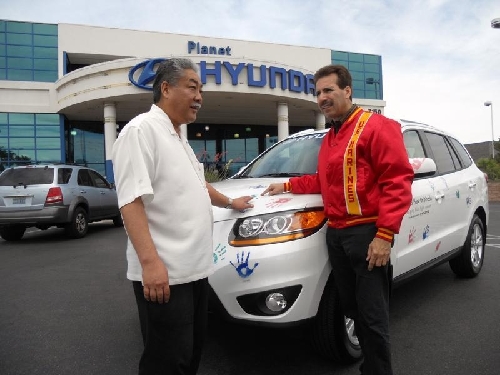 Planet Hyundai Sales Manger Les Saito has jumped into his new role with the West Sahara Avenue dealership in more ways than one.
Besides overseeing the Hyundai dealership, he also assists with Hyundai Hope on Wheels to help kids fight cancer.
"I could not ask for a better arrangement," said Saito, 48, who has been with Hyundai since August 2004. "I am selling the hottest vehicle in the country, while also participating in an absolutely invaluable program to help kids who are battling cancer. You could not ask for a better combination."
The car business has been good to Saito, and the fact that he has two children, Christopher, 14, and Nicholas, 11, intensifies his interest in battling childhood cancer.
"This program, which both Planet Hyundai Las Vegas locations participate in, is very touching," said Saito, adding that several of his clients have experienced cancer directly or indirectly. "Cancer can consume your life physically, emotionally and economically. I'm delighted to be with Planet Hyundai and very happy to be a part of the Hyundai Hope on Wheels program."
Saito could work for any car dealership, but has chosen to stay with Hyundai over the years.
"The Hyundai has so many things going for it," Saito said. "It has incredible fuel efficiency, style, the best warranty in the car business, the lowest-price point and I get to work with great customers. I never worry when selling a Hyundai to people because I know they'll be happy with their purchase for many years."
"This is a wonderful charity," said Planet Hyundai co-owner Ron Coury, himself a cancer survivor. "We know only too well how devastating cancer can be and those of us at Planet Hyundai will do anything possible to help with the cause."
Coury said that the 2011 program will mark the 13th straight year of the Hope on Wheels' mission to fight childhood cancer. This year the program will donate a total of $10.2 million to children's hospitals across the nation, a 15 percent increase from last year.
"We're proud that for 13 years through year-end 2011, Hyundai and its participating dealers will have donated more than $34 million to the cause," Coury said. "The goal is to support the important research that will find a cure to pediatric cancer."
Coury explained that the commitment to the cause is ongoing.
"Every time a Hyundai vehicle is sold in the U.S., a donation is made to Hope on Wheels," said Coury, who added that Hope on Wheels is a united effort of Hyundai dealers across the nation to raise awareness about childhood cancer and celebrate the lives of courageous children battling the disease.
The symbol of the Hope on Wheels Tour is a white Hyundai Santa Fe vehicle covered with colorful handprints representing childhood cancer patients from all over the country. The handprint ceremonies celebrate the courage of the patients by capturing their colorful handprints on the white Santa Fe because there's nothing more personal than a handprint — and the goal of the Hope on Wheels is to share the personal triumphs of each of the children with other childhood cancer patients and their families across the country.
"Whether it's completing a round of chemo, celebrating a new head of hair or receiving a clean bill of health, one childhood cancer patient's milestone can be another's symbol of hope," Coury said.
For more information on Planet Hyundai Sahara or Planet Hyundai Centennial, go to www.planetlv.com or call 938-1400.