Plumbers, Pipe Fitters helping Las Vegas seniors through Community Action Program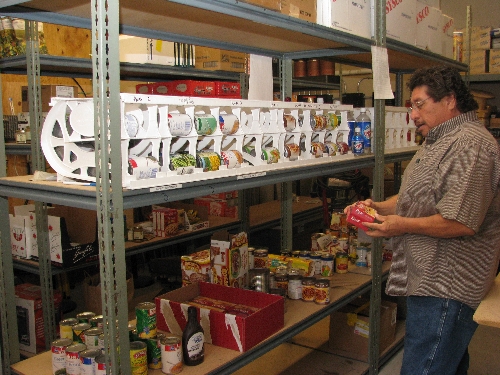 If you reach the voice message of Lou Salazar, you'll be informed that the charity he coordinates has stepped back its activities due to lack of funding, and yet Salazar and his fellow plumbers and pipe fitters are quietly out in the field nearly every day, helping out where they can, frequently out of their own pockets.
The Community Action Program of the Plumbers, Pipe Fitters and Service Technicians Local 525 is set up to help seniors on a fixed income who can't afford repairs. Salazar, residential business representative for Local 525, began the program 13 years ago. The charity used to be funded from union dues, but that was before the economic downturn.
"We have over 1,000 members out of work," Salazar said. "We just don't have the funds to do it anymore."
Some of the time Salazar would normally be using to coordinate the Community Action Program is spent coordinating the union's food bank, which provides food for out-of-work members. Dozens of sheets of paper nearby list the names and qualifications of the valley's out-of-work plumbers and pipe fitters.
Nevertheless, they still help the seniors as much as they can. Typically, the people they help are living in older homes and manufactured housing.
"Mobile homes are easy to work on because the plumbing is easy to get to," Salazar said. "Scary to go under sometimes but easy to get to."
Salazar cited cats, spiders and other creatures as some of the hazards as well as tight spaces due to sinking. The plumbing in many manufactured homes is so old that it is brittle and cracks. Salazar said most of their volunteer work is done at manufactured housing.
"We'll go in and splice it," Salazar said. "The parts aren't too expensive, and we get help from Meads Hardware. They're the only place to go to get parts for mobile home plumbing."
Sean Cleary, who runs Meads Hardware at 4438 E. Lake Mead Blvd., said his business is happy to help Salazar whenever it can.
"We've had to make cutbacks here, but (Salazar is) helping out people who have no where else to turn to," Cleary said. "We're all pitching in and helping out and hoping things turn around soon."
Often, the first sign people have that something has gone awry is a sudden spike in their water bill. When that happens and the homeowner is a senior with limited means, the water company tends to tell the customer to call Salazar.
"A typical bill for a typical home might be $17 or $26," Salazar said. "It's not unusual for me to hear from people with bills in the hundreds of dollars."
A bill that high usually indicates a leak; the irrigation system is frequently the source. Under the charity's constrained budget, the options for helping are few.
"We'll help people to figure out what's wrong, but frequently we can't do anything about it," Salazar said. "If it's the irrigation system, a lot of times we just show the homeowner how to shut down the system."
There are other situations where Salazar and his volunteers can point a homeowner it the right direction and let him help himself .
At one home, Salazar determined approximately where a leak was, pointed it out and told the homeowner that he would come back and patch it if the homeowner would dig it out. When the homeowner called, it was to have Salazar check on the repairs he'd done himself .
"He found the leak right where I said it was and took care of the patch job himself," Salazar said. "He did a real good job of it. He was proud to show off the work."
Not everyone has the technical skills to take on the problems, though . At a recent visit to an aging mobile home, Salazar probed under a sink and wondered at the patchwork of repairs there.
"It looks worse than it is," Salazar said. "I can fix this in a few minutes once I get the parts."
He made a quick list and figured that he still had the parts around or could get them for a few dollars, which he planned to cover out of pocket. These days, even the gas money to get to a location is a strain on the charity's budget.
"I don't want people on fixed incomes giving us what little money they have," Salazar said. "What would be great is if some corporation sponsored the program. A little money would go a long way."
Contact Sunrise and Whitney View reporter F. Andrew Taylor at ataylor@viewnews.com or 380-4532.