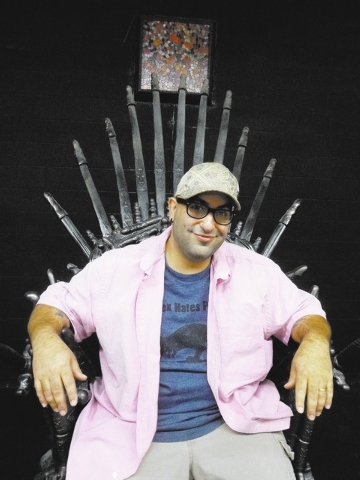 Another porn company has set up shop in Vegas, and this one comes with Generation Y porn icons James Deen and his girlfriend Stoya.
Deen costarred in "The Canyons" with Lindsay Lohan and has nice things to say about her. He was in "Farrah Superstar: Backdoor Teen Mom" and has less-nice things to say about her.
Stoya writes for Vice and sometimes chats on camera with Huffington Post hosts.
Stoya and Deen are not just accepted in the mainstream, but celebrated.
"It's partially a generational thing," Stoya says. "Because of the Internet, combined with the more graphic sexualization of mass culture, people that are say 20 to 30 are just like, 'OK, sex, whatever. I do this and I do that, and sometimes I have sex with people on camera.'"
This spring, Deen and Stoya started coming to Vegas to work in a new WoodRocket.com space — a 10,000-square-foot Mission Control Studio on Industrial Road. It's a legal, permitted motion picture studio.
Co-owner Lee Roy Myers, who moved to Vegas with his wife in May, gives you a tour and reveals a big black throne designed as if it's for HBO's "Game of Thrones." Myers ("Simpsons: The XXX Parody," "Porks & Recreation") and his cast made the adult film "Game of Bones" for release next week.
Myers sits on the throne at my request, and I ask if he's had backlash from anti-porn people in Vegas.
"No but," he says, "we're not on the street handing out pamphlets."
WoodRocket isn't just making porn. It's making anything but porn. WoodRocket puts out non-porn podcasts and Web videos.
The Web series "James Deen Loves Food" got national media when he ordered one of everything at a McDonald's drive-thru but was refused service.
WoodRocket has other Web series such as "Topless Girls Reading Books" (episodes are not book-length).
"We've got a lot of porn stars shooting non-sex things out here," Myers says. "There's a comedy in somebody known for being oversexed doing something non-sexual."
This week, Stoya filmed upcoming episodes for her November Web series by going gun-shooting at Battlefield Vegas.
"Then we went and played with kittens" on camera, Stoya says.
Filming in Vegas is bountiful. Vegas has less traffic, more entertainment, better restaurants, and filming is cheaper.
"In L.A., you need a permit to film your kids running around the yard," Myers jokes.
Vegas doesn't have a mandatory condom law, unlike L.A.'s unenforced Measure B.
"They don't have the budget to send condom inspectors" to porn sets in L.A., Stoya says.
"Plus, how are you going to tell someone who signed up for a health inspector job that it is now their mission to go look at genitals all day long?"
WoodRocket is a new paradigm. It gives away free video content — porn and Web episodes — while charging for merchandise and incorporating product placements and selling ads. Myers says WoodRocket is making money month-to-month, though still paying startup costs.
"You have a whole generation who has been raised on: 'Oh, porn's free,'" Myers says.
"What I think is probably the savior of porn is crowd-funding," Myers says. "It shows that people still want to donate money to something they appreciate."
Other porn is shot here by companies such as Bait & Tackle and the goliath Brazzers. And women run solo Web cams out of their homes. WoodRocket still has crews in L.A. But Myers thinks the people of porn will continue to migrate here.
"I can see it every day."
Doug Elfman's column appears on Page 3A in the main section on Mondays, Tuesdays, Thursdays and Saturdays. He also writes for Neon on Fridays. Email him at delfman@reviewjournal.com. He blogs at reviewjournal.com/elfman.