REAL ESTATE: Housing starts down, construction jobs further down
September 15, 2013 - 10:30 pm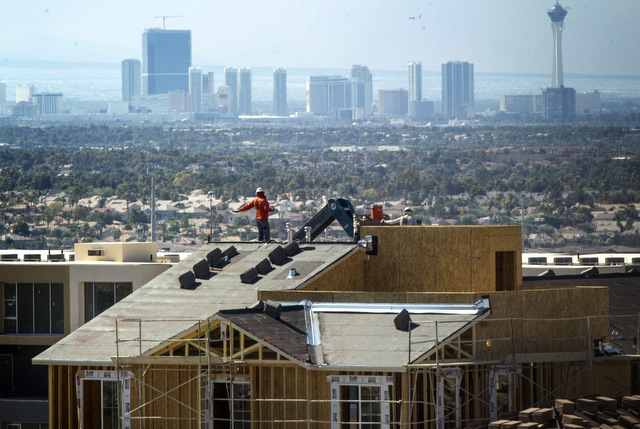 Sure, the Las Vegas housing market is hot.
But don't tell that to local builders.
Housing prices here may have surged more than 30 percent year over year in August, but that doesn't mean builders are eager to jump back into new construction, says a real estate research website. That in turn would mean a prolonged jobs recovery in construction, the state's hardest-hit sector in the recession.
Local construction permits from January through August ran at just 39 percent of their long-term average between 1990 and 2012, according to Trulia.com. That's worse than the national lag: Permit pulls across the country were about 70 percent of their average from the last two decades.
Figures from Home Builders Research show local builders pulled 4,384 permits from January to July, up 28 percent year over year but well below the boom days, when builders pulled nearly that many permits in a month.
It may not be a surprise that in markets with the lowest permitting activity, prices have risen fastest, Trulia found.
Las Vegas beat all major cities for its year-over-year price gain of 33.6 percent in August. Sacramento was a close second, at 31.9 percent. Permit activity in Sacramento was even worse than it was in Southern Nevada, at 38 percent of its long-range norm. In Riverside-San Bernardino, Calif., prices were up 25.4 percent, while permits were 46 percent of the long-term average. Phoenix posted a 22.7 percent price spike, while permits languished at 53 percent of their typical level. And Detroit saw housing prices rise 22.2 percent, while permits slumped to 33 percent of their long-term standard.
Construction permits are an important measure of housing normalcy because they hint at the balance between supply and demand, said Jed Kolko, Trulia's chief economist. But in this case, the relationship between permits and prices may not be what you think. Prices aren't surging because of a low supply of new homes. In fact, many markets with big price gains have considerable housing overhangs. Take Las Vegas: Stats from UNLV's Center for Business and Economic Research show the region has 84,000 vacant homes, including 40,000 single-family homes.
Rather, it's high investor activity that's pushing up prices in still-depressed markets, Kolko said. That's a turnoff for builders, who are just not interested in competing in markets with huge numbers of bargain homes for sale. So where there's too much supply, builders hang back. That's why it'll be tough to say the local market has recovered until permitting is back to normal.
Nor can the city expect a strong construction jobs recovery before then.
Nevada's August jobs numbers won't be out until Sept. 20. Nationally, employment in residential construction was up 4.7 percent in the month. That bested overall job gains of 1.6 percent. But even if Nevada's building sector matches the country's growth rate, the state will be short tens of thousands of industry jobs: Construction employment peaked at 147,700 in June 2006, but had fallen to 52,600 by July. And that July figure was actually down 200 jobs from a year earlier.
• Kolko also reported another red flag for housing in August's national jobs report. The jobless rate among people ages 25 to 34 has stayed stubbornly high during the recovery. Just 74.8 percent of young adults were employed in the month, which is closer to the recession-era rate of 73 percent to 74 percent than it is to the pre-bubble norm of as much as 80 percent.
That's a problem for the housing recovery because unemployed young adults are likelier to live with their parents than to establish their own households, either as renters or buyers.
• California investors keep snapping up commercial real estate across Southern Nevada. In one of the latest deals involving a Golden State partnership, Proview Series 26 LLC of Santa Monica bought a 43,168-square-foot office property at 2235 E. Flamingo Road from Zions First National Bank, which repossessed the complex from the previous owner. Proview Series 26 paid $1.39 million for the three-building property.
Tina D. Taylor and Tim Erickson of Marcus & Millichap Real Estate Investment Services represented Zions, while Charles Connors of Marcus and Millichap represented the buyer.
"This was yet another Las Vegas asset featuring a motivated seller at a very low price per square foot," Connors said.
• Brokers with Colliers International announced several sale and lease deals in recent weeks.
Mike De Lew, SIOR, and Greg Pancirov, SIOR, represented 5230 LLC in its $1.32 million purchase of an 18,334-square-foot office building at 5230 W. Patrick Lane.
Vincent Schettler represented Investor Equity Homes LLC and Mosaic Land 2 LLC in their $775,000 purchase of 3.92 acres of land at the northeast corner of Maverick Street and West La Madre Way.
Dan Doherty, SIOR, Chris Lane and Jerry Doty represented City National Bank in its sale of a 4,756-square-foot industrial property inside the Saddleback Post Business Park, at 5066 W. Post Road. The buyer, Yun Yih LLC, paid $452,000.