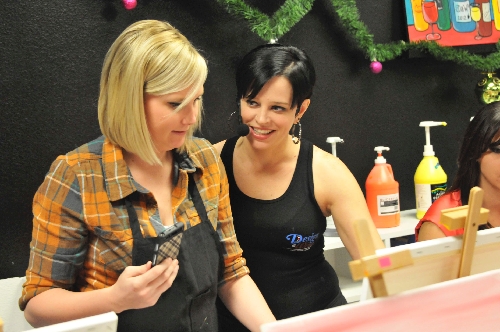 Spring Valley resident Courtney Sabernia has spent the past few months collecting the works of a new local artist: herself.
She is learning to paint at Design & Wine, 7250 S. Durango Drive, Suite 120. The studio offers three-hour painting classes for beginners for $35 with an option for dinner and drinks throughout the evening.
Rachel Roberts and her husband, Avraham Levi, opened Design & Wine in August. Roberts is a longtime artist and moved to Las Vegas from Alabama seven years ago.
"We wanted to really go all out and bring something new to Las Vegas," Roberts said with a Southern accent that has not strayed from Alabama. "We call it art entertainment. It's for people with no experience. They can bring home a piece of art. It's rewarding to complete something you had no idea you could do."
Classes usually are held from 6 to 9 p.m. Wednesday through Saturday. Customers can view the planned paintings for the upcoming month on a calendar at Design & Wine's website, mydesignandwine.com, and reserve a seat. The studio can accommodate up to 35 people per class.
The Dec. 5 class was Sabernia's sixth visit.
"I'm addicted," she said. "It's relaxing, (and) I can bring different friends. It's a good three hours to sit here and paint and enjoy the food."
Sabernia raved about one particular appetizer, the stuffed pears with cheese, saying she dreams about them.
Dinner is cooked on-site, and orders are placed similar to a sushi restaurant. Everyone receives a menu and orders appetizers, entrees, desserts and drinks at the beginning of the class. Food and drinks are not included in the $35 price.
Appetizers are $5, and the entrees – including sandwiches, paninis and bourekas – range from $6 to $8.
Henderson resident Jamie Trudeau brought her mom, Vicki, and sister, Jenna, for her second time at the studio.
After her first visit, she brought home a painting of cherry blossoms. Later, she would bring home a snow-covered landscape with a large tree in the foreground covered with bright red and yellow leaves. She said she used to draw as a kid but was never very good at it.
"I really like how this walks you through it," Trudeau said. "They walk around and help you if you're missing something. It's just a fun atmosphere, and I really liked it.
"I liked just how at the end of the night, I took home a painting that actually looked like the sample, and I saw that I could do it with their help."
Roberts and another artist, Mandy Thomas, take turns leading each class. Music plays in the background during the lessons. It varies by the painting, but classes take breaks about every half-hour for appetizers, entrees and desserts.
At the end, Roberts always gathers the class for a group photo and posts it on her website and Facebook page.
"It's a very social environment," Roberts said. "We have people who come in by themselves, and by the end of the class, they have 20 new friends. This kind of environment really allows people to let loose."
Design & Wine also is hosting an online auction to raise money for the Cure 4 the Kids Foundation. Miss Universe contestants took a group class and will be selling their paintings through Jan. 14.
The studio also offers private parties with discounted rates for large groups. For more information, call 702-327-7325 or visit mydesignandwine.com.
Contact View education reporter Jeff Mosier at jmosier@viewnews.com or 702-224-5524.
s