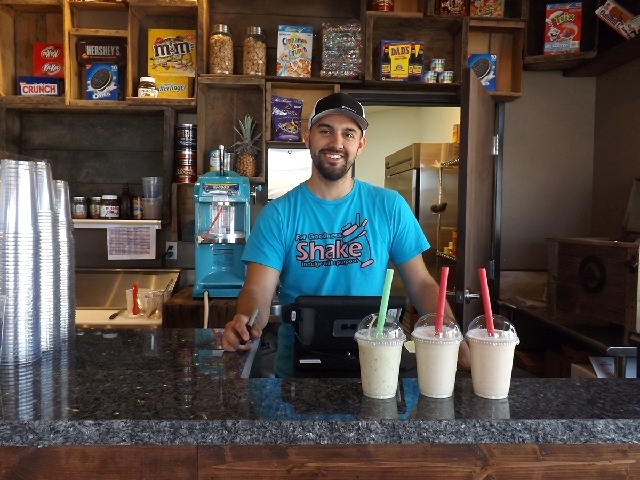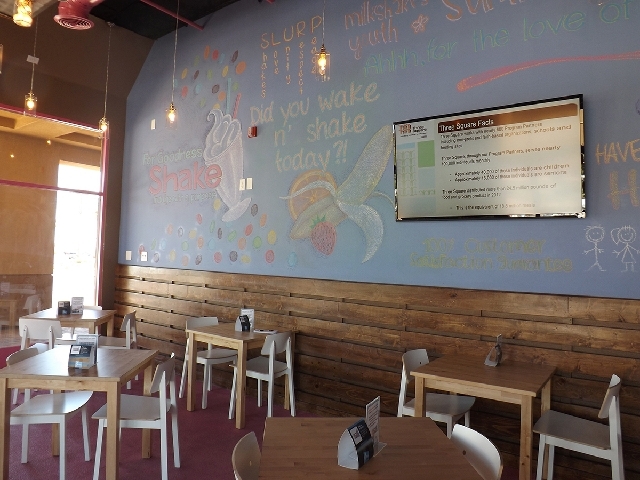 If Manny Vargas answers the phone at For Goodness Shake, customers shouldn't be alarmed if he asks what's shaking. He's not flirting.
"We say, 'For Goodness Shake, what's shaking?'," said Vargas, owner and head community shaker of the business at 4220 S. Grand Canyon Drive, No. 8. "People usually get the joke and laugh."
While the puns are all fun and games, Vargas, 27, is serious about his business strategy.
For each milkshake or smoothie sold, he donates a meal to Three Square, a Southern Nevada food bank that provides assistance through hundreds of local agencies.
Each meal costs him 33 cents.
"It's a lot of money. It doesn't seem like a lot," Vargas said. "But dude, it's thousands of dollars."
Born and raised in Las Vegas, Vargas moved to San Francisco in college to play baseball with the hopes of becoming a professional athlete. But after getting injured, he returned home and began working in the food and beverage industry.
"I tried to go to UNLV, but I couldn't concentrate because I was so heavily focused on developing a business," Vargas said.
He quickly climbed up the business ladder, from busboy to server, manager to owner. Last year, he opened two restaurants formerly known as Chicken Bonz, which have since been rebranded into Meat, Chix & Wieners.
Although Vargas is still involved in the restaurants, he had a passion for developing a business that gave back to the community.
At first, Vargas proposed the idea of a yogurt stand to a group of senior casino executives at Bally's Hotel and Casino, but the plan fell through after several months of negotiation.
"It was kind of disappointing," he said. "It was my first big venture, and I thought I was going to really hit for the stars on my first shot."
Vargas returned to square one and redeveloped the idea into something less expensive. He researched organizations and decided to reach out to Three Square for a partnership.
"We're big enough to have good resources that bring value to partnerships, but we're small enough to give that personal attention," said Three Square CEO Brian Burton. "Every single person matters. Everyone is important and is needed."
Vargas was invited to tour the facility and pitch his idea to the corporate partnership relations manager. After a few meetings, the food bank agreed to partner with him.
"Manny knows life is more than making money. It's about making the community better," Burton said. "He's certainly aware of the economy and how we all suffered. It just seemed like a good, natural partnership."
With six employees and more than 40 different ingredients, For Goodness Shake opened its doors to the public on June 25.
According to Burton, more than 2,800 meals were donated in Vargas' first month of business.
"Without the media streaming through our TVs and the Three Square logos on the tables, people wouldn't think they were helping the community by eating here," Vargas said. "There's a lot of integrity involved on delivering our side of the promise. It's a satisfying accomplishment."
The business serves around 50 to 120 customers a day from 11 a.m. to 11 p.m. Sunday through Thursday and 11 a.m. to midnight Friday and Saturday.
The menu includes a create-your-own option in which customers can pick from a list of fruits, vegetables, vegan ingredients, protein powder and even bacon.
Customer favorites include the All Shook Up, Banana Split, Blackberries Revenge and Incredible Hulk.
Burton said he will be a regular.
"I know my doctor is going to tell me not to hang out there every day," Burton said, "but (Vargas) supports us, so I support him."
In the long run, Vargas wants his business to reflect that of Toms, a shoe company that operates a similar one-for-one donation model worldwide.
He plans eventually to host awareness days, events, community sign-ups and food drives, although his employees already volunteer at Three Square.
"It's going to be the most interactive campaign anyone could ever possibly do," he said, "and that's how we will set ourselves apart."
Contact Southwest/Spring Valley View reporter Caitlyn Belcher at cbelcher@viewnews.com or 702-383-0403.