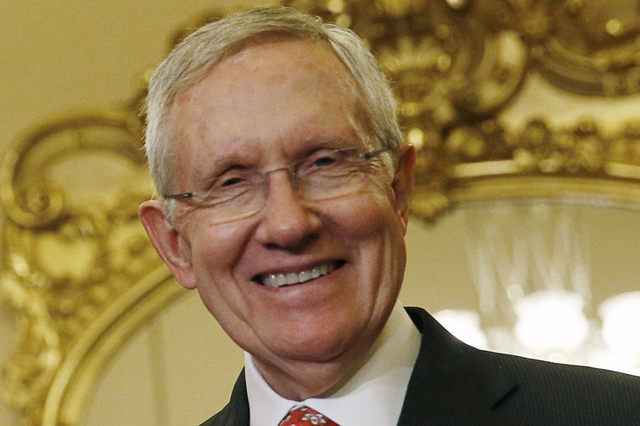 WASHINGTON – Sen. Harry Reid was interviewed by federal investigators a year ago as part of a corruption probe targeting New Jersey Democratic Sen. Robert Menendez, sources confirmed Monday.
Reid met voluntarily with Justice Department officials and the FBI after being notified that an investigation was underway, according to a source familiar with the probe.
There has been no indication the Nevada Democrat did anything wrong, and there were no further meetings beyond the hour-long interview that took place in the spring of 2014, according to sources.
Reid, who was characterized as a witness for his interactions with figures in the probe, did not appear before a grand jury.
The Reid interview was reported Monday by Politico, and later confirmed by the Review-Journal.
Reid's office had no comment on the development.
The Justice Department is preparing to file corruption charges against Menendez stemming from his relationship with Salomon Melgen, a wealthy Miami ophthalmologist, campaign donor and personal friend, according to widespread reports that emerged late last week.
While the Menendez scandal may not cause Reid legal troubles, it could prove politically awkward. As leader of the Senate Democratic caucus, Reid is expected to face pressure to remove Menendez as top Democrat on the Senate Foreign Affairs Committee if he is indicted.
On "Face the Nation" on Sunday, Senate Majority Leader Mitch McConnell, R-Ky., said, "typically, when these kind of charges are made, people step aside from their leadership positions" for a position of time. "But that will be up to the Democratic leader, Harry Reid, to make that call."
Republicans also are working overtime to tie Reid to the troubled New Jersey senator as he ramps up a run for re-election in Nevada. The National Republican Senatorial Committee has called attention to a 2013 news report in which Reid described Menendez as "my friend," and "an outstanding senator."
Further, the NRSC on Monday called for Reid to return $10,000 in donations he received in 2009 for his 2010 re-election campaign from Menendez's political action committee, the New Millennium PAC.
Authorities believe Menendez took official actions to help Melgen's business interests. In return, they are preparing to accuse Menendez of accepting favors from the doctor.
In a press conference on Friday. Menendez defended himself, saying he has always conducted himself appropriately "and in accordance with the law.
"I fight for things I believe important and for the people of our country," he said. "That's who I am. I am not going anywhere."
Reid's name has come up on the periphery, as Melgen has been a major financial backer of Senate Democrats.
Reid, who was Senate Majority Leader at the time, reportedly took part in an Aug. 12, 2012 meeting with Health and Human Services Secretary Kathleen Sebelius in which Menendez sought help for Melgen in a Medicare billing dispute with the government.
The wealthy doctor also has courted Reid.
Melgen flew Reid on a company plane from Washington to Boston in June 2012 to attend a fundraiser organized by the Senate Majority PAC, an organization run by Reid associates to elect Democrats to the Senate.
The political action committee paid Melgen's company $4,160 for the flight, according to a Politico report in 2013. Reid's spokesman said the flight "was in full compliance with (Federal Election Commission) rules and fully paid for."