Reid warns another government shutdown looming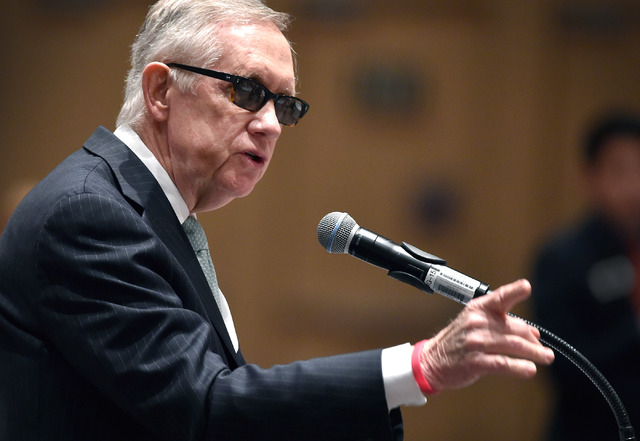 WASHINGTON — With Democrats and Republicans embroiled in a new but deepening dispute over spending, Sen. Harry Reid warned Wednesday the government is headed for another shutdown.
Funding to keep the doors open doesn't run out until the end of September. But Reid, the Democratic leader from Nevada, said Congress appears on a stalemate path over key money bills that shows little promise to get solved before the fall.
Reid blamed Republicans, saying they are not willing to negotiate new levels of spending for domestic and defense programs in order to avoid deep automatic cuts mandated by the 2011 "sequestration" budget law. The sequester was designed to reduce spending by $1.2 trillion over nine years.
"It appears to me what the Republicans are doing that we're headed for another shutdown," Reid said in a Senate speech. "They did it once. They're going to do it again.
"They don't want to do anything now," Reid said. "They want to wait until the end of the fiscal year ends and then close up the government.
"It appears that's where we are headed," Reid said.
A shutdown curtailed most routine government operations for 16 days in October 2013 until lawmakers reached a budget deal.
When the sequester was negotiated, its call for shrinking budget caps year to year was seen as so painful that Congress would eventually take steps to replace it. But that has not happened, as many conservatives consider the sequester a useful tool to force Congress into fiscal restraints.
But with Pentagon leaders sounding warnings that further deep cuts could jeopardize readiness, Republicans in control of the House and Senate are moving a defense authorization bill containing an extra $38 billion in war contingency accounts as a strategy to get around the sequester this year for defense spending.
Democrats blast that as a budgeting gimmick and are calling for a deal that would raise the allowable spending for domestic programs at the same time.
An amendment Tuesday by Sen. Jack Reed, D-R.I., that would have fenced off the additional defense spending unless spending caps were increased for nondefense spending was defeated, 46-51.
Sen. Charles Schumer, D-N.Y., a Reid leadership deputy who is poised to take over as Democratic leader after the Nevadan retires next year, told the Washington Post in an interview that Democrats are prepared to filibuster appropriations bills until Republicans agree to negotiate.
"There is pretty close to unanimity in our caucus that we are not going to just vote on individual appropriations bills until we have a plan as to how much overall money we're going to spend and where that money is going to be allocated," Schumer said.
Democrats on Tuesday called for a "budget summit" involving leaders from the House and Senate and representatives from the White House. Senate Majority Leader Mitch McConnell, R-Ky., rejected the idea.
"We've set a spending level," McConnell said. "We did it in the budget."
McConnell said he planned soon to bring up the annual defense spending bill, in an apparent dare to Democrats to block a bill that funds U.S. troops.
"There's been a lot of big talk about stopping bills; we'll see whether they really want to do that," he said.
Contact Review-Journal Washington Bureau Chief Steve Tetreault at stetreault@reviewjournal.com or 202-783-1760. Find him on Twitter: @STetreaultDC