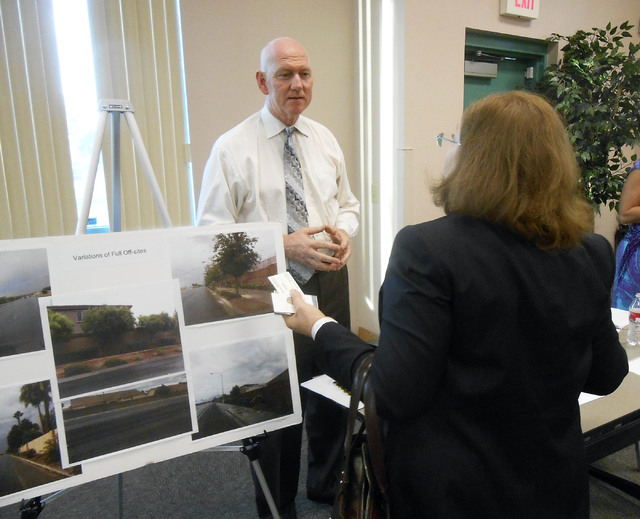 Dozens of people visited the Mountain Crest Neighborhood Services Center Sept. 12 for an informal meeting to gather input on a land use plan for Lone Mountain.
Clark County Commissioner Larry Brown invited local residents to attend the two-hour open-format event. The multipurpose room at 4701 N. Durango Drive was ringed with tables headed by representatives from different departments, each with handout sheets on various topics such as traffic signal operations and highway administration policies.
"Tonight is the start of our land use plan five-year update," Brown said. "Every five years, the county goes into the sections, like this is Lone Mountain area, and updates the plan. Often, staff works on it, and we don't get the participation that we need from the residents. And that's what I said when I started the meeting off, I said this isn't a formal meeting of you sitting down and me standing up."
Brown said staff members attending the meeting are involved in the six-month process.
"We've got a public works (representative), we have the land use folks, zoning, trails and parks over there," he said. "We want your comments, concerns and criticisms. We want you to tell us what we should be doing. This is their opportunity to define the next five years in the Lone Mountain area because it's their plan."
The evening's intention was to take comments from people, he said.
Attendees were given a form to fill out. One of the comments read, "Just because an area is zoned 'rural,' should not mean that one property owner is allowed to disturb the peace of other property owners." Another wrote that his most important concern was "maintaining property values."
Under the question "What would improve Lone Mountain land use?", one person put down, "no street lights in the RNP." RNP stands for rural neighborhood preservation. Another said it would be "nice if rules were prioritized and adhered to." One person wanted to see speed limit signs and lighting at dangerous intersections.
Asked for their most important issue, one person responded, "preserving the way of life that currently exists."
Resident Bob Goudge said he had a couple of concerns. One was about "the buses that come out of the bus barn and go east and west on Ann Road. There are dozens and dozens of them. It makes it difficult to cross Ann Road because of the additional traffic. Plus, it's hazardous. Those are big vehicles on the two-lane road."
Goudge also had concerns about the size of lots.
"They've been whittling away at the definition of a half-acre," he said. "They say it's not just where your house is, but you go out to the middle of the street and then we'll give you the 10 percent variance from that number. And then they ask for bigger variances. Our position is: a half-acre is a half-acre is a half-acre. If you're not going to build a house on a half-acre, go somewhere else to build it."
Kelly Griffith has been a resident since 1976. As a horse enthusiast, she has 10 animals. She said there should be a standard when it comes to "side of the road" improvements.
"It used to be … you couldn't put in a curb and gutter or a sidewalk," she said. "So, the horses could walk around the neighborhood. But now, with all the developments being made, it's like hit and miss. You might be riding on a trail, and you will go smack into a wall, because somebody's developed, say, five acres and put a wall around it. Since it's not safe, we're asking to have community arenas installed."
Griffith said Lone Mountain Park had 20 acres that were not being utilized, which could be the site for two covered horse arenas. They would not be used for exhibitions or events, and there would be no bleachers, only fencing. She said it was important that the suggested 40-foot pens be covered for when temperatures climbed into triple digits. She said such arenas had been built by private citizens for $200,000 but that previous discussions with local government had seen the county contend that the cost would be around $6 million.
Brown finished speaking with a man, promising him that something would be done before the end of the year.
"He lives in the northwest, near Hualapai (Way) and Deer Springs (Way)," Brown said. "He wanted to know the status because there's a huge congestion issue. The city and the county have worked together over the last six months, designed the project to fully improve that area. That's an example of what's happening … And then Elkhorn (Road), also in the northwest, Elkhorn is going to get developed through one of the RNP areas. Neighbors are concerned about what it will look like."
Brown said many of the northwest residents were worried about increased density.
"They don't want any changes out here," Brown said. "They want to keep it (lot sizes) to a half-acre. I've talked to people who lived here a long time, about 20 years. There are probably people here tonight who've lived here longer than that. … They are inquiring whether there are going to be any changes proposed, which we don't have any proposals announced."
Contact Summerlin/Summerlin South View reporter Jan Hogan at jhogan@viewnews.com or 702-387-2949.