Residents to celebrate holidays at Summerlin's houses of worship
December 15, 2012 - 2:03 am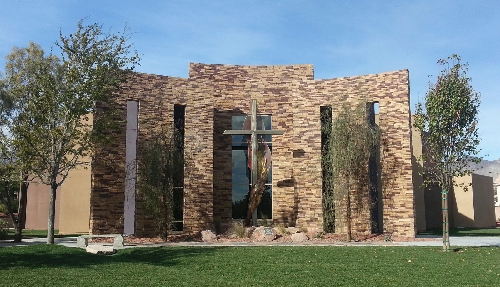 Thousands of Summerlin residents will celebrate the holiday season this year with family and friends at one of the community's many houses of worship.
"Our churches and worship facilities are an important part of our community," said Kevin Orrock, president of Summerlin and executive vice president of master-planned communities for The Howard Hughes Corp. "The structures themselves are beautiful, but more importantly, they are symbols of faith and tradition for our residents."
Summerlin is home to more houses of worship than any other master-planned community in Southern Nevada, making it easy for residents to worship in their own neighborhood, he said.
Several residents live within walking distance of their chapels and temples, which is convenient for those who frequently gather to worship and attend classes, activities and special events, he added.
Desert Spring United Methodist Church, which recently completed construction on a new 12,800-square-foot sanctuary that seats as many as 650 people, hosts weekly Bible study classes and other social activities and community meetings.
Faith Community Lutheran Church hosts Bible study classes and confirmation, a two-year study program for youths, every Wednesday.
The Church of Jesus Christ of Latter-day Saints hosts weekly social, spiritual and service-oriented activities for its members including seminary, an early-morning religion class for high school students attended by hundreds of teenagers every weekday.
"Houses of worship have been an integral component of Summerlin's master plan from the beginning," Orrock said. "As development continues, additional houses of worship will open in the community, adding to the religious vibrancy and diversity we celebrate in the community."
Existing houses of worship in Summerlin include two chapels for The Church of Jesus Christ of Latter-day Saints, Desert Spring United Methodist Church, Faith Community Lutheran Church, Grace in the Desert Episcopal Church, Hindu Temple and Cultural Center – Hindu Society of Nevada, Mountain View Presbyterian, St. Andrew Lutheran Church, St. Elizabeth Ann Seton Catholic Church, Summerlin Community Baptist Church, Summerlin Evangelical Lutheran Church (Wisconsin synod), Sun City Community Church, Temple Sinai and Temple Beth Sholom – conservative Judaism.
Summerlin began to take shape in 1990. For the past two decades, national studies have ranked it in the country's top 10 best-selling master-planned communities.
Located along the western rim of the Las Vegas Valley, Summerlin encompasses 22,500 acres with about 6,600 acres still remaining to accommodate future growth within the master plan. The community is currently home to more than 100,000 residents.
Other amenities include more than 150 neighborhood and village parks, more than 150 miles of the Summerlin Trail System, 26 public and private schools, nine golf courses, shopping centers, medical and cultural facilities and business parks.
It has more than three dozen actively selling floor plans. Homes are available in a variety of styles – from single-family homes to townhomes, condominiums and lofts – priced from the $200,000s to more than $1 million.
For more information, visit www.summerlin.com, or follow the community at www.facebook.com/summerlinlv.