RJ poll: Hutchison winning lieutenant governor, margins tax failing
October 2, 2014 - 6:18 pm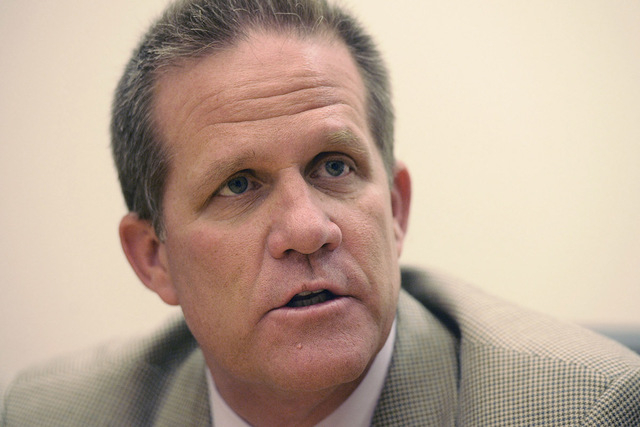 If the November election were today, Republican state Sen. Mark Hutchison would handily defeat Democratic Assemblywoman Lucy Flores 47 percent to 35 percent of the vote in the lieutenant governor's race, which could affect GOP Gov. Brian Sandoval's future, a new poll shows.
In the attorney general's race, Democrat Ross Miller would pull off a narrow victory, 44-39, over Republican Adam Laxalt, according to the poll commissioned by the Las Vegas Review-Journal.
But the race for secretary of state between Republican Barbara Cegavske, a state senator, and Democrat Kate Marshall, the state treasurer, is a statistical tie, 43-42 for Cegavske.
Finally, a proposed business margins tax to fund education, Question 3 on the ballot, appears in trouble with more likely Nevada voters against it than for it, 40-37, while more than one-fifth of voters, or 23 percent, remain uncertain how they will vote in the final weeks before the Nov. 4 general election.
"If 'Yes' wins, it will be because traditional Democratic constituencies are under-counted in this survey," the pollster SurveyUSA said. "Opposition to ballot measures — having nothing to do with Nevada and nothing in particular to do with Question 3 — typically increases as Election Day approaches. Q3 supporters have their work cut out."
On Question 3, the results are just within the margin of error — plus or minus 4.2 percentage points. Republicans oppose Q3 by 30 points, while Democrats support it by 34 points, showing a strong partisan divide. Independents could decide the matter, siding with the GOP in opposing the margins tax by 30 percentage points, the survey said.
Lower-income voters support Q3, and upper-income voters oppose it. Women are split, while men oppose the proposed 2 percent margins tax, which would apply to businesses making $1 million or more in annual revenue even if they are not profitable.
Dan Hart, who represents the Nevada State Education Association promoting the Education Initiative, said he is confident Q3 backers have identified enough support to win at the ballot box if the campaign can get them to the polls.
"I think it's going to be very close, but Democrats are spending a lot of effort on voter turnout," Hart said.
Karen Griffin, spokeswoman for the Coalition to Defeat the Margin Tax, said the group is encouraged by the poll numbers but opponents still need to educate more voters about the potential harm if Q3 passes. Opponents include the casino industry and other big business.
"We know that if people understand what this measure does, we're confident it will be defeated," Griffin said.
Most polls, however, have shown Q3 passing, thanks partly to its simple message that it will boost education funding.
The SurveyUSA poll of 569 randomly selected likely Nevada voters was conducted over both land lines and cellphones from Sept. 29 through Oct. 1. It has a margin of error of plus or minus 4.2 percentage points.
In the lieutenant governor's race, Hutchison smashes Flores 47-35, but Mark Little of the Independent American Party is a potential spoiler, picking up 6 percent of the vote. Another 3 percent of survey respondents said they would vote for "None of these candidates," a statewide option in Nevada.
Hutchison leads by 19 percentage points among men, said the pollster, and has twice as many Democrats who say they would cross over and vote Republican as do Republicans who plan to vote Democratic.
The Flores campaign said that the poll doesn't tell the whole story and she has time to win over voters.
"Voters are just starting to learn of the sharp contrasts between Lucy Flores and Mark Hutchison, especially his position on the issue of using our tax dollars for private school vouchers," said Brandon Hall, a senior adviser to the campaign. "We are confident that Lucy's focus on education and jobs, and creating opportunity for every Nevadan, will prevail."
The race has taken on an outsize importance this year. Sandoval has no real Democratic opposition and is expected to skate to re-election. There is speculation that Sandoval, a former federal judge, might not finish his four-year term to return to the bench, run for vice president or join the Cabinet of a Republican president. He also could make a U.S. Senate bid against Senate Majority Leader Harry Reid, D-Nev., in 2016.
If any of those jobs lure Sandoval out of the Governor's Mansion, the lieutenant governor elected next month would automatically replace him.
The attorney general's race is proving far more competitive than anticipated by Secretary of State Miller, who has won two four-year terms in his current statewide office and has high name recognition thanks to his father, former Gov. Bob Miller.
Laxalt's grandfather is former Gov. and U.S. Sen. Paul Laxalt, but the younger Laxalt only recently moved to Nevada for his law practice, and this is his first run at public office.
A month out, Miller has a "razor-thin, 5-point advantage over" Laxalt because the 44-39 result is just outside the margin of error, the pollster said.
Again, the Independent American Party candidate, Jonathan J. Hansen, takes 7 percent, and "seriously confounds any calculus of the contest," making it harder to call, the pollster said.
"If Miller wins, it will be thanks to moderate voters: He leads among self-described moderates by 17 points," according to the pollster. "If Laxalt overtakes, it may be because of a Republican 'wave' that some foresee coast-to-coast in 2014."
Millions of dollars in outside ad spending in the race by GOP and Democratic attorneys general organizations and others may help determine the outcome.
Miller's campaign manager, Jocelyn Steinberg, said the big-money tactic won't work.
"Nevadans are sending the message that the attorney general's office isn't for sale," she said. "Miller was massively outspent in September. His TV campaign has just begun, and he's still winning."
The Laxalt campaign said the poll shows Nevadans are tired of politicians.
"These poll numbers show a continuing trend by Nevada voters moving away from a career politician and towards new leadership," said Robert Uithoven, Laxalt's campaign consultant.
Miller was a prosecutor in the Clark County district attorney's office before running for public office.
The open secretary of state's race is a true one-on-one contest with neither candidate dominating.
"The candidates truly are battling for each last vote: neither candidate reaches 50 percent among males, females, the young, the old, whites, blacks, Hispanics, independents or moderates," the pollster said. "Either candidate could win."
Contact Laura Myers at lmyers@reviewjournal.com or 702-387-2919. Find her on Twitter: @lmyerslvrj.