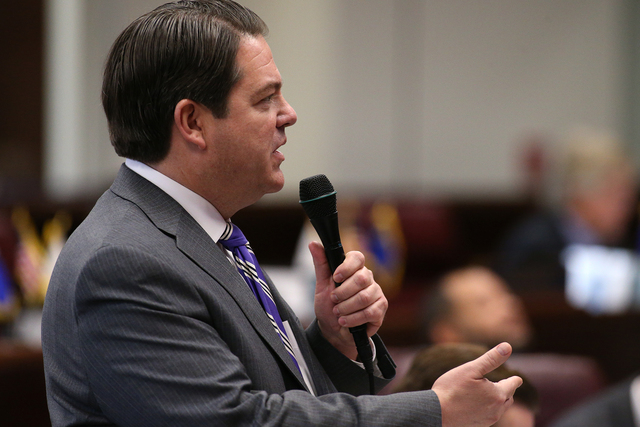 CARSON CITY — Republican and Democratic leaders in the Nevada Senate both expressed confidence Friday that the governor's proposed business license fee hike will win approval early next week.
Senate Bill 252 has been sitting in legislative limbo on the secretary's desk awaiting a vote in the upper chamber as a Tuesday deadline looms for passage.
"As of today I'm confident there will be a vote on Senate Bill 252 Monday or Tuesday and that it will pass," Senate Majority Leader Michael Roberson, R-Henderson, told the Review-Journal in a brief interview.
Roberson said he has been meeting with Democratic leadership over the bill but declined to say what's been discussed.
State Sen. Aaron Ford, the Democratic minority leader, confirmed the ongoing talks and expressed his own optimism the bill will pass.
"We've had some discussions and those discussions will continue over the next few days and we'll see what happens in that regard," said Ford, D-Las Vegas. "But I share his confidence."
Sandoval welcomed the news.
"I'm encouraged that the members of the Legislature are working together in an effort to modernize and invest in Nevada's public education system. I will continue to meet with lawmakers, business owners, and community leaders to lay out my vision for a new Nevada which includes new revenue for education as well as meaningful reforms and accountability measures," Sandoval said in an email statement.
"I'm hopeful that the Senate will pass Senate Bill 252 so we can continue this important discussion on this issue in the state Assembly."
SB252 is the cornerstone of Sandoval's $7.3 billion general fund budget proposal that includes $1.1 billion in new or extended taxes. The bill seeks to impose a new business license fee schedule tied to gross receipts.
Currently all Nevada businesses, from mom-and-pop shops to megaresorts on the Las Vegas Strip, pay a flat $200 annually for a business license. Sandoval's plan would raise the lowest rate to $400 annually and impose a graduated fee schedule based on the type of industry and gross receipts. Of current existing businesses, the highest annual rate would be $2.6 million for hotel-resort giants.
SB252 would generate about $250 million a year.
The bill requires a two-thirds supermajority, or 14 votes in the Senate, for passage. Sandoval, a moderate Republican who cruised to a second term in November and carried a "red wave" of Republican candidates to victory, touted the plan as a way to move Nevada forward and provide a qualified workforce in a 21st century, high-tech economy.
Republicans hold an 11-10 majority in the Senate, and not all GOP votes are assured. That means the governor needs Democratic support, but partisan animosity has reared up over various issues on the Senate floor, leaving the fate of the bill in question.
Ford said the sometimes heated, partisan flare-ups will not doom the bill.
"Ultimately there are important decisions and policy points that my caucus members and I share, and conversely the Republicans have their positions, some of which are reasonable," Ford said.
"I do think that the acrimony and animosity sometimes that's present on the floor can get in the way. But my caucus and I … we're all adults. We know how to get beyond personality and ultimately work toward improving our state."
Three Democratic senators proposed their own tax bill this session. Senate Bill 378 sought to abolish the modified business tax on non-financial institutions — a levy assessed on payroll — and impose a gross receipts tax on revenues exceeding $100,000 annually. It also would have retained the $200 annual license fee for most businesses but raise it to $400 for those registered in Nevada but don't conduct business here.
That measure died when no vote was taken in the Senate Revenue Committee chaired by Roberson, a move that angered Democrats.
While SB252 is eligible for exemption from a Tuesday deadline to pass out of the Senate, that option has not been exercised and Roberson said it will not be needed.
"It will pass," he said.
If it does, SB252 will go to the Assembly, where it will face a tougher challenge. Republicans there hold a 25-17 majority, and a core of about a dozen conservative GOP lawmakers have pledged to oppose any tax hikes.
Another tax plan sponsored by three Assembly Republicans is also pending in the lower house. Assembly Bill 464 would expand and increase Nevada's existing modified business tax to raise about $544 million in new revenue. The tax would be paid by about 18,000 businesses from the 13,000 that pay payroll taxes currently.
The bill is supported by some of Nevada's major industries, from car dealers to retailers and manufacturers.
That support was countered, however, with opposition from the Nevada gaming industry, which argued that the proposal is not broad enough to end the state's historic reliance on a small number of Nevada employers to balance its budget.
Meanwhile, legislative observers and lobbyists are taking a wait-and-see approach on SB252 and some were skeptical of Roberson's bold statement of passage.
"We look forward to that floor debate," said Bryan Wachter with the Retail Association of Nevada, which opposes the governor's business license fee plan.
He said the organization agrees with the governor that more funding is needed for education, "but SB252 is not that way."
Contact Sandra Chereb at schereb@reviewjournal.com or 775-687-3901. Find her on Twitter: @SandraChereb.

RELATED STORIES
Nevada 'tough-on-crime' bills could force Jean prison to reopen
Reno Assemblyman Randy Kirner loses cop association support
NLV mayor backs bankruptcy power for cities, counties
Nevada Senate approves minimum wage increase bill
Nevada legislators urged to restart cloud seeding amid drought
Bill to boost maximum speed limit to 80 mph advances
Court papers show legislative extortion probe includes alleged wiretap, false political finance reports
See all of our coverage: 2015 Nevada Legislature.