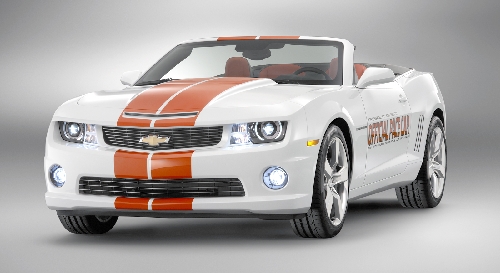 I haven't missed a Barrett-Jackson collector-car show and auction in Scottsdale, Ariz., in about seven years. Like the SEMA show of aftermarket companies in Las Vegas, the yearly Barrett-Jackson event is a staple for a hardcore automotive enthusiast like me. 
It's 10 days of frantic auction action as thousands of vehicles cross the block and are each given only a few minutes to find a top bid. There are no reserve prices, so the high bid wins, no matter how low or high. It's a nail-biting situation for sellers and there are often killer deals as well as some crazy-high prices paid depending on how much bidding competition there is.
Needless to say, it's a rush, but for this January's show, my schedule was pretty jammed and I was worried I might miss out. With some careful planning, I was only able to squeeze in the final Saturday. So I flew home to Los Angles, from working in Nashville, had a dinner meeting Friday night and then flew to Scottsdale Saturday morning, arriving in the heat of the action. Yeah, I'm an enthusiastic enthusiast.
Why Saturday, though? The end of the auction is the most exciting part. On Saturday, the celebrity cars and high-priced charity rides go across the block, some of them bringing hundreds of thousands of dollars. This year, I didn't have any hosting duties at the event, so I was able to kick back and actually take in nine hours of high-energy drama and fun.
Saturday morning was the perfect time to arrive at the sprawling auction grounds and hockey-arena-sized "tents," which house thousands of cars and a variety of vendors selling everything from automotive art, clothing and jewelry to doughnuts and ice cream. Hey, a girl has to eat, right?
Certainly the most anticipated vehicle of the day was the highly controversial 1963 Pontiac ambulance that reportedly transported President John F. Kennedy's body after he was shot and killed in Dallas on Nov. 22, 1963. Interestingly, there was no concrete proof whether the vehicle was the actual ambulance. Craig Jackson, CEO of Barrett-Jackson, commented that there was really no way to be certain and that it would be up to the bidders to decide. It was anyone's guess what the vehicle would bring and who would actually want it. Regardless, it was chilling to see it come across the auction block.
Unlike during the selling of other rides, when it is not uncommon to see dozens of people on the stage, bidders and enthusiasts were asked to exit the block, and consequently the crowd rose to take in the stories, short video and the excitement. Most had predicted the ambulance would fetch more than the $120,000 selling price, but without proof of the vehicle's origins many people likely considered it to be just an old ambulance. Still, I suppose it will make a great conversation piece, proof or no proof.
Charity is always a huge part of the auction. Craig Jackson has really set a philanthropic tone that carries through year after year. As a result, millions of dollars are donated to various charities through the sale of vehicles.
And that brings me to the highly anticipated sale of the 2011 Camaro convertible that will be the pace car for the Indianapolis 500 on this 100th anniversary of the yearly race in late May. This is a car that I happen to love, since my first car was a Camaro Z-28 convertible. The Camaro for the auction was donated by Chevrolet, and the entire $225,000 final bid price went to the David Foster Foundation that provides money to families with children in need of organ transplants.
Also for charity, Darrell Gwynn's 1990 replica dragster sold for the sixth time at Barrett-Jackson, for a total of more than $1 million. The proceeds from the car, which have been donated back to the auction many times by buyers, benefited the Darrell Gwynn Foundation, which provides wheelchairs for children who suffer from spinal injuries. Gwynn, a former star of the National Hot Rod Association's Top Fuel class, was injured in a racing crash that ended his career and confined him to a wheelchair. The replica dragster sold for $200,000.
This year, Barrett-Jackson helped a phenomenal 18 local and national charities raise funds for their causes.
Gwynn, of course is a racing celebrity, and the crowd goes wild over the celebrity rides that make their way across the block. Always up for debate is how much value "star power" adds to a given vehicle and everyone has an opinion.
This year, rocker (from the band Poison) and reality-TV star Bret Michaels auctioned his modified 1969 Camaro SS, which appeared on MTV's "Cribs" and VH1's "Rock of Love," and garnered a solid $200,000. The popular and personable former pro wrestler Bill Goldberg collected a noteworthy $104,500 for his modified 1968 Dodge Dart. Did their star power add any value here?
For those of us sitting on the sidelines or watching the coverage on cable channel Speed for hours on end, being wowed by the stars, the bargains and the equally insane high prices of some of the rides, is an experience in and of itself that likely rivals bidding and buying. I know that my car thirst is quenched … until the next auction that is.
Among her accomplishments, Courtney Hansen is the author of "Garage Girl's Guide," the host of Spike TV's "PowerBlock," the former host of TLC's "Overhaulin'" program and a writer with Wheelbase Media and Auto Shift Weekly magazine. You can e-mail her by logging on to www.wheelbase.ws/media and using the contact link.